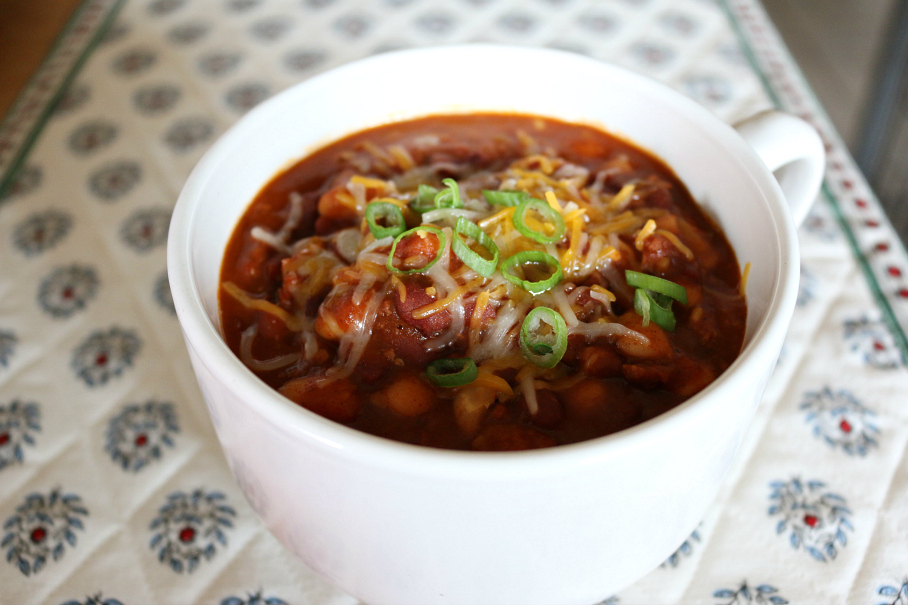 Southwestern Turkey Chili
2019-02-04 13:21:39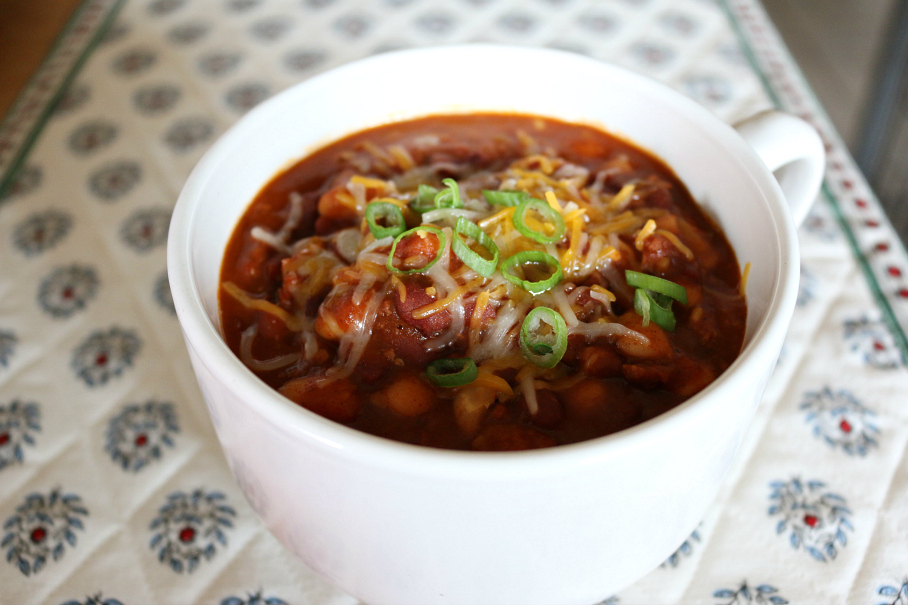 Serves 12
This recipe is a twist on one of my most popular Southwestern Beef Chili. I substituted Turkey in this chili recipe. It is a healthier option than beef and tastes just as good. The chili it goes well served over hot dogs to create a great chili dog. Or try it served over Fritos, to make a killer Frito pie. Or just all by itself topped with a little cheese, scallions, sliced jalapeno, and sour cream. This chili recipe is awesome. I often make it without meat as a vegetarian option. Whichever way you prefer to eat your chili, you will without a doubt enjoy this tasty recipe for my Southwestern Turkey Chili. Bon Appetit, Cecelia
Ingredients
2 pounds organic ground turkey
1 small yellow onion chopped finely
3 garlic cloves finely minced
3 tablespoons taco seasoning (No need to add salt after this.)
1 teaspoon cumin
1 1/2 cups mild red chile sauce or frozen red chile puree
3-4 cups water***
1 can (16 ounces) pinto beans
1 can (16 ounces) black beans
1 can (16 ounces) navy beans
1 can (16 ounces) dark red kidney beans
1 can (16 ounces) pinto beans
Garnish
8 ounces Fiesta Blend Cheese**
Sliced scallion
1 jalapeno sliced
Sour cream**
Instructions
Directions: In a large soup pot sauté ground turkey with onion.
Cook until meat is nearly cooked and the onions are translucent.
Then add garlic, taco seasoning, cumin, chile sauce or frozen red chile.
Mix until all spices are incorporated throughout the meat mixture.
Add water and beans let simmer about 45 minutes on medium-low heat with no cover.
Our climate is dry here in New Mexico, so the liquid evaporates quickly.
***I like my chili thick and not too runny.
Continue to cook until the chili is a desired thickness.
Serve in a soup bowl.
Garnish with cheese, scallions, sliced jalapeno and sour cream if desired.
Notes
**Optional garnish (disregard for Dairy Free Diet)
For a thicker chili use 3 cups of water.
Cecelia's Good Stuff https://ceceliasgoodstuff.com/