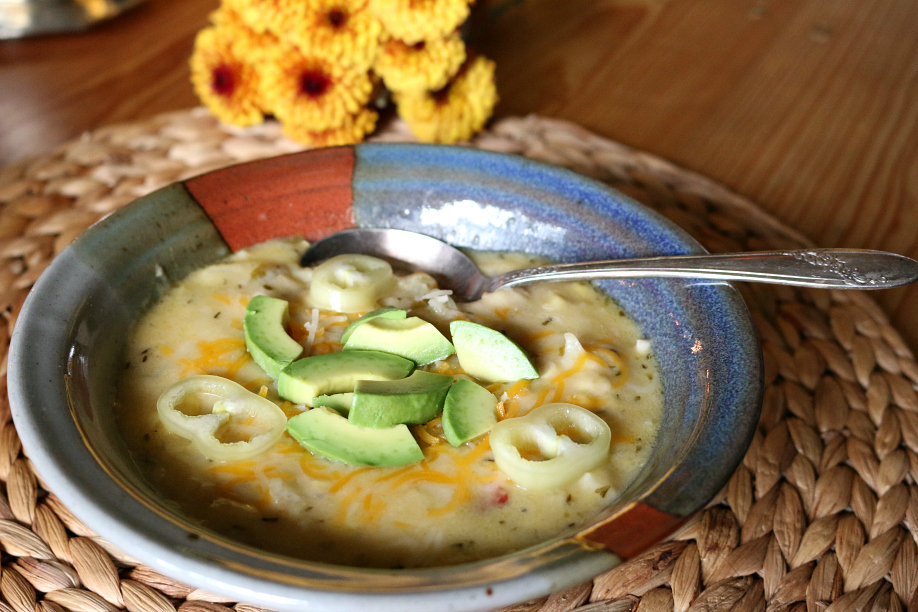 Southwestern Creamy Potato Soup
2018-02-24 10:51:48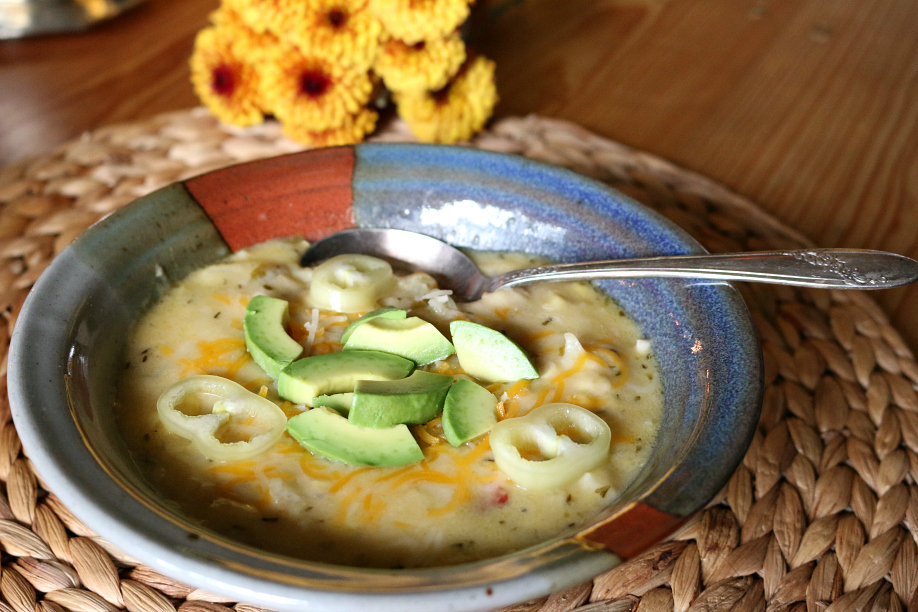 Serves 8
With some of the warmest weather on record this winter, I haven't been making as much soup as usual. It finally got a little chilly yesterday and we finally got some much needed snow in our Sandia Mountains. I took the opportunity to make some of my favorite comfort food "soup". I was craving potato soup - and I wanted to make it slightly different than just plain potato soup. I had some was peppers that I purchased and was going to use them for salsa, but instead I added them to this amazing recipe. You will enjoy this tasty and slightly spicy recipe for "Southwestern Creamy Potato Soup". I sauteed the wax peppers with the onion to carmelize them and add a slightly spicy flavor. No wax peppers in your area - you could also any peppers including green chile peppers or jalepenos in this recipe. Wax peppers are not usually too spicy. These were on the mild side so I used two whole peppers in the recipe. And since the peppers were on the mild side I used a third pepper as a garnish along with some fresh sliced avocado. YUM! I hope you enjoy my latest creation. Until next time - Bon Appetit, Cecelia
Ingredients
1/2 cup Pancetta, cubed
4 tablespoons butter
1 cup onion, chopped
2 cloves garlic, minced
2 stalks celery, sliced finely
2 wax peppers, chopped finely, seeds removed
2 tablespoons flour (omit for Gluten Free option)
12 cups chicken or vegetable stock (enough to cover chopped potatoes)
1 teaspoon dried cilantro
1 teaspoon dried thyme
6 medium russet potatoes, peeled and chopped
Salt and pepper to taste
3 cups frozen sweet corn
16 ounces shredded sharp cheddar cheese
1 cup heavy cream
Garnish
Shredded sharp cheddar cheese
Crispy pancetta
1 wax pepper sliced
1 avocado, sliced
Instructions
Directions: In a large deep soup pot, fry pancetta until crispy, about 3 minutes.
Remove pancetta and set aside. (Use as garnish)
In the same pan add butter, onion, garlic, celery, and wax peppers.
Sauté mixture until tender and translucent, about 5 minutes.
Then add flour and allow to cook about 2 – 3 minutes, or until flour is cooked and bubbling.
Gradually stir in chicken stock and mix.
Season with cilantro, thyme, continue mixing until flour is dissolved.
Add chopped potatoes.
Season with salt and pepper.
Cook over medium high heat until potatoes are tender, about 30 minutes.
Once potatoes are tender, add heavy cream and sweet corn.
Then add cheddar cheese.
Mix until cheese is melted.
Reduce heat to low, cover pot and cook for 10 minutes.
Serve into individual bowls.
Garnish with cheese, wax peppers and avocado.
Serve immediately.
Notes
For a Gluten Free recipe simple omit the flour.
Cecelia's Good Stuff https://ceceliasgoodstuff.com/