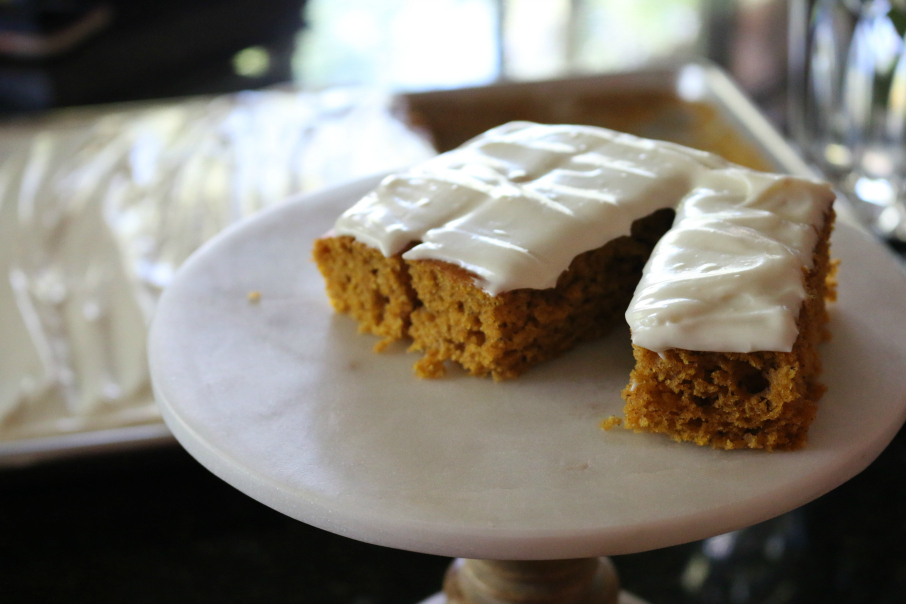 Sheet Pan Pumpkin Bars with Cream Cheese Frosting
2019-11-11 14:41:03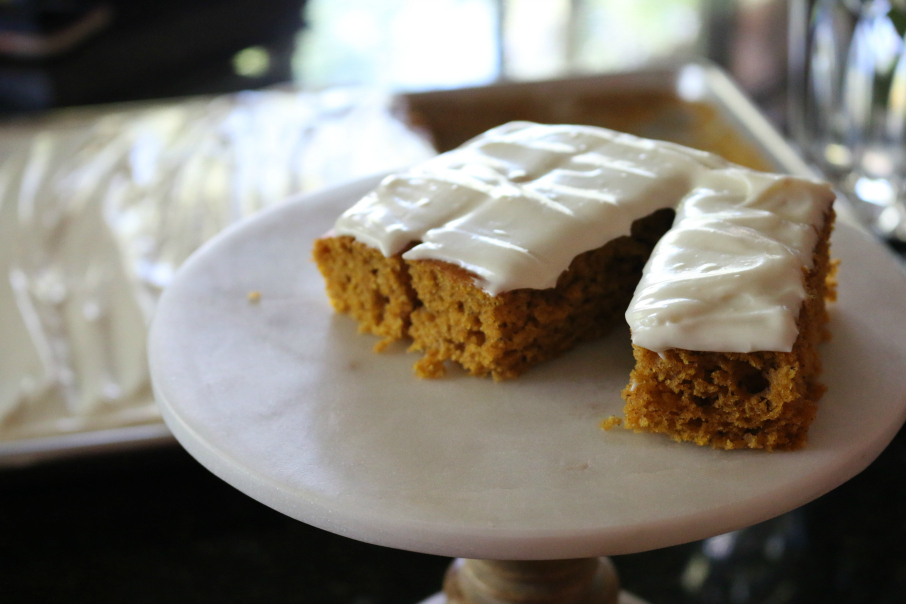 Serves 24
Thanksgiving is almost here - and I can hardly wait! Maybe it is the excitement from my kids that has me looking forward to the great food and celebration with family and friends - but regardless it will be wonderful. And what better way to celebrate the season than with some homemade pumpkin bars. These are so moist and delicious it will be hard to just eat one. Enjoy! Bon Appetit, Cecelia
Ingredients
4 eggs
3/4 brown sugar
3/4 white granulated sugar
1 (15 ounce) can pumpkin
1 stick butter, room temperature
1 teaspoon vanilla bean paste
2 cups flour
2 teaspoons cinnamon
1 teaspoon pumpkin pie spice
2 teaspoons baking powder
1 teaspoon baking soda
pinch or two of salt (if butter is unsalted)
Frosting
8 ounces cream cheese, room temperature
1/2 stick of salted butter
2 cups confectioners sugar
1 teaspoon vanilla extract
1 tablespoon fresh squeezed lemon juice
Instructions
In a large mixing bowl add eggs, sugar, butter and pumpkin.
Mix until blended about 30 seconds.
Add flour, cinnamon, pumpkin pie spice, baking powder, and baking soda.
Mix for about 60 seconds or until fully blended.
Pour into one 18" x 13" cookie sheet or two 9" x 13" cookie sheets.
Spread batter evenly.
Preheat oven to 350 degrees F.
Bake for 25 - 28 minutes.
Test center with toothpick, if it come out clean it is fully cooked.
Allow to cool completely before frosting.
Frosting
In a medium size mixing bowl add, cream cheese, butter, vanilla extract, and lemon juice.
Mix on medium high for about 2 minutes or until creamy and smooth.
Frost bars.
Slice and serve.
Enjoy!
Cecelia's Good Stuff https://ceceliasgoodstuff.com/