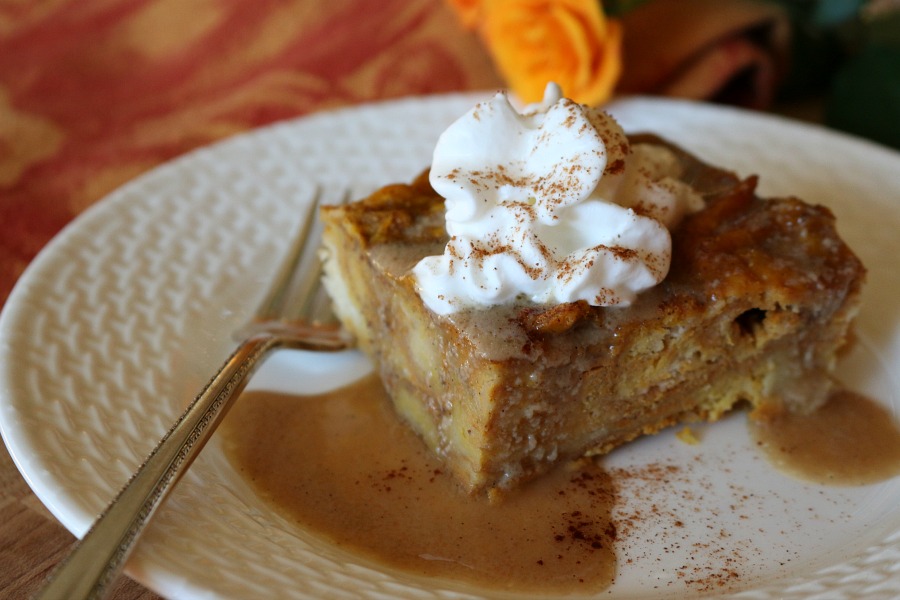 Pumpkin Bread Pudding with Bourbon Sauce
2016-11-07 15:54:53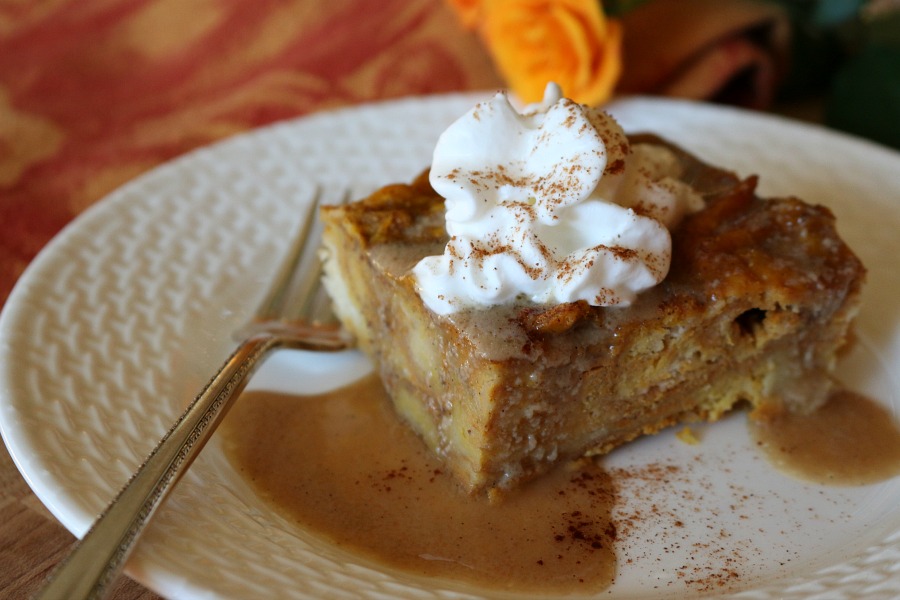 I have begun the begrudging chore of cleaning out cabinets. I do this every year before the holidays. I think it might be stress that triggers the cleaning in me. Over the last couple of years, I have collected more than my fair of dishes. I use the blog and taking pictures as my excuse to collect more things. I must say my cabinet cleaning is long overdue. I love dishes, and my over-crowded kitchen it starting to look a bit cluttered. I am moving stuff around to make room and found an old cut out of a recipe for whisky sauce. Inspired I wanted to create something to eat with this whiskey sauce. Isn't that funny, the sauce inspired me! I remember having this amazing bread pudding once that had this tasty bourbon sauce. So, inspired to create something new for my Thanksgiving menu, I started pulling all sort of ingredients out of the pantry. I have always wanted to make pumpkin bread pudding so here you have it. The best darn Pumpkin Bread Pudding ever . . . it combines delicious pumpkin, buttery croissants, vanilla beans, whipped topping, and this amazing bourbon cream sauce that will knock your socks off. I love experimenting with recipes. I used an old recipe and tweaked it and came up this this delicious dessert! Best of all it is simple to prepare. And it bakes in around 30 minutes. If you want to sever it warm on Thanksgiving Day it is not a big deal. You can make this bread pudding the night before and bake it while you and your guests are eating dinner. The sauce also reheats well. So, you can make that a day ahead as well. I love when you can do most of the prep work for a holiday meal a day ahead. It allows you to relax and enjoy your guests. I couldn't stop eating this Pumpkin Bread Pudding with Bourbon Vanilla Cream Sauce, I even had it for breakfast. For me that is the real test. Does it taste good the next day?!?! It passed with flying colors. I think this might be the best dessert ever. I love hearing from you. Please let me know what you think of this recipe. Don't forget to follow me on Facebook and Pinterest for more Thanksgiving recipe ideas. Bon Appetit, Cecelia
Ingredients
4 large day old or older croissants, cut into cubes
8 eggs, beaten well
1 teaspoon vanilla bean paste
1 teaspoon cinnamon
1/2 teaspoon pumpkin pie spice
1 (15 ounce) can pumpkin puree
1 cup heavy cream
1/2 cup dark brown sugar
1 tablespoon dark molasses
For Bourbon Sauce
1/2 stick butter
1/4 cup brown sugar
1/4 heavy cream
1 teaspoon vanilla bean paste
2 tablespoon bourbon
Garnish
Whipped topping
Ground cinnamon
Instructions
Cut croissants into bite size pieces. Place into a 9 x 13 casserole pan. In a mixing bowl, beat eggs well, then vanilla bean paste, cinnamon, pumpkin pie spice, pumpkin puree, heavy cream, brown sugar, and molasses. Mix until all ingredients are well blended. Pour mixture over croissants, using a spatula press down on the croissants, making sure they are fully covered in the pumpkin mixture. This will insure that the croissants can absorb the moisture from the mixture. Bake in preheated 350 degree F. oven for approximately 35 minutes, or until center is firm.
For bourbon cream sauce: Add butter to small pan, melt over medium low heat. Then add brown sugar and mix until fully dissolved. Add cream, vanilla bean paste and bourbon. Heat until thoroughly warm about 2-3 minutes.
To serve: Cut pumpkin bread pudding into 12 serving pieces. Drizzle individual servings with bourbon sauce and top with whipped topping and a small dash of cinnamon.
Notes
Tip: If you make the pumpkin bread pudding a day before, please allow the casserole dish to rest at room temperature before baking. This will help prevent the dish from cracking, going from cold to a hot oven.
Cecelia's Good Stuff https://ceceliasgoodstuff.com/