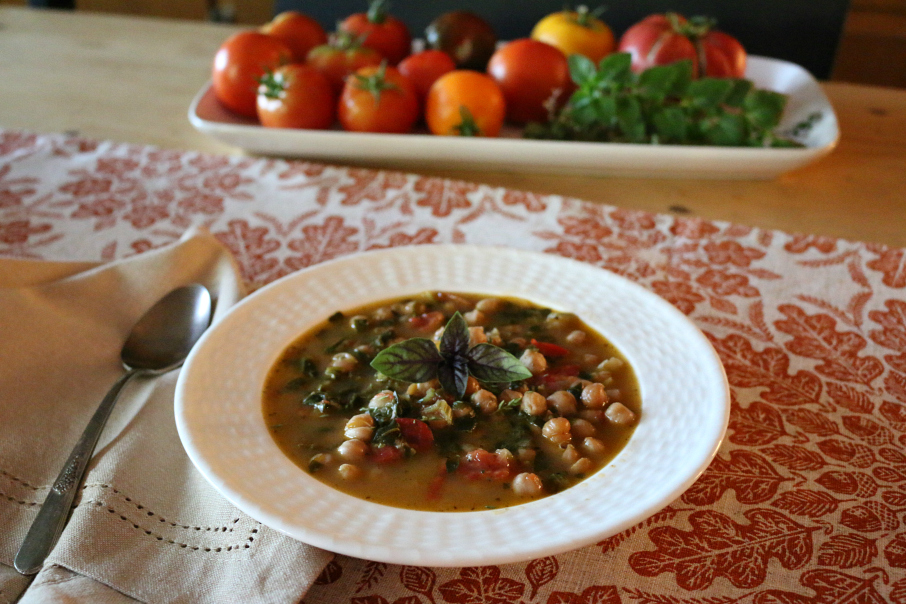 Italian Bean Soup
2019-11-07 14:03:09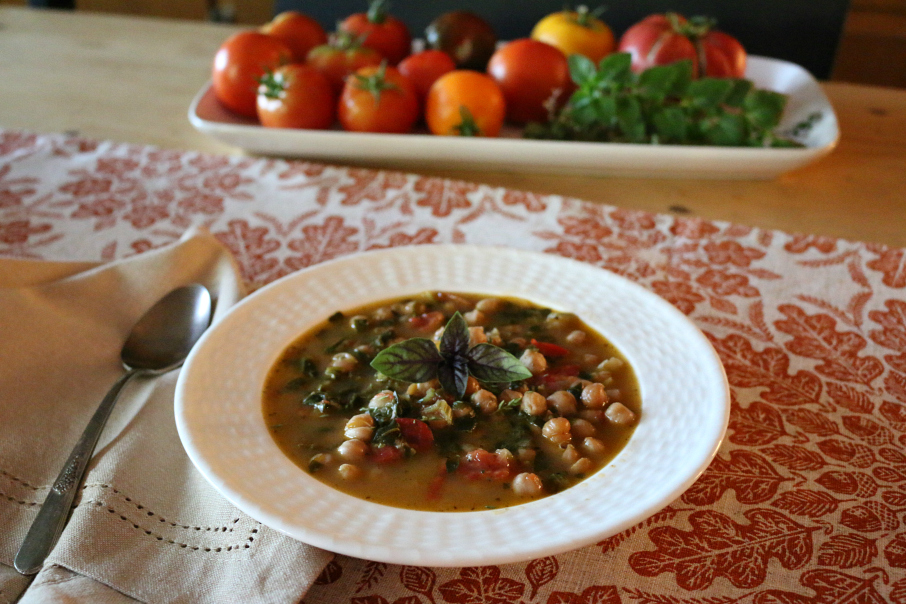 Serves 8
The frost nearly got my basil and tomatoes. Lucky for me I managed to pick them just hours before the temperatures dropped. I had a enough tomatoes to make soup and spaghetti sauce and that was about it. It is always hard to see the garden freeze over it makes me sad. Seems like I will never get use to it. So I made the best of what I had and created one tasty Italian Bean Soup. I hope you will enjoy cooking it for your friends and family. It is a keeper! I roasted the vegetable and it really gave it a depth of flavor. Until next time - Bon Appetit, Cecelia
Ingredients
Italian Bean Soup
4 medium tomatoes
1 medium white onion, quartered
4 garlic cloves
4 tablespoons extra-virgin olive oil
32 ounces vegetable broth
2 (15 ounce) cans garbanzo beans with juice
2 cups baby spinach, roughly chopped
1 tablespoon fresh thyme leaves
1 tablespoon fresh basil, roughly chopped
1 tablespoon fresh flat leaf parsley, roughly chopped
1 teaspoon sea salt (more if needed)
2 pinches crushed red chili flakes
1/4 teaspoon black pepper
Instructions
Preheat oven to 425 degrees F.
On a large cookie sheet add tomatoes, onion, garlic cloves, and drizzle with olive oil.
Bake for about 15 – 20 minutes or until tomatoes are slight charred on top.
Transfer to food processor and pulse on and off until tomatoes, onions and garlic are chopped. (About 4 or 5 times for 10 seconds.)
Transfer mixture to a stock pot.
Heat over medium high heat.
Add vegetable broth, garbanzo beans with juice, spinach, thyme, basil, parsley, salt, red chile flakes, and black pepper.
Cook for about 30 minutes.
Serve into individual bowls and garnish with fresh basil.
Enjoy!
Cecelia's Good Stuff https://ceceliasgoodstuff.com/