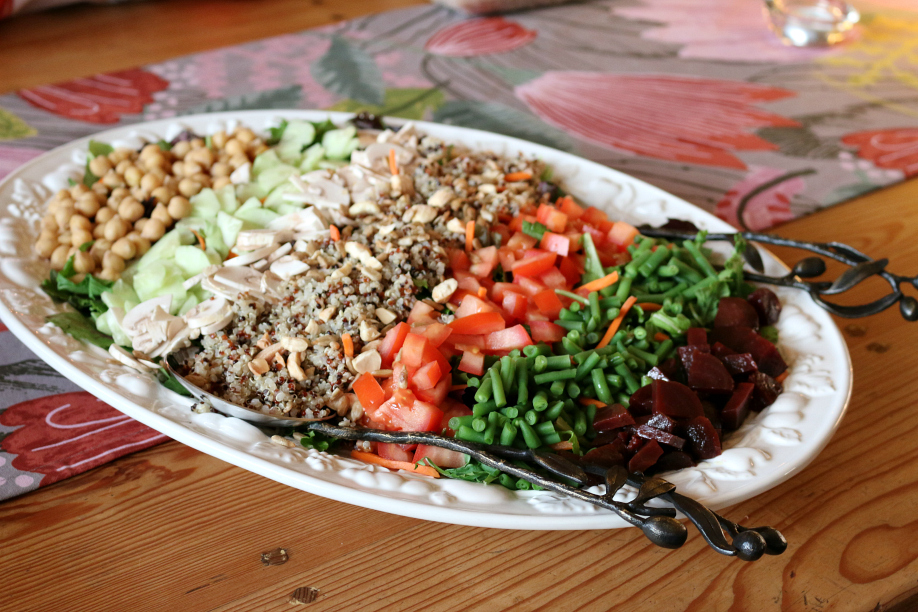 The Perfect Vegan Cobb Salad
2017-10-05 07:42:23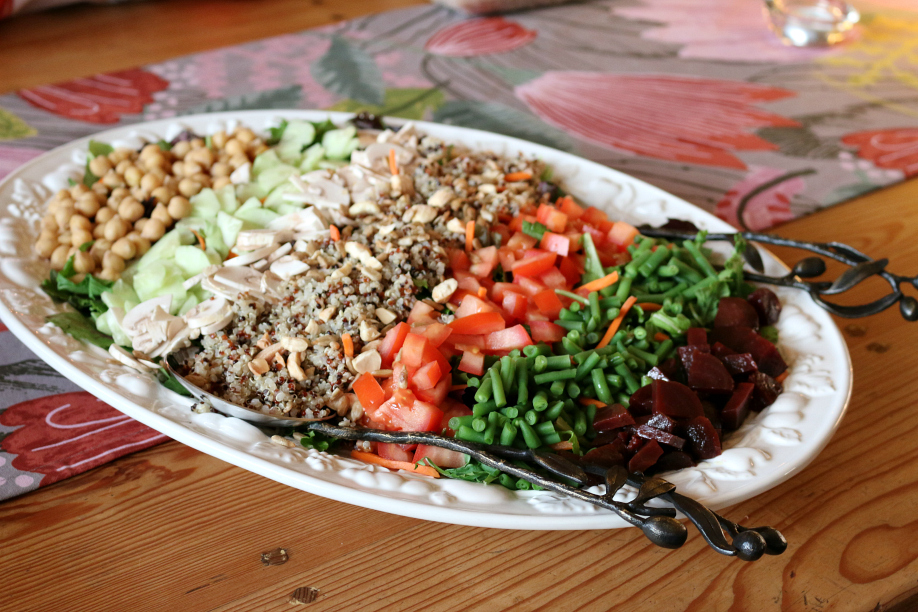 Serves 4
Fall is time for great food. You can find almost anything made with pumpkin these days. From pumpkin Oreos to pumpkin almond milk. The list goes on and on. Fall in New Mexico is chile roasting season. Our Hatch Green Chile is in abundance. This morning I drove to the local market. It smelled so good. They were roasting fresh chile near the entrance. It made me want to go right home and make something delicious with fresh roasted green chile. I have been posting lots of recipes using green chile . . . see below. I wanted to take time and note that the word chile is common to native New Mexicans and most people from the greater southwest region of the United States. The word chile can be spelled either way with an "e" or chili with an "i". In our state we usually refer to a bowl of chili spelled with and "I" otherwise when referring to a chile pepper we use the letter "e". Well there you have it. And the recipe below is not made with chile . . . it is a Vegan Cobb Salad. My daughter recently decided to try the vegan diet . . . thus no animal products. It is a little difficult, since I enjoy cheese. My Grandfather is probably rolling over in his grave, due to the fact that he was from Greece and he made cheese for a living. I must say cheese is a favorite in my house. So I often serve it on the side. If anything her diet has made me very aware of animal products in foods. It is not hard to avoid them since I made most everything from scratch. But it can be hard to find good tasting products that are vegan. In my opinion there is a lot of opportunity for improvement. The salad below is vegan friendly made with quinoa, beans and nuts for protein. I did purchase roasted beets, they are not bad, but I do prefer roasting my own. This giant platter served four very hungry people but it could feed up to six. Please let me know what you think of it. I love hearing from you. You always make my day. Stay tuned for more delicious recipes. See my Pinterest for Everything Pumpkin, Southwest Flavor and Halloween Ideas. Looking forward to hearing from you soon. Bon Appetit, Cecelia
Ingredients
6 ounces Mixed Greens
1 cup julienned carrots
1 medium roasted beet, sliced
1 cup green beans, slightly steamed
1 medium tomato, chopped
1 cup cooked quinoa (cooked according to package directions)
4 button mushrooms, sliced
1 cup cucumber, sliced
1 cup garbanzo beans
1 tablespoon sunflower seeds
1/4 cup almonds, chopped
Instructions
In a large platter spread greens.
Layer with carrots.
They as seen below line the platter with beets, green beans, tomato, quinoa, mushrooms, cucumber, and beans.
Sprinkle quinoa with sunflower seed and chopped almonds.
Drizzle with your favorite dressing and serve.
Notes
This recipe feeds 4 hungry people or 6 not so hungry people.
Serve with bread or crackers and your favorite dressing.
Cecelia's Good Stuff https://ceceliasgoodstuff.com/