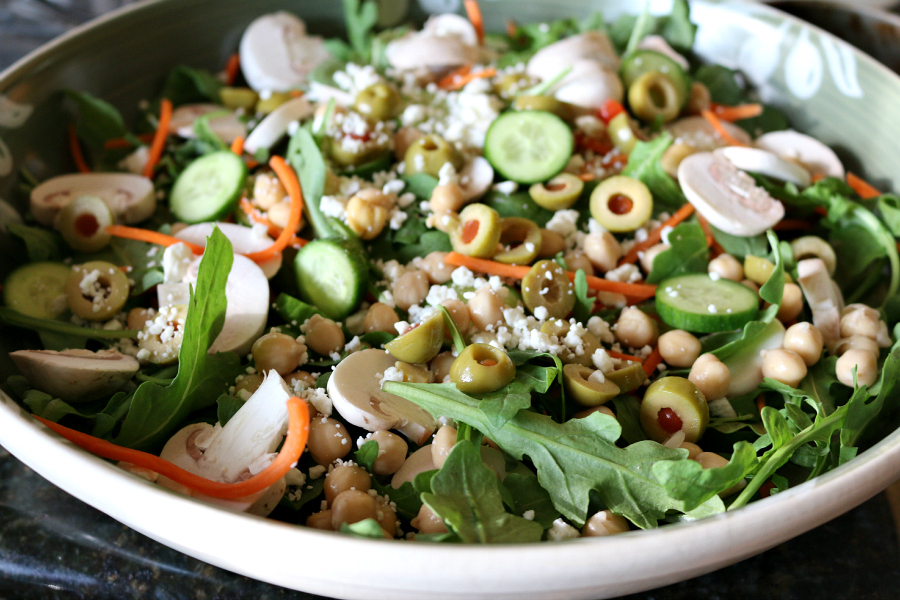 Arugula Salad with Pomegranate Vinaigrette
2015-11-02 17:46:58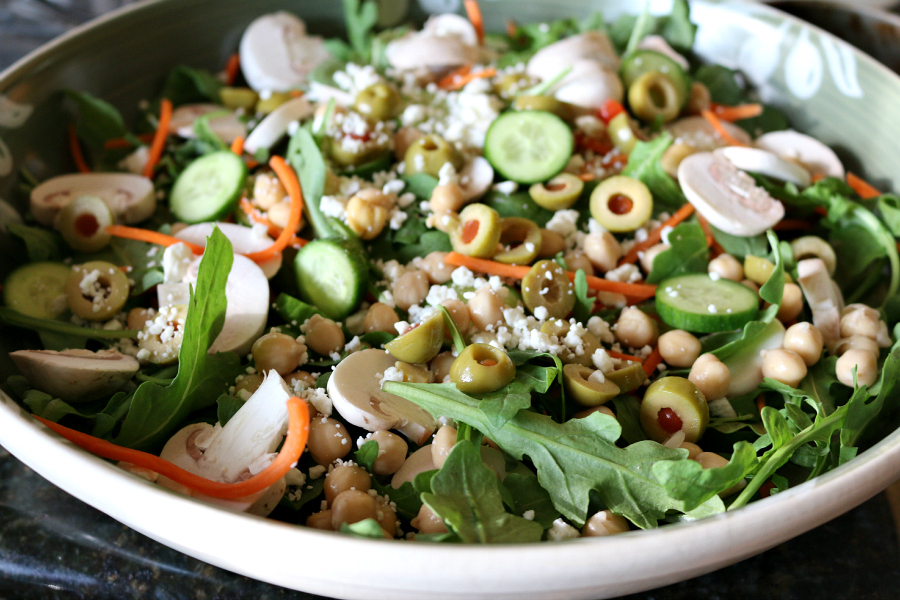 Serves 4
I just love salads . . . honestly, I could eat one a day and never get tired of them. Some days it seems like a big chore, I know to pull out all the ingredients and chop them all up and make a dressing, but it has gotten much easier with all these prepackaged greens and salad fixings. Seriously - it only takes about five to ten minutes to throw a great salad together. I love the precut carrots these are a must have in my household. And the organic arugula that is triple washed, make it easy to make a healthly salad. Let's face it you can get tired of the same old tomatoes, cucumber, and lettuce. But you can get creative and add things like green olives, mushrooms, or an variety of your favorite cheese. I happen to like Feta cheese in salads, so I keep a small container on hand. My kids are not huge fans of it, so I try not to over do it. My kids love salads and I think it is due to the fact that they are exposed to them nearly every day. I hope you enjoy this recipe and my new pomegranate vinaigrette. I think it is very tasty. I love hearing from you, so keep the comment coming. Stay tuned for so great Thanksgiving menu ideas. Bon Appetit, Cecelia
Ingredients
6 ounces organic arugula
1/2 cup cauliflower florets
1 cup julianned carrots
1 cup sliced mushrooms
1 cup sliced cucumber
1/2 cup sliced green Spanish olives
1/2 cup garbanzo beans, rinsed and towel dried
Pomegranate Vinaigrette
1/4 cup pomegranate vinegar
1/4 extra virgin olive oil
1/2 teaspoon Italian seasoning
1/2 teaspoon sea salt
1/4 teaspoon fresh ground pepper
1 teaspoon good quality Dijon mustard
Instructions
Arugula Salad with Pomegranite Vinaigrette
In a large salad bowl layer arugula, garbanzo beans, cauliflower, sliced carrots, mushrooms, cucumber, green olives, and feta cheese. Drizzle with pomegranate vinaigrette and serve immediately.
Pomegranate Vinaigrette: In a small mixing bowl add white balsamic vinegar, olive oil, Dijon mustard, salt, pepper and mix until well blended.
Notes
TIP: For the best vinaigrette use a high quality extra virgin olive oil, I prefer cold pressed, to ensure you get the full health benefits of the olive oil. I purchase the pomegranate vinegar from Trader Joe's but you can substitute your favorite vinegar.
Cecelia's Good Stuff https://ceceliasgoodstuff.com/