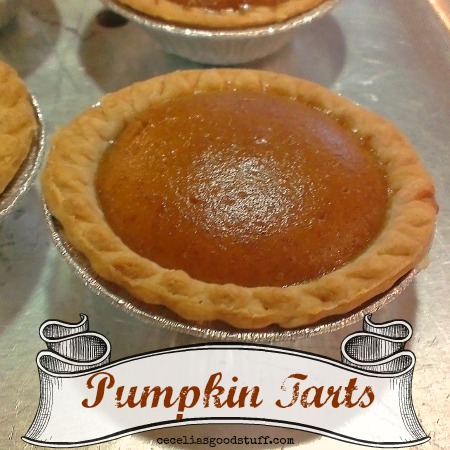 Pumpkin Tarts
2015-01-26 11:25:55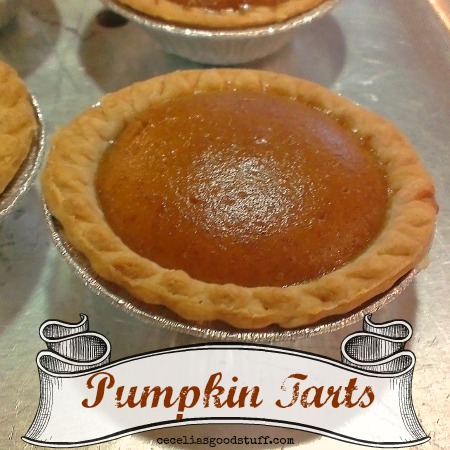 Thanksgiving is my favorite day of the year to eat. What makes it so special is sharing it with the people I love and a combination of delicious dishes that make this day. I find that I don't usually make these foods that often for the rest of the entire year. I'm not sure why, I love turkey and stuffing. My menu also includes mashed potatoes, giblet gravy, salad, corn pudding, green beans, sweet potatoes, pumpkin pie, and homemade rolls. It is fairly traditional and absolutely perfect. I did try a new recipe this year "Pumpkin Tarts" and they were so perfect, I just had to share it with you. Wishing you and yours a holiday filled with love, laughter and fun. Bon Appétit, Cecelia
Ingredients
1 15 ounce can of pumpkin puree
1 (12 ounce) can evaporated milk
¾ cup sugar
12 mini tart crusts
½ teaspoon kosher salt
1 teaspoon ground cinnamon
½ teaspoon ground ginger
1/2 teaspoon ground cloves
Dash of cayenne pepper
Dash of all spice
Dash of pumpkin pie spice
2 large eggs (beaten)
Whipping Cream for garnish
Instructions
In a large mixing bowl combine, pumpkin, eggs and spices.
Mix until well blended then add sugar and evaporated milk and mix well.
Pour into unbaked tart crusts filling just below crust rim.
Bake at 425 degree for 15 minutes.
Then reduce heat to 350 degrees and a bake for another 20 – 25 minutes or until a tooth pick inserted comes out clean.
Cool for one hour before serving.
Garnish with whipping cream and serve.
Cecelia's Good Stuff https://ceceliasgoodstuff.com/