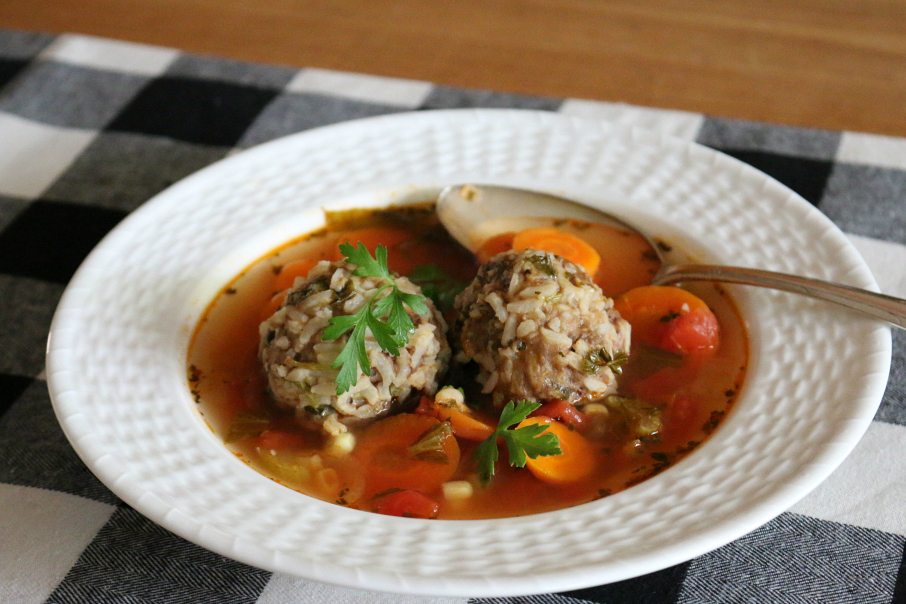 Albondigas Mexican Meatball Soup
2019-10-16 16:58:55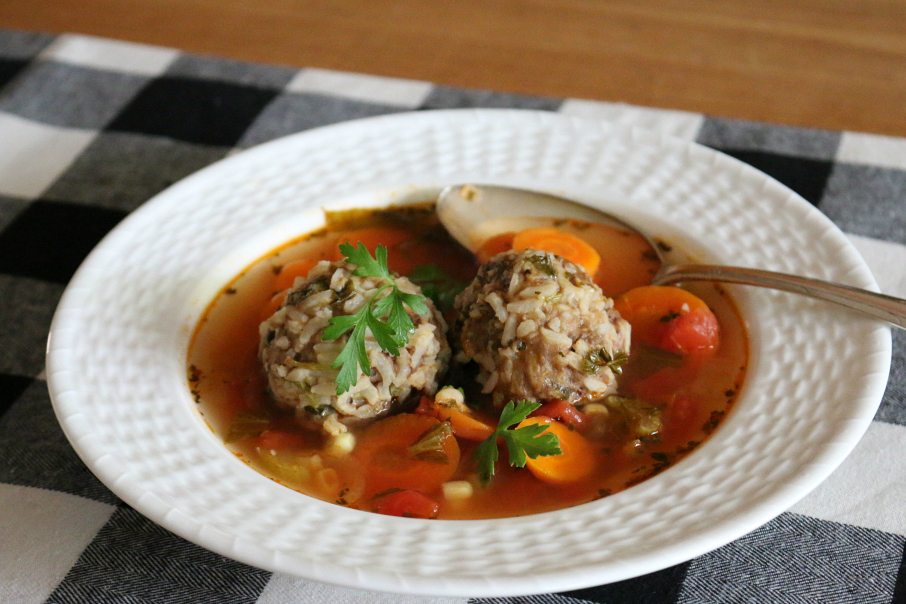 Serves 8
Albondigas Mexican Meatball Soup made with lots of fresh vegetables and a rich herb beef broth leaving the meatballs be the star attraction in this traditional Mexican soup. Over the years I have made this a number of ways and this is by far the best! I hope you enjoy it as much as my family enjoyed eating eat!
Meatballs
1 pound extra lean ground beef (93/7)
2 cups cooked rice, room temperature
2 eggs, beaten
2 tablespoons, minced fresh cilantro
½ teaspoon dried cumin
½ teaspoon salt
¼ teaspoon cracked pepper
¼ teaspoon dry mustard
1 pinch cayenne pepper
Soup
4 carrots, sliced
2 stalks of celery, sliced
1 medium onion, diced
3 garlic cloves, minced
1 can (15 ounces) petite diced tomatoes
2 cups sweet corn, frozen
32 ounces Low sodium beef broth
2 – 4 cups water
3 tablespoons Hot Sauce
2 tablespoons fresh squeezed lime Juice
1 tablespoon fresh oregano, minced
1 tablespoon fresh parsley, minced
1 tablespoon fresh thyme, minced
1 tablespoon fresh cilantro, minced
For meatballs
In a large bowl beat eggs.
Add ground beef, rice, cilantro, cumin, salt, pepper, dry mustard and cayenne pepper.
Mix well until all ingredients a combined.
Using a tablespoon scoop meat mixture and roll in palms of hand to form meatballs (about 2 inches).
Place on ungreased cookie sheet.
Preheat oven to 425 degrees F.
Bake meatballs for 15 – 18 minutes of until cooked. (see images for reference)
Allow meatballs to cool while making soup base.
For the Soup
In a large stock pot add olive oil, onions, garlic, carrots and celery.
Cook over medium high heat until onions are cooked and translucent in color.
Add tomatoes, corn, oregano, parsley, and cilantro.
Simmer for about 10 minutes.
Add beef broth, water, hot sauce and fresh lime juice.
Bring to a boil and cook for 25 minutes or until carrots are tender.
Add meatballs and turn to simmer (low heat).
Cook another 15 minutes.
Taste and add more salt if needed.
Serve into individual bowls.
Garnish with fresh parsley.
Notes
Serving size will vary on how big of a bowl you are using to serve - it feeds 8 with a medium size bowl! If serving a large group serve in a cup with one meatball per cup - the recipe should serve 12 - 16 depending on the size of your meatballs.
Cecelia's Good Stuff https://ceceliasgoodstuff.com/