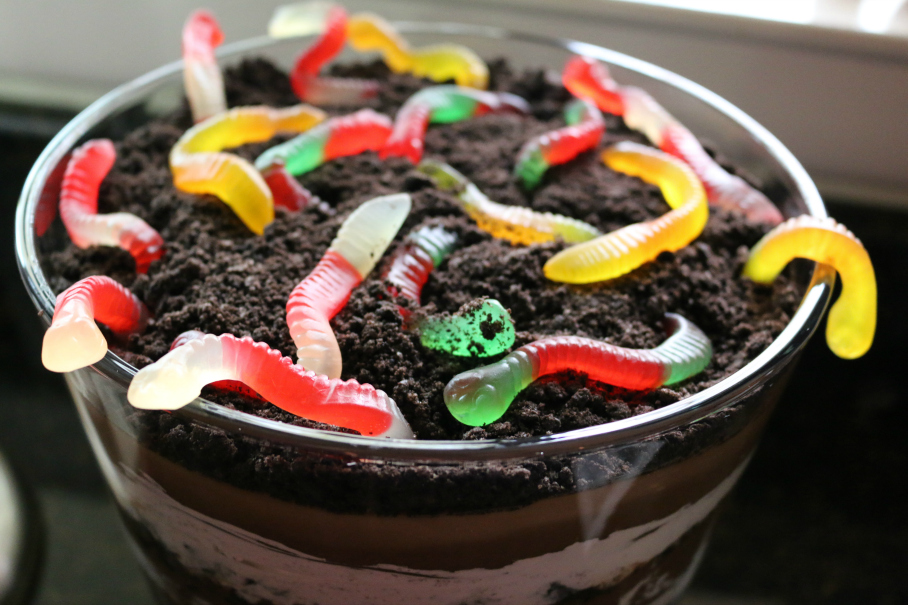 Wormy Halloween Chocolate Pudding Trifle
2017-10-17 16:03:39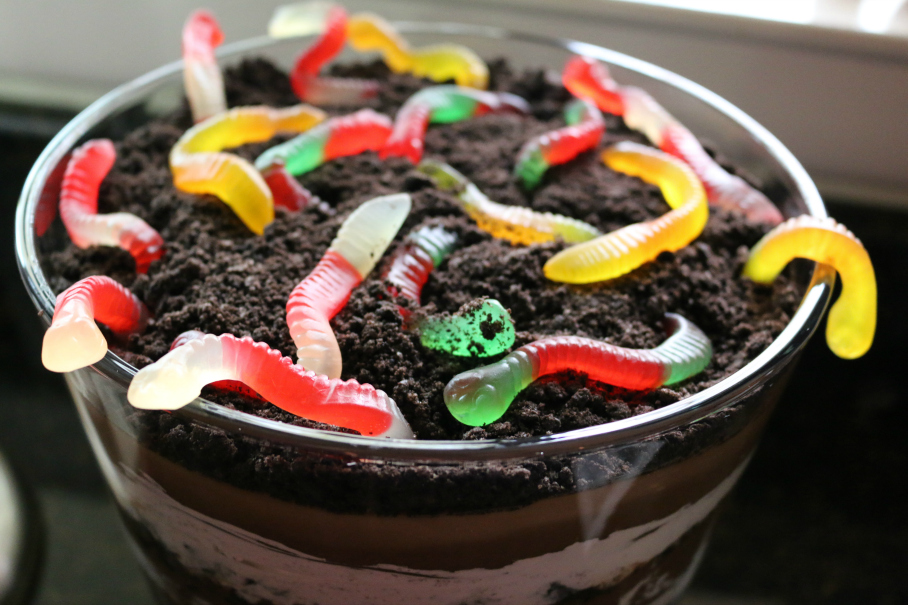 Serves 18
I know I say this every year . . . . I love the Halloween holiday season, I call it a season because I decorate weeks before. I thoroughly find pleasure in decorating, cooking, and most of all I enjoy the pumpkin carving party we host each year for family and friends. It has become a tradition for my family. I usually serve the same menu each year which includes some of my fall favorites like Frito Pie, Chili Dogs, Chile con Queso, and for dessert a Halloween Chocolate Pudding Trifle. (Not the healthiest menu, but I only do this once a year!) I start decorating weeks before and go a little over board with the decorations, but it is so much FUN! I simply can't resist. My daughter is begging me to start decorating this week. So I guess I better get moving on it very soon. To start out the Halloween mood I made a fun and tasty Halloween Chocolate Trifle. This dessert is a family favorite. I added the gummy worms to make it playful and fun for Halloween. I hope you enjoy this fun filled dessert recipe. I love hearing from you so comment below or send me a message via Facebook. For more Halloween Ideas follow me on Pinterest. Until next time - Bon Appetit, Cecelia
Ingredients
2 (6 ounce) Jell-O Chocolate Fudge Instant Pudding Mix
6 cups whole milk
1 package Oreo cookies (all 3 rows)
1 (28 ounce) container of Cool Whip
1 Hersey's dark chocolate bar (grated finely)
1 package gummy worms
Instructions
Mix chocolate pudding as directed on box.
Chill pudding in refrigerator until ready to layer.
In food processor add entire package of cookies and pulse until all cookies form a fine crumb. No visible white center should be present.
In trifle dish layer the cookie mix, chocolate pudding, cool whip and grated dark chocolate until you have at least three layers of each.
This dessert is best made one day ahead and should be stored in refrigerator for up to 24 hours before serving.
And Lastly, garnish with gummy worms and serve it up!
Cecelia's Good Stuff https://ceceliasgoodstuff.com/