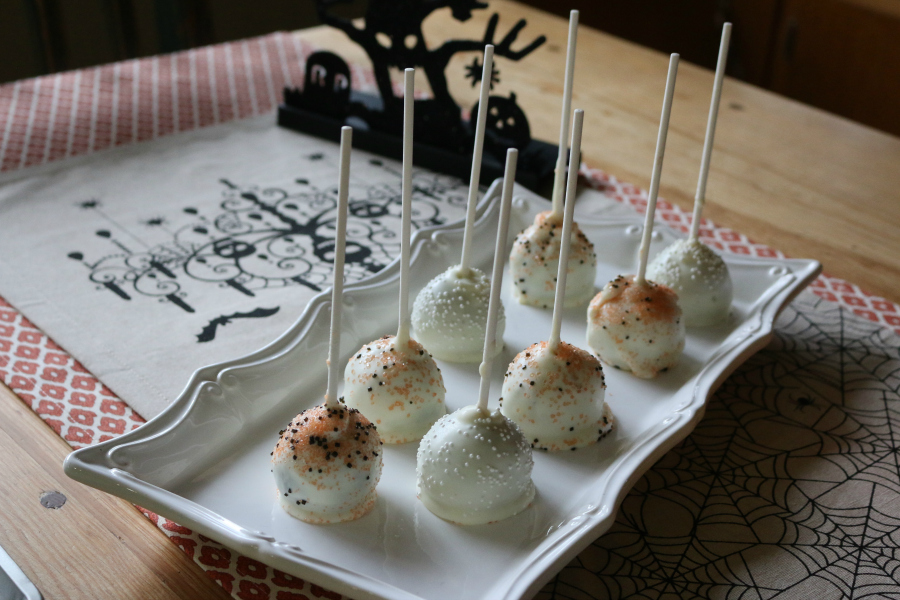 Halloween White Chocolate Cake Pops
2017-10-24 15:02:47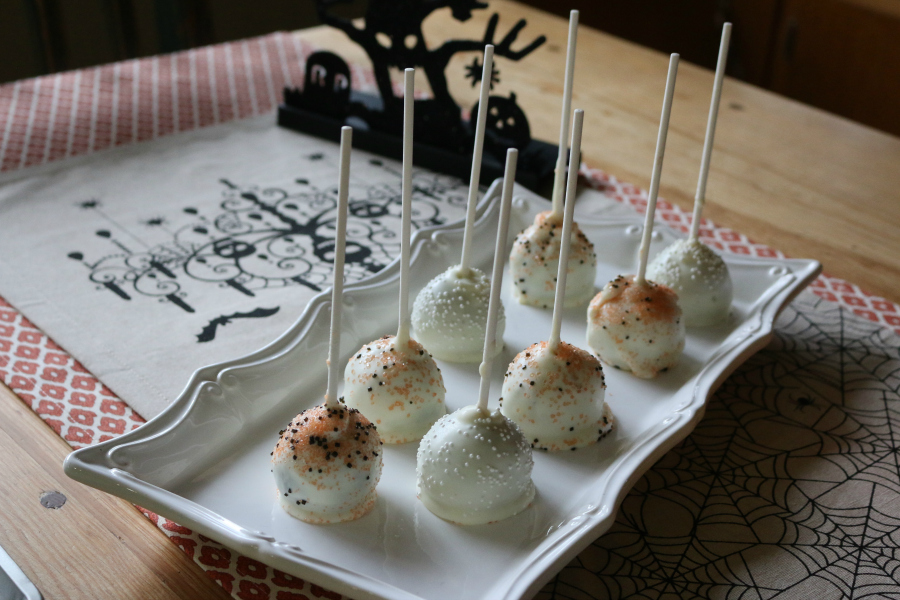 Serves 16
Halloween is one of my favorite holidays. It seems we have 4 parties lined up this year. That is a lot of party hoping. And usually volunteer to bring something yummy and fun to eat. Half the fun for me is playing around with Halloween food ideas and recipes. One of my favorite things to do is coming up with new ideas for carving my pumpkin. And honestly, sharing the experience with family and friends is what gives it so much meaning. I purchase magazines to inspire me each year. When it comes to food I like making one or two new things. I made these cake pops a few years back and I tried them again this year. I found that they are so much easier to make if you serve them flat instead of trying to make them perfectly round. I think it is a good idea and it made for a fun presentation. Here is my new twist on cake pops using white chocolate melting wafers to make these fun filled "Halloween White Chocolate Cake Pops" that will be perfect addition for your Halloween celebration. For more ideas follow me on Pinterest. Happy Halloween - Cecelia
Ingredients
1 box white pudding cake mix
3 eggs
1/3 cup vegetable oil
1 cup water
4 cups white chocolate melting wafer
Cream cheese prepared frosting
Halloween sprinkles for decoration
For Cake
Preheat oven to 350°F.
Spray one 13 x 9 x 2 sheet pan with vegetable pan spray.
Prepare your favorite white pudding cake mix according to package instructions.
In large bowl, combine cake mix, eggs, water, and oil.
Beat at medium speed with electric mixer 2 minutes.
Pour into prepared cake pan.
Bake according to package directions or until a toothpick inserted in center comes out clean.
Allow cake to cool in pan 10 minutes.
Remove cake from pan and transfer to cooling grid and cool completely (about 30 minutes.)
Divide cake in half. (Freeze one half for future use.)
To Make Cake Pops
In large bowl, use hands to crumble cake until no large chunks remain.
Add 4 tablespoons of cream cheese frosting.
Continue to mix with fingers until well combined
Test crumbs to make sure it is sticking together by trying to roll into a ball.
Add more frosting one tablespoon at a time until the crumbs form a nice ball.
Do not over mix, you don't want doughy cake balls.
Continue to test crumbs until you can easily form a small 1.5 inch ball.
Form mixture into cake balls. (About 1.5 inches in diameter making about 12-16 cake balls.
Place cake balls on a parchment line cookie sheet.
Chill cake balls in freezer for 15 – 20 minutes.
Meanwhile melt white chocolate melting wafers according to package directions.
Remove cake balls from freezer.
Dip sticks into melted chocolate and insert into cake balls.
Return cake balls with sticks into freezer for five minutes allowing the pops to set.
Then dip each cake pop into melted wafer mix, then returning to parchment sheet.
Quickly drizzle each cake pop with sprinkles.
Allow to set 10 minutes before serving.
Store in cool dry area or in refrigerator until ready to serve.
Cecelia's Good Stuff https://ceceliasgoodstuff.com/