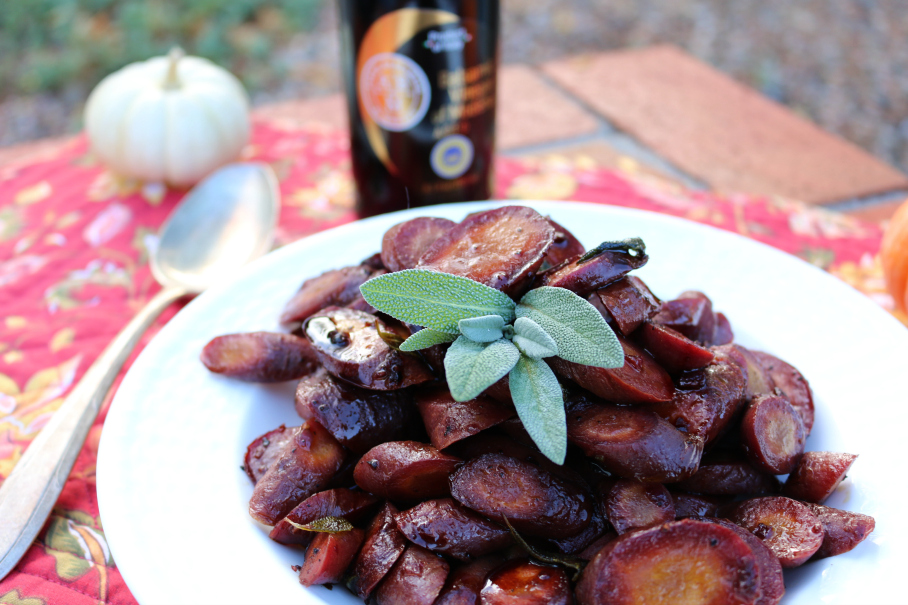 Braised Purple Carrots
2017-10-08 13:09:56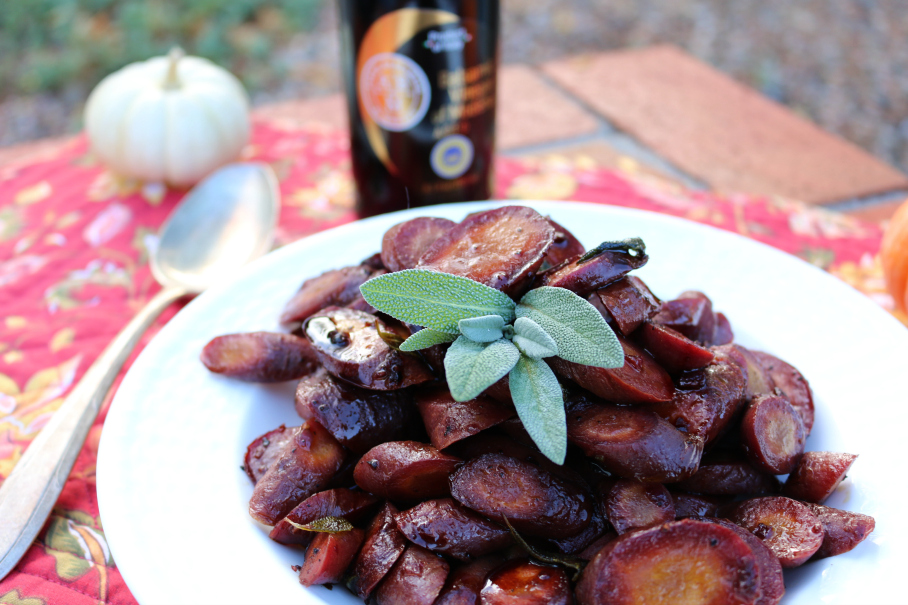 Serves 6
Braising is the technique of adding liquid while sautéing. What makes the technique work so well is that it naturally deglazes the pan adding a depth of flavor to the dish. I used shallots in the recipe and I caramelized them. When making veggies I often caramelize the shallots because it adds a deeper and sweeter flavor to the dish. Caramelizing works well with shallots, scallions, and onions. If you don't have shallots on hand you can use scallions or onions. When braising vegetables you want to sauté them first. In this recipe I used port wine as the liquid for braising the carrots. It adds more flavor and it helps the carrots to cook faster by helping to steam them. Make sure to cut the carrot slices the same size so they cook evenly. The carrots will be fully cooked when they are fork tender. Simply test them and adjust cook time if necessary. When sautéing I used fresh sage leaves, the fresh sage infused into the flavor of the carrots. To finish this dish I garnished the carrots with aged balsamic vinegar. WOW! The balsamic vinegar took this savory vegetable dish to a whole other level. I enjoy savory flavors like this in the fall. This recipe would be a great addition any holiday menu, Thanksgiving comes to mind since it will be here next month. These carrots would also be great with any protein including pork chops, chicken, and turkey. Please try this tasty dish and let me know what you think. Remember to follow me on Pinterest and Instagram for more recipe ideas for holidays ahead. Bon Appetit, Cecelia
Ingredients
10 Organic purple carrots
2 shallots, chopped finely
2 tablespoon olive oil
1/2 teaspoon sea salt +more if needed
Fresh cracked pepper to taste
8-10 small fresh sage leaves +more for garnish
Garnish
Aged Balsamic Vinegar
Sage Leaves
Instructions
Aged Balsamic Vinegar
Sage Leaves
Wash purple carrots.
Slice carrots at a bias (cutting at an angle) and set aside.
In a medium skillet over medium heat add oil.
Add shallots
Cook shallots over medium heat for 3 - 5 minutes.
Continue to cook until slight golden brown on edges.
Then add sliced carrots and sage leaves.
Season carrots with sea salt and fresh ground pepper.
Sauté for 15 minutes, mixing every 5 minutes.
Add port wine.
Cover pan and cook for 20 more minutes or until carrots are fork tender.
Transfer to serving dish.
Taste and season with more salt and pepper if necessary.
Drizzle with balsamic vinegar.
Garnish with fresh sage leaves and serve!
Notes
The balsamic vinegar was the perfect garnish for these tasty dish. Also, if you enjoy sage you could even add a few extra sage leaves while cooking the carrots.
Cecelia's Good Stuff https://ceceliasgoodstuff.com/
Sara, from Sacramento, California, says, "Thank you Cecelia, for bringing to life the amazing recipes in "Flavor of the "Southwest". This is my go to cookbook when planning for parties and family get togethers. Each recipe bursts with the tastes and aromas of New Mexico that I so love and miss. I always get special requests for the Cranberry Margaritas, Guacamole and Chipotle fire-roasted salsa. I love experimenting with the spice rubs and soups. One of my favorite vegetarian meals is the Chile Rellenos smothered with warm Roasted Poblano Salsa, and Tomato & Roasted Corn on the side. I look forward to continuing to learn and explore the many options in this cookbook."