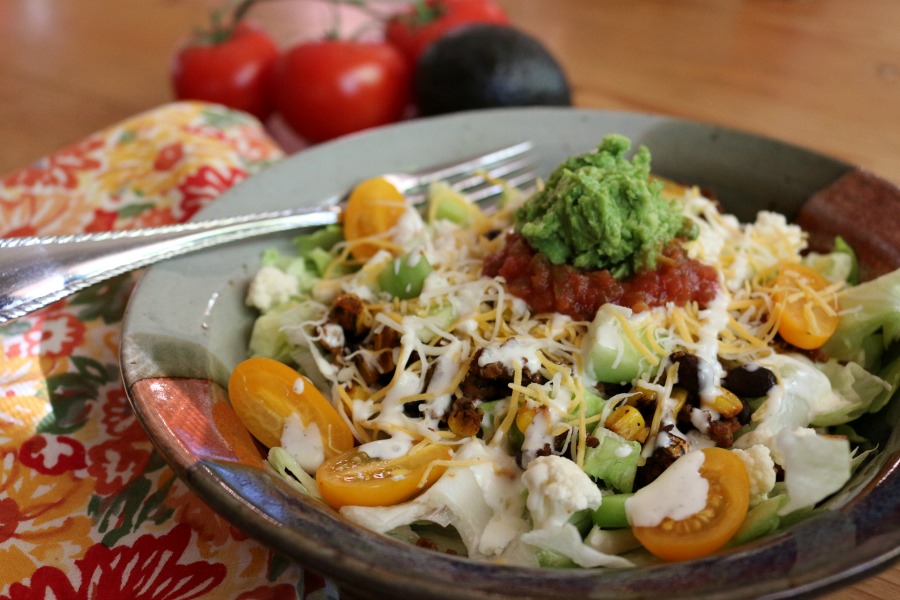 Taco Salad
2016-05-06 04:11:49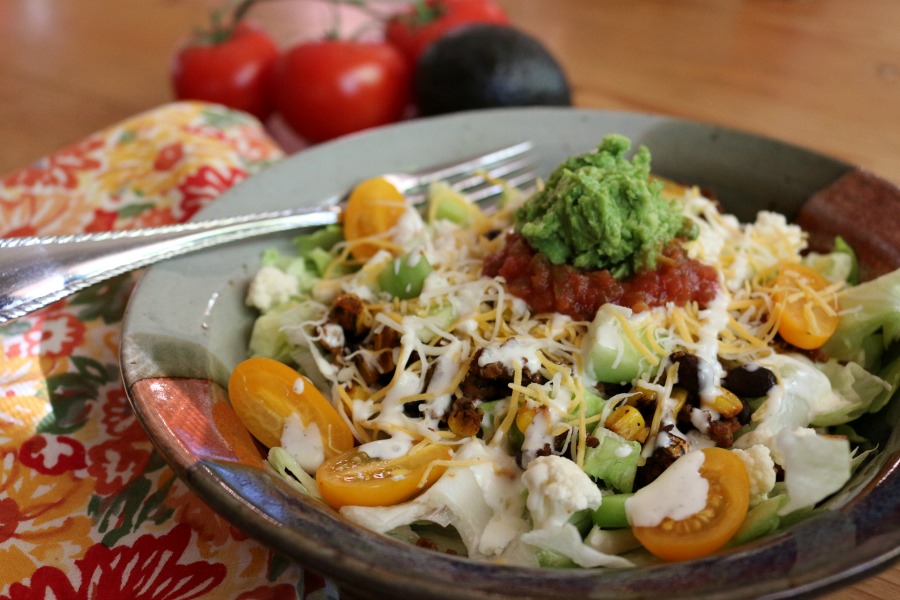 Serves 4
Life is so busy right now, getting ready for the end of school, finishing projects, planting my garden, spring clean-up around the yard, finishing up the cookbook and running my business. Somedays I can't believe I get it all done. Working women never get enough credit, and with Mother's Day around the corner, I want to give a shout out to all the women out there who are doing amazing things. Even if you are not working outside the home, raising kids, and running a household are some of the most important things we do as women. Just know that you are appreciated and that you are wished a wonderful Mother's Day, do something extra special for yourself this weekend, because you deserve it. In honor of you I created an easy weeknight salad recipe that the whole family would love. And of course, I love salads so here is a simple and easy version of Taco Salad, served with salsa, guacamole and ranch dressing.
Ingredients
4 cups tortilla chips
1pound ground hamburger meat, extra lean
2 tablespoons taco seasoning
8 cups iceberg lettuce, chopped
1 cup cauliflower florets
1/2 cup sliced cucumber
1/2 cup black beans, drained
1/2 cup roasted corn
1 cup petite heirloom tomatoes, sliced in half
1 cup cheddar cheese
Garnish
1 avocado, quartered
Ranch Dressing
Ranch Dressing
1 cup mayonnaise
1 cup buttermilk
1 packet Hidden Valley Ranch Dressing Mix
Instructions
In a large skillet fry hamburger and season with taco seasoning.
Cook until well done, about 10 minutes.
Cover to keep warm.
In large mixing bowl add lettuce, black beans, roasted corn, tomato, cauliflower, cucumber and toss until all ingredients are well blended.
Divide into 4 individual serving bowls, top with hamburger meat, cheddar cheese, and drizzle with ranch dressing.
Garnish with salsa and guacamole.
Serve immediately.
Ranch Dressing
In a small bowl add all ingredients.
Mix until well blended and serve over salad.
Refrigerate any unused dressing.
Will store up to 3 days in refrigerator.
Cecelia's Good Stuff https://ceceliasgoodstuff.com/