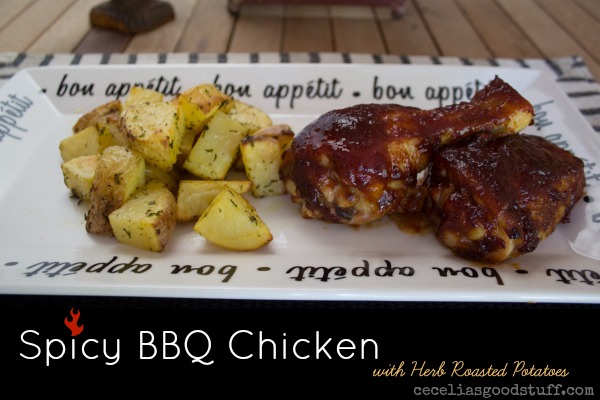 Spicy Barbecue Chicken
2015-03-11 15:31:07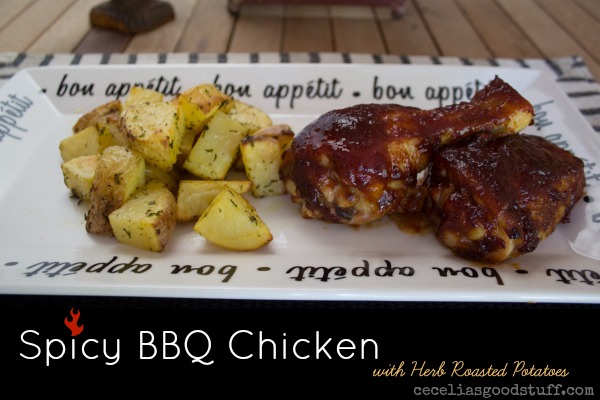 Serves 5
Spicy and bold is how we like our barbecue at Casa Linda. Try this easy oven backed spicy chicken, you will make it time and time again. The sauce as a slightly sweet flavor from the peach preserves and the chipotle and red chile add some bold spice into this dish. I told you many times my husband loves barbecue and he gave this spicy baked barbecue recipe two thumbs up. I made this for my family for dinner last night. It was easy to make and extremely tasty. The key to this recipe is the high heat at the end which gives it a crispy crunch. A word of advice – keep a close eye on it at the end, you don't want it to burn! It is pictured here with my Herb Oven Roasted Potatoes. I would love to hear what you think of this recipe. Sending you lots of love. Post your comments below or send me a note on Facebook! Bon Appétit, Cecelia
Ingredients
10 pieces Chicken Thigh/Drum Sticks
2 1/2 cups Sweet Smoked Barbecue Sauce
2 tablespoons raw Honey
1 pinch Red Pepper Flakes
½ teaspoon Garlic Powder
½ teaspoon Sea Salt
½ teaspoon Red Chile Powder
½ teaspoon black pepper
¼ cup Peach Preserves
Instructions
In a large mixing bowl add barbecue sauce, honey, red chile flakes and powder, garlic powder, sea salt, black pepper and the peach preserves.
Mix sauce until well blended and set aside.
Grease large cookie sheet with canola oil, place chicken face down and coat with sauce bake at 350 degrees for 15 minutes re-coat back side with more barbecue sauce and flip chicken over, being careful not to tear the skin
Then coat the tops with sauce and cook five more minutes
Re-coat and repeat three more times until the chicken has a thick coat of sauce
After applying the fourth coat of barbecue sauce turn oven up to 425 degrees.
Cook another 10 minutes, watching carefully not to burn the chicken but allowing it to get crispy.
Cecelia's Good Stuff https://ceceliasgoodstuff.com/