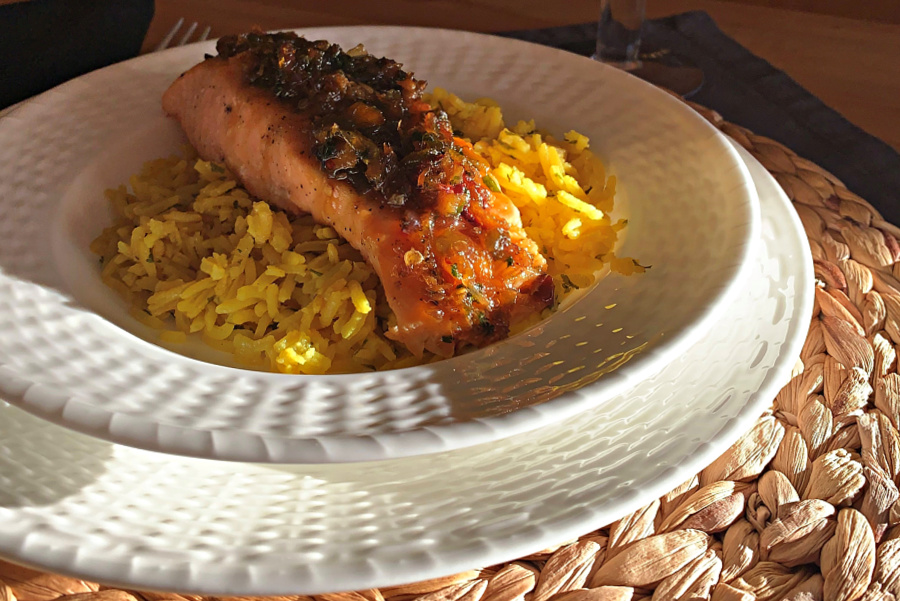 Seared Salmon with Spicy Green Chile Honey Glaze
2022-02-17 09:38:45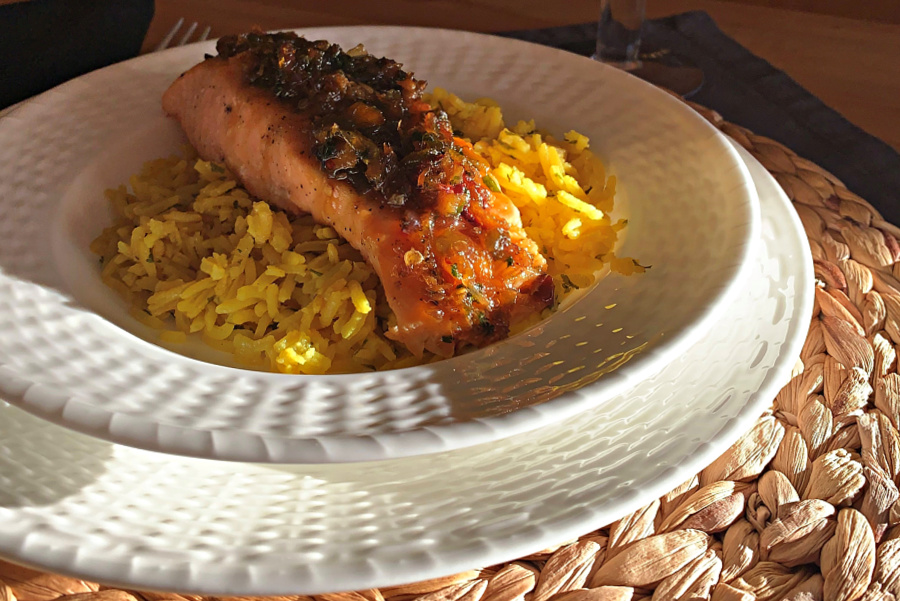 Serves 3
Seared Salmon filets with a spicy green chile honey glaze all served over spicy turmeric rice. This scrumptious gluten free meal is a winner. Make everything in under thirty minutes, which makes this a great weekday meal.
Ingredients
2 tablespoons olive oil
3 salmon fillets
Salt and Pepper to taste
2 tablespoon butter
1 shallot, finely minced
1/4 cup roasted green chile, chopped
Big pinch red pepper flakes
1/2 teaspoon dried cumin
1/2 teaspoon garlic powder
1 tablespoon cilantro, finely minced
4-6 tablespoons honey
Turmeric Rice
2 cups water
1 cup rice
1/2 teaspoon turmeric
1/2 teaspoon garlic powder
1 teaspoon dried parsley
Pinch red chile flakes
1/2 teaspoon salt
2 tablespoon butter
Instructions
Season salmon with salt and pepper.
Add olive oil to pan, warm over medium high heat.
Cook salmon on medium heat for 3 minutes each side.
Remove cooked salmon and set aside.
Add butter and shallots to pan. Cook about 2-3 minutes or until shallots are tender and translucent.
Add green chiles, red pepper flakes, cilantro, cumin, and honey. Mix well.
Turmeric Rice
Add water to medium sauce pan, heat over medium high heat.
Bring to boil.
Add rice, turmeric, garlic powder, parsley, red chile flakes, salt and butter. Mix well.
Cover and reduce heat to low/simmer.
Cook for 20 minutes. Set aside until ready to served.
Serve Salmon over rice, pour green chile glaze over salmon filet.
Enjoy!
Notes
I added slightly more honey because the chile was spicy. Caution: do not over heat the honey, you just want it to melt, creating a glaze. Also, cooking time may vary on salmon depending on the thickness of the filets. I do not like overcooked fish. Three minutes on each side was perfect for these filets that were about 1 - 1.5 inches thick. Adjust cooking time accordingly.
Cecelia's Good Stuff https://ceceliasgoodstuff.com/