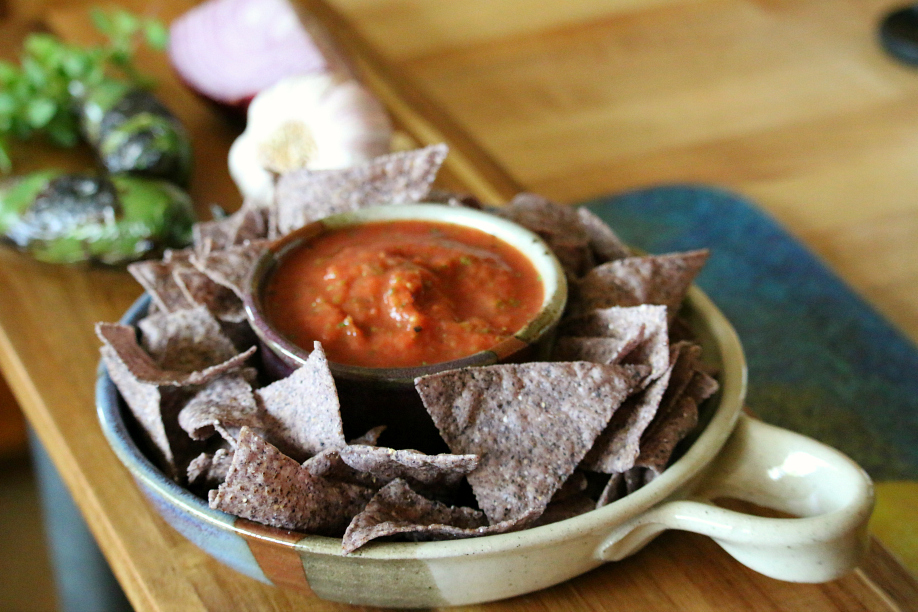 Fire Roasted Jalapeno Salsa
2017-07-28 11:02:54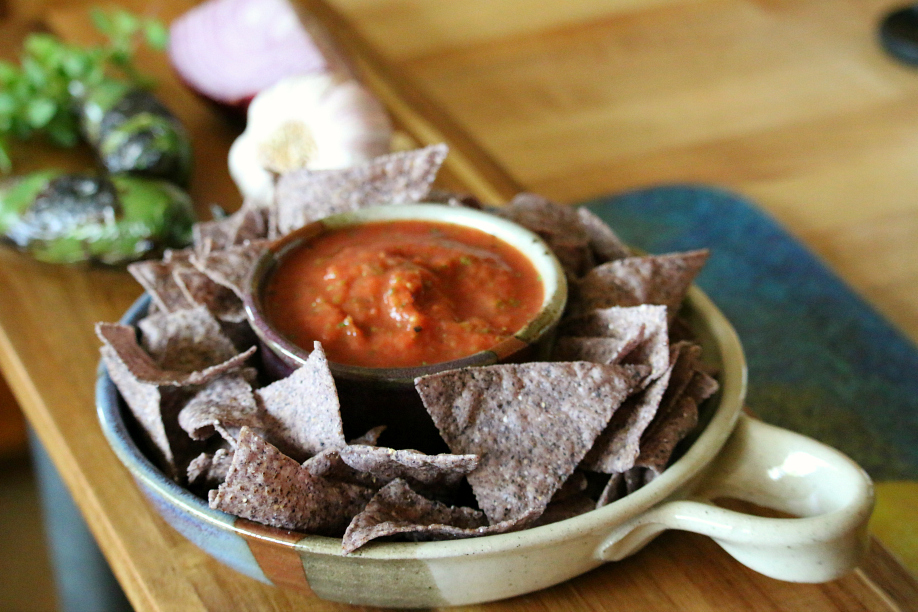 Serves 8
Being creative in the kitchen is half the fun of cooking. I am always playing around with my salsa recipes. This recipe I used fire roasted tomatoes and fire roasted jalapenos. (See roasting instructions below.) The fire roasted pepper really adds a depth of flavor to this salsa. Plus the fact that roasting your own peppers makes my kitchen smell delicious. This is an easy recipe you will be sure to love. This salsa is great for a snack or serve it over nachos for a light dinner option. I do that frequently here at Casa Linda (my nick name for my home here in New Mexico). The fresh ingredients in the recipe make it sensational. The fresh lime is key to making this tasty salsa. I hope you enjoy it. Remember follow me on Instagram, Pinterest and Facebook. Until next week Bon Appetit, Cecelia
Ingredients
2 (15 ounce) cans of fire-roasted tomatoes
1 garlic clove, chopped
1/4 cup red onion, chopped
1-2 roasted jalapeno, stem removed
1 cup cilantro (leaves only, loosely packed)
1/2 teaspoon salt
1 tablespoon fresh lime juice
Instructions
Place one can of the fire roasted tomatoes, garlic, onion and 1 roasted jalapeno into food processor.
Chop until well blended, about one minute.
Add cilantro, salt, lime juice and remaining tomatoes.
Blend for about 30 seconds.
Taste and add additional peppers for more heat if desired.
Pulse until chunky.
Serve immediately or you can store in refrigerator in an airtight container for 3 days.
Serve with chips, tacos, nachos, tostadas or over grilled meat.
Notes
To roast the jalapeno: Simple hold pepper over open flame with tongs. Rotate about every thirty seconds until all sides are thoroughly roasted. I recommend starting out using one jalapeno, taste and add a second one if desired. Jalapenos vary greatly in heat.
Cecelia's Good Stuff https://ceceliasgoodstuff.com/