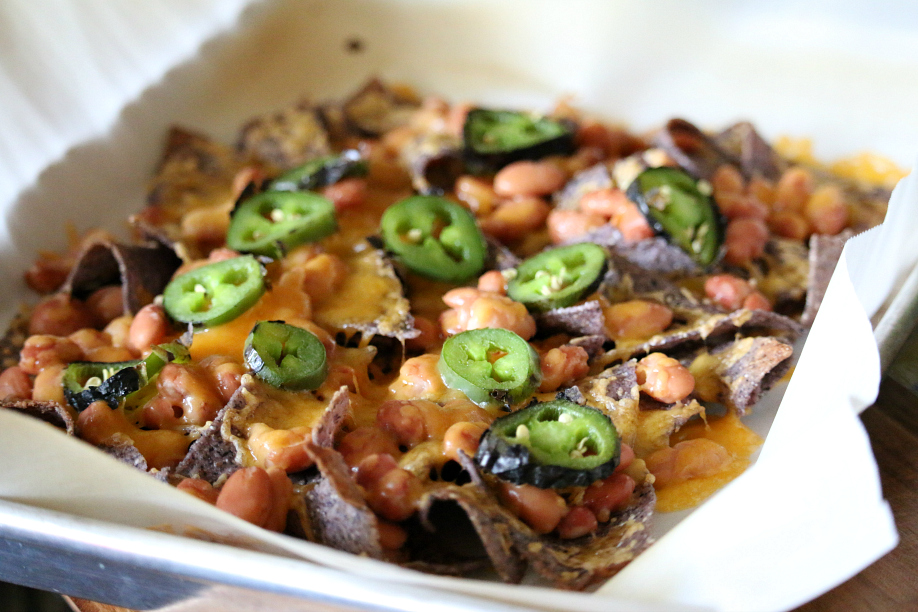 Blue Corn Sheet Pan Nachos
2017-08-16 14:50:44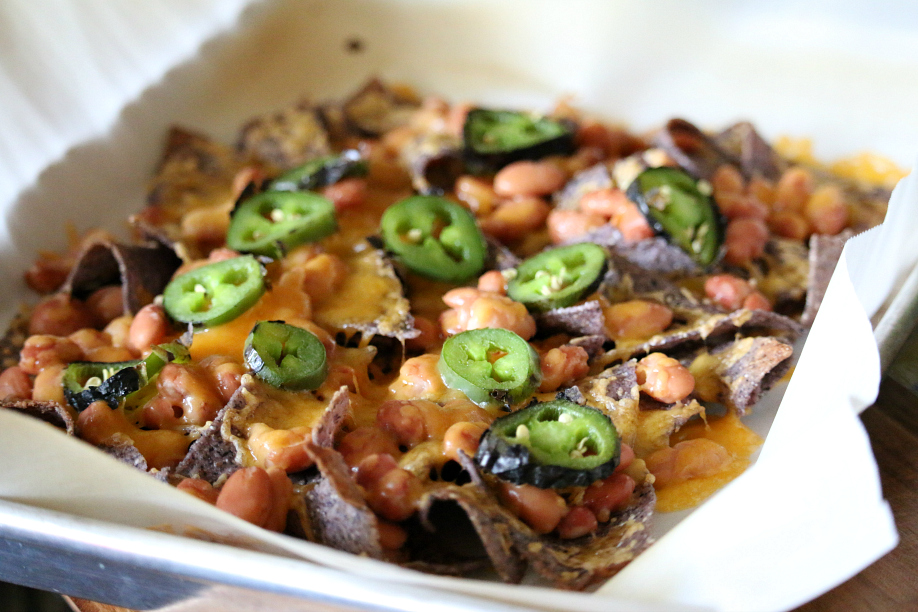 Blue Corn Sheet Pan Nachos are so easy to make. I started making nachos this way back in college. I forget who actually showed me this simple technique for making a large batch of nachos in the oven underneath a broiler, but whoever you are thank you! I have nachos this way hundreds of times. The great thing about nachos are that you can add your favorite ingredients. My family loves them for dinner and we eat them at least once a month for a weeknight dinner. Sometimes I had chicken or ground beef. Sometimes I use pinto beans and other times I use black beans. I even like to mix yellow tortilla chips with the blue chips for variety. Sometime I even make them with black beans and corn with pepper jack cheese. You can add all sorts of fun ingredients to nachos. The kids are not fond of jalapenos, but I already had a few roasted to make a fresh batch of salsa. I decided to top off the nachos with them. I made a tasty roasted jalapeno salsa to go along with these tasty nachos. (See recipe link below.) The kids added sour cream and guacamole and we had a complete weeknight dinner. I had a friend that thanked me recently for showing her how to make sheet pan nachos . . . she said she makes them all the time now. I hope you enjoy this simple dinner recipe idea. Until next time Bon Appetit, Cecelia
Ingredients
Blue corn tortilla chips (enough to cover cookie sheet)
1 can Pinto beans, drained and rinsed
2 cups Shredded Mexican cheese blend
Garnish
Salsa (see Roasted Jalapeno Salsa)
Sour cream
Guacamole
Instructions
Cover cookie sheet with parchment paper.
Layer blue corn chips on cookie sheet.
Sprinkle beans over chips.
Top with shredded cheese, making sure to cover all the chips evenly.
Add slice jalapeno pepper. (If desired.)
Cook under broiler for about 3 - 7 minutes, watching carefully not to burn chips.
Once cheese is melted remove from oven.
Serve onto individual serving plates and top with salsa, guacamole and sour cream.
Notes
Don't forget to follow me on Facebook, Instagram, Pinterest and Google + for more great recipe ideas.
Cecelia's Good Stuff https://ceceliasgoodstuff.com/