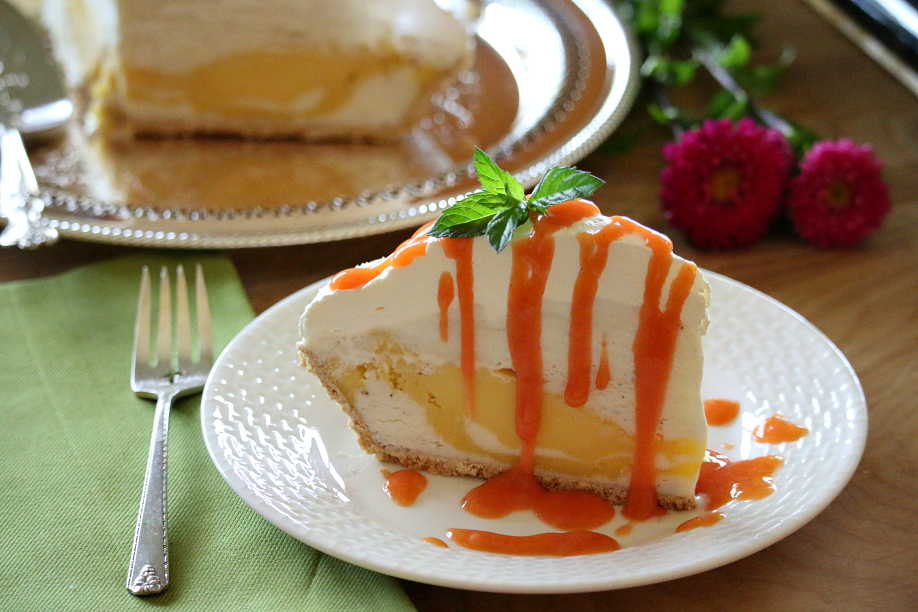 Vanilla Mango Ice Cream Pie with Mango Coulis
2017-07-20 06:31:02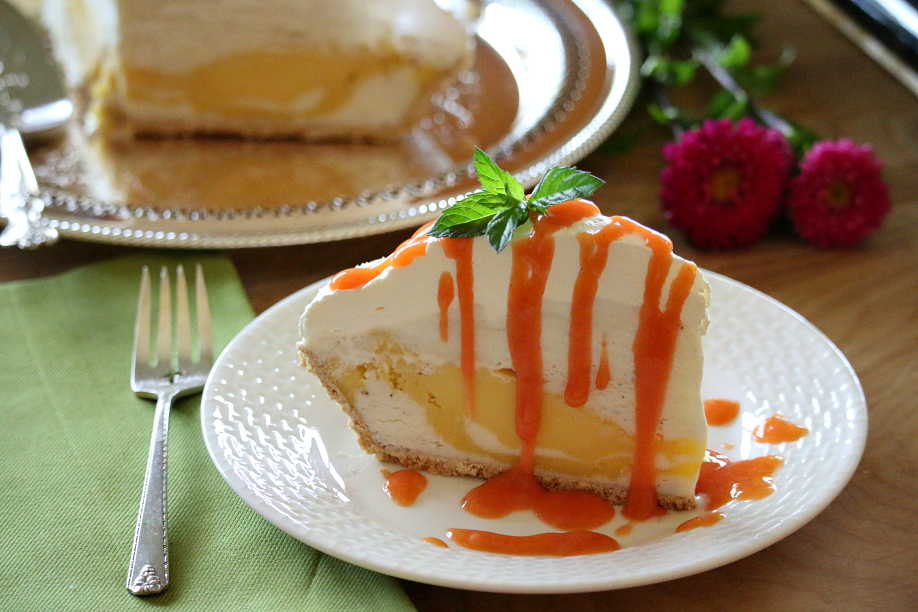 WOW, talk about a beautiful dessert. This is a recipe that will impress your guests. I had company in from Kansas City and wanted to make a special dessert. With the heat I didn't want to bake something and heat up the kitchen. So I created this new and fairly easy dessert. The only thing that takes some effort is the mango coulis. I used frozen mango because that is what I had on hand. It made the process easier. The pie is best with the coulis because it give it an extra zing with fresh lemon zest and lemon juice. "Coulis" is a thick sauce made from pureed fruit. It gives the dessert the WOW factor. I served it with baked salmon and fresh green beans. Something fairly light, so my guests would have room for a decadent dessert. Also, below you will find some photos I took while shopping at our local growers market. It is one of my favorite summer things to do on Saturday morning. The carrots were amazing and the artichoke flowers were breathtaking. I thought you might enjoy them as well. I hope you are enjoying your summer. Until next time - Bon Appetit, Cecelia
Pie
1 prepared graham cracker pie crust
1/2 (half gallon) vanilla bean ice cream - slightly softened
1/2 (half gallon) mango sorbet - slightly softened
1 (8 ounce) Cool Whip
Coulis
2 cups fresh or frozen mango
1/2 cup sugar
Zest of one lemon
2 tablespoons lemon juice
Garnish
Mango Coulis
Fresh mint leaves
Instructions
For pie spoon vanilla bean ice cream into prepared graham cracker crust.
Spread evenly to cover entire pie crust.
Then spoon mango sorbet over the vanilla bean ice cream.
Layer cool whip over mango sorbet, cover evenly.
Cover loosely with foil and freeze for two hours.
Mean while in a small sauce pan add mango, sugar, lemon zest and lemon juice.
Cook over medium high heat for about 10 minutes.
Allow to cool for 30 minutes.
Transfer to blender.
Blend on high for one minute.
Transfer to a squeeze bottle.
Refrigerate mango coulis until ready to use.
To serve, remove ice cream pie from freezer.
Rest at room temperature for ten minutes before slicing.
Serve and garnish with mango coulis and fresh mint leaves.
Notes
This is recipe that can me made with different types or fruit or sorbet. Please let me know what you think. Share your comments below.
Cecelia's Good Stuff https://ceceliasgoodstuff.com/