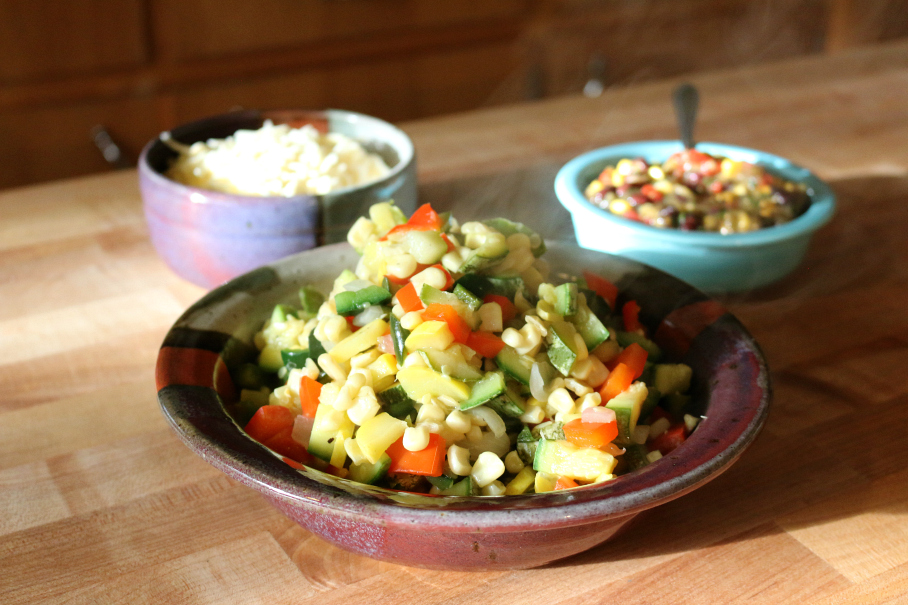 Calabacitas Mexican Squash Saute
2017-09-24 13:18:17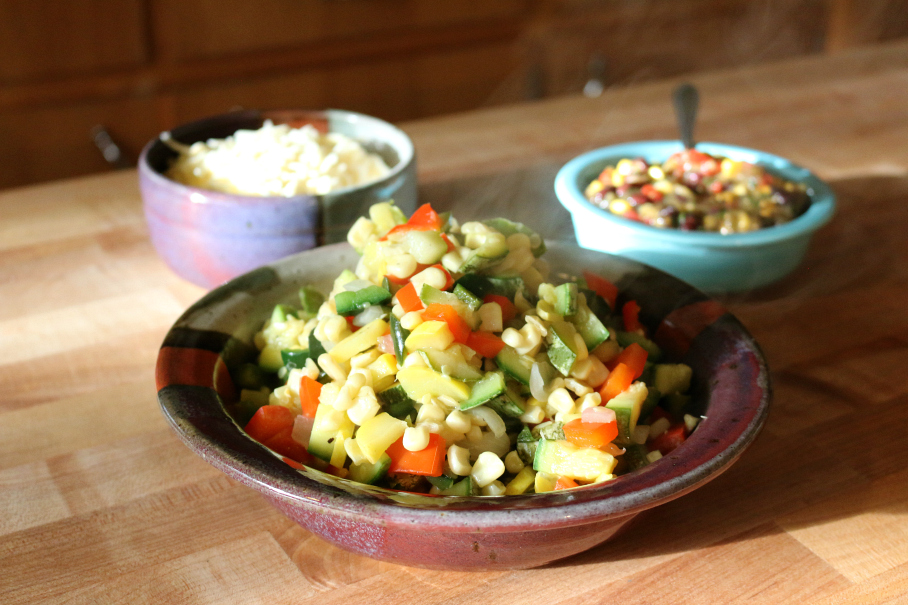 Serves 8
Calabacitas Mexican Squash Saute is a family favorite. My daughter is now vegan, so trying to cook something that everyone will eat is not an easy task. Both my husband and son enjoy more than a fair share of meat. I can go either way really. This is a New Mexican side dish. The word calabacitas - is Spanish for Squash. Pictured below is a small calabacita. They are very tender when they are small. I used two of them in this recipe. And for fun I added a red chile pepper for color. Traditionally it is usually just a green chile pepper in the recipe. This dish is a perfect combination of yellow squash, Mexican squash, zucchini, fresh sweet corn, spicy chile, onions, and a few simple herbs. The combination of these vegetables go well together. I like serving calabacitas with pork chops, grilled chicken, tacos, or burritos. Today we served them in flour tortillas and garnished them with cheese and salsa, well except the vegan no cheese for her. I hope you enjoy my new twist on this traditional New Mexican dish. Bon Appetit, Cecelia .
Ingredients
2 tablespoons olive oil
1 garlic clove, minced
1 medium onion, chopped
1 yellow squash, sliced
2 Mexican squash, sliced
1 zucchini, sliced
1 red chile pepper, chopped (mild heat)
1 green chile, chopped (mild heat)
2 cups fresh or frozen sweet corn
Salt to taste
¼ teaspoon cumin powder
Shredded pepper jack cheese for garnish
Instructions
Heat the olive oil in a large skillet over medium high heat.
Add the minced garlic, onions, squash, zucchini, chile peppers and frozen sweet corn to pan.
Sauté until tender, about 5 - 10 minutes.
Season with salt and dried cumin.
Mix well.
Transfer to serving dish.
Garnish with pepper jack cheese.
Serve immediately.
Notes
Fresh corn is best, but frozen sweet corn works well in this recipe.
Cecelia's Good Stuff https://ceceliasgoodstuff.com/