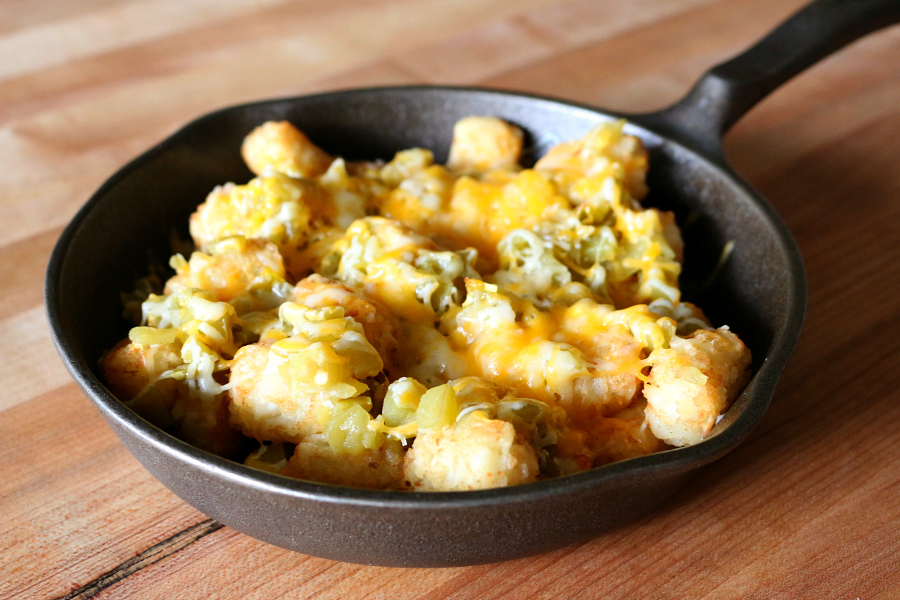 Cheesy Green Chile Tater Tots
2017-09-14 12:00:16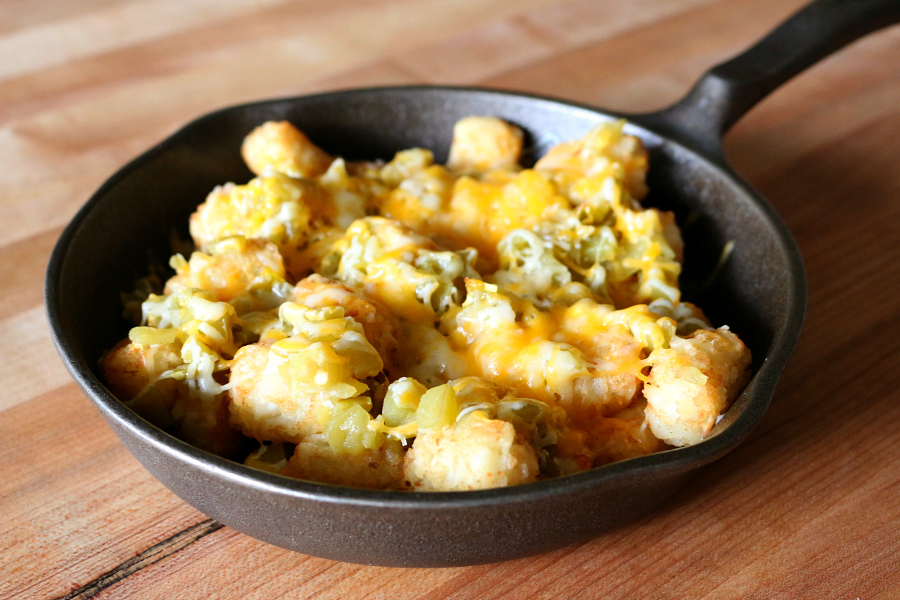 Serves 4
Whether you need a snack or a fun side dish these cheesy tater tots topped with roasted Hatch Green Chile and Mexican shredded cheese make the most amazing tasty side dish. My kids went crazy over them. I used a mild can of Hatch roasted chopped green chile, but if you like it spicy I would recommend using medium or hot green chile peppers. I baked the tater tots on a cookie sheet and then transferred them to the cast iron skillet. Why you ask? I love crunchy tater tots and in order to have crunchy tater tots they need room to breathe while baking. I even add a few extra minutes to the baking time in order to have extra crunchy tater tots. So if you like crunchy tots you will love this recipe. This makes a great side dish for any meal or is perfect as an appetizer or afternoon snack. Enjoy! Until next time Bon Appetit, Cecelia
Ingredients
4 cups frozen Tater Tots
1 cup shredded Mexican cheese
1 (4 ounce) can Hatch Green Chile, drained
Instructions
Bake tater tots according to package instructions.
Transfer cooked tater tots to cast iron skillet.
Top with chopped hatch green chile.
Sprinkle with cheese.
Bake under broiler at 500 degrees for 3 – 5 minutes or until cheese is completely melted.
Remove from oven and serve.
Notes
Cheesy Green Chile Tater Tots make a great appetizer or snack. I served them in the middle of the table and everyone grabbed a fork and dug right on into these tasty tater tots covered with roasted green chiles and melted cheese. YUM!
Cecelia's Good Stuff https://ceceliasgoodstuff.com/