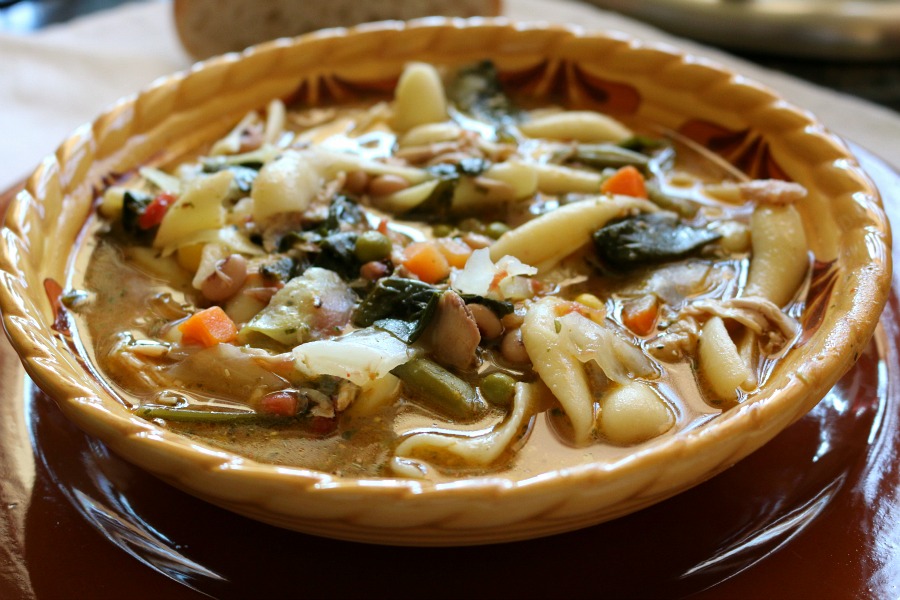 Tuscan Noodle Soup
2016-01-29 19:10:26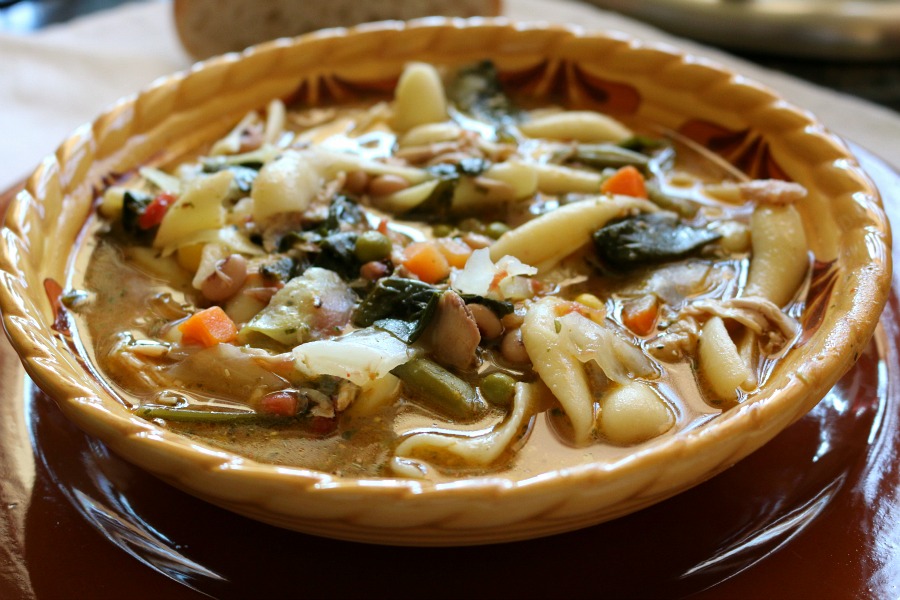 Soup is a favorite comfort food. I love making soup for my family, especially when it is cold outside. Today was perfect, the sun was shining, the air was brisk and the mountains looked beautiful covered with fresh snow. With the cool temperatures and a warm cozy fire, it just seemed like the perfect day for a great pot of soup. This Tuscan Noodle soup is so hearty and filling it makes a meal in itself. It would go great with a side salad, but today I chose to serve it with some crusty bread. I am happy to share my latest creation with you. This is really an easy and to help save so time I used a roasted chicken.
Ingredients
12 cups Chicken Stock
2 cups chopped roasted chicken
4 stocks celery sliced finely
2 garlic cloves finely chopped
1 small onion finely chopped
1 cups frozen mixed vegetables
½ cup frozen peas
2 cups fresh spinach
1 ½ cups chopped green cabbage
¼ cup olive oil
½ teaspoon dried Thyme
½ teaspoon dried Parsley
½ teaspoon Italian Seasoning
Pinch or two of crushed red pepper
Salt and Pepper to taste
3 Tablespoons Worcestershire
1 (12 ounce can black eye peas)
2 cups Italian Egg Noodles
Parmesan cheese for garnish
Instructions
In deep soup pot add olive oil, onion, celery and garlic. Sauté about 3 minutes being careful not let garlic brown just cook slightly. Add chicken broth bring to boil, then add in your mixed frozen vegetables, cabbage, peas, spinach, and herbs. Allow to come to boil and add Worcestershire, noodles, chicken and beans. Season with salt and pepper. Cook approximately 10 - 20 minutes until noodles are tender. Stir often so noodles do not stick to bottom of pot. Garnish with fresh parmesan cheese. Serve with hard crusty bread!
Cecelia's Good Stuff https://ceceliasgoodstuff.com/