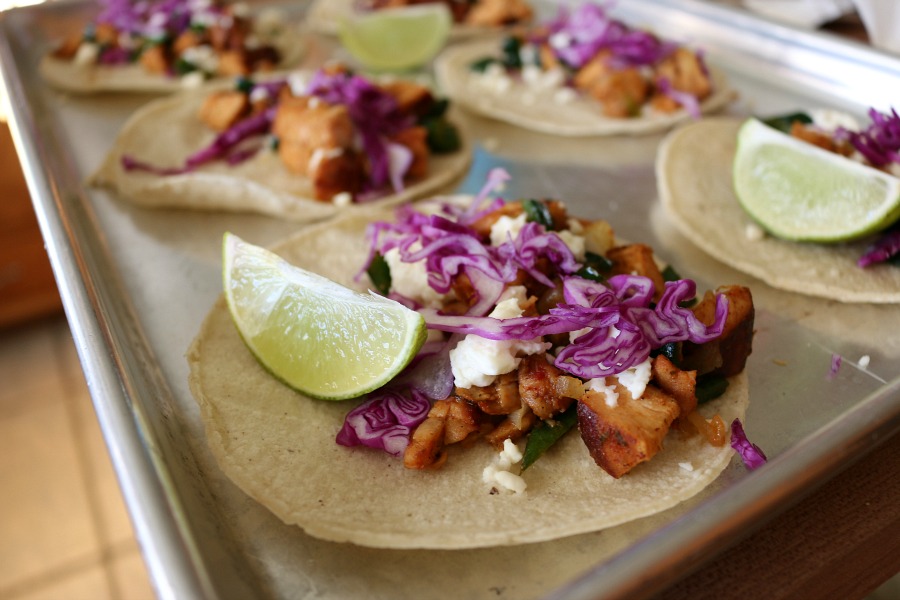 Red Chile Chicken Tacos
2016-01-23 09:09:33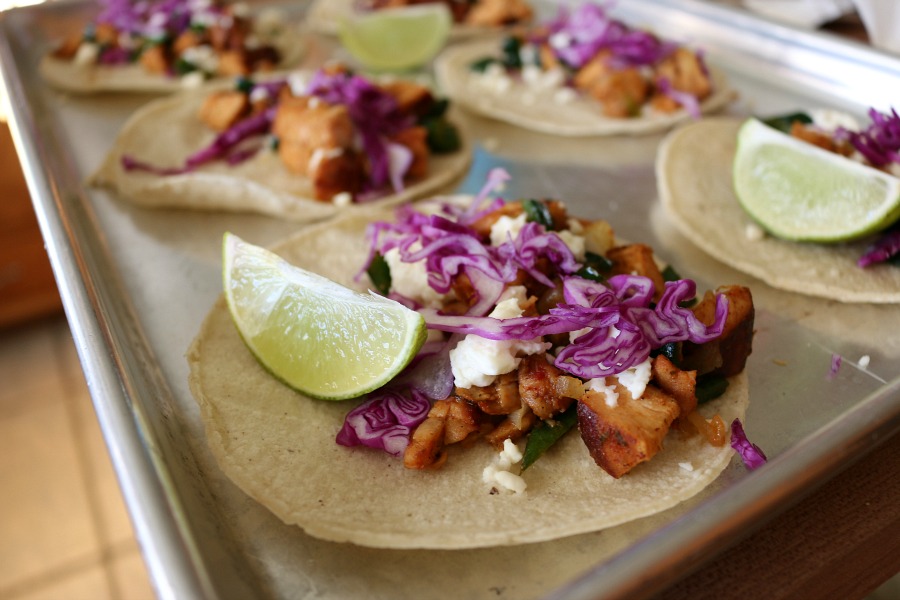 I expressed earlier how I am trying to save time, well it is because I have made an intention to spend more time on myself. I want to get back into shape, exercise daily and make more time for me. (One of New Year Goals) And speaking form experience making an intention works, a few years ago I decided, that life was going by way too fast, it seemed that I wasn't spending enough time with friends, my family always comes first, to a point that I neglect myself. I don't think I am alone, as a Mother we often put everyone before ourselves, our spouse, our children, work, community obligations, etc. (You get the picture). I made it a goal 3 years ago that once a week I would reach out to a friend or client to go out to lunch or meet for coffee. And I did it, and I found that I was happier. I was connecting to the people in my life that make me happy, people that bring me joy. I found that I felt more fulfilled and wasn't always focusing on the other stuff (stuff that really doesn't matter, because in the end it is people that count.) I am happy to report that the setting intention worked, you must take action and actually do it. I am happy to report three years later, I have kept it up. Once a week I reach out to friends to join me for lunch or coffee, and I love it. I love the feeling of being with those people who make a difference. I encourage you to surround yourself with love and it will make a huge difference. So in my effort for saving time, created this amazing dish. I made and extra-large batch of grilled red chile chicken (see previous post for the recipe) and I froze the leftovers. I pulled out 3 large pieces of breast meat to make this recipe. Talk about easy . . . I made dinner in 20 minutes and it was fabulous! With a few fresh ingredients like chopped purple cabbage, pablano peppers, onion and fresh lime, I had dinner on the table in under 30 minutes. And just look at these pictures, color vibrant food with lots of fresh veggies. I hope you enjoy these time saving tips. Please comment below or visit me on Facebook. Bon Appetit, Cecelia
Ingredients
3 Red Chile Grilled Chicken breasts, chopped (see previous post for recipe)
2 pablano chile peppers, chopped
1 medium onion, chopped
1 teaspon Red Chile Powder
1 tablespoon extra-virgin olive oil
12 corn tortillas
1 1/2 cups crumble queso fresco (Mexican Cheese)
Easy Guacamole (see previous post for recipe)
Salt to taste
Instructions
Directions: Chop chicken and set aside.
In a large sauté pan add olive oil, pablano peppers, and onion.
Cook for about 10 minutes then add chopped chicken, and red chile powder, mix and warm for 5 minutes.
Place corn tortillas on lightly greased cookie sheet and layer chicken and pablano pepper mix, sprinkle with Mexican cheese.
Under a preheated broiler warm tacos until cheese is slightly melted about 3 - 5 minutes.
Plate tacos and garnish with shredded purple cabbage, fresh lime, and guacamole.
Serve immediately.
Notes
TIP: No frozen grilled Red Chile Chicken - no worries, substitute roasted chicken, chop into bite size pieces and add 1 teaspoon of taco seasoning in addition to the other spices.
Cecelia's Good Stuff https://ceceliasgoodstuff.com/