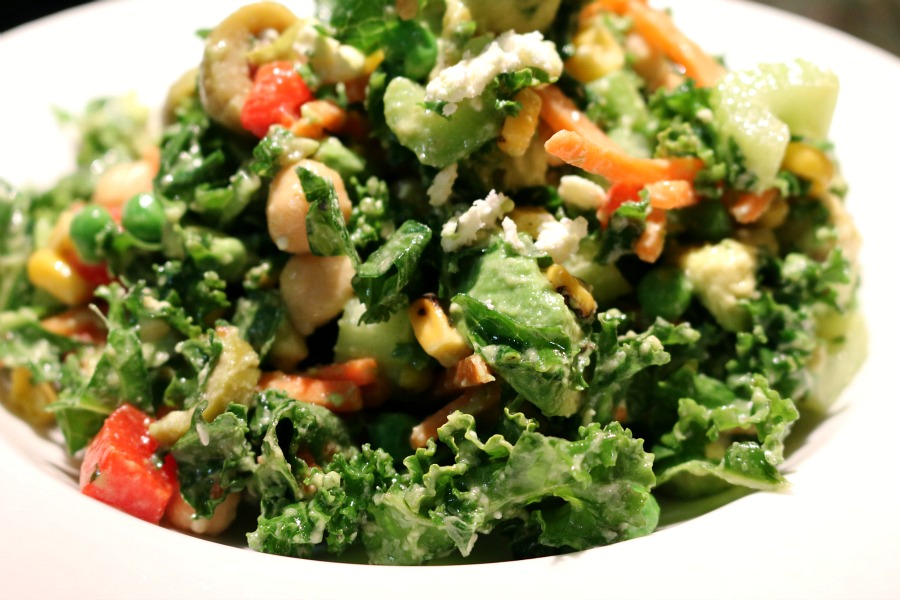 Avocado Kale Salad
2016-01-29 19:47:32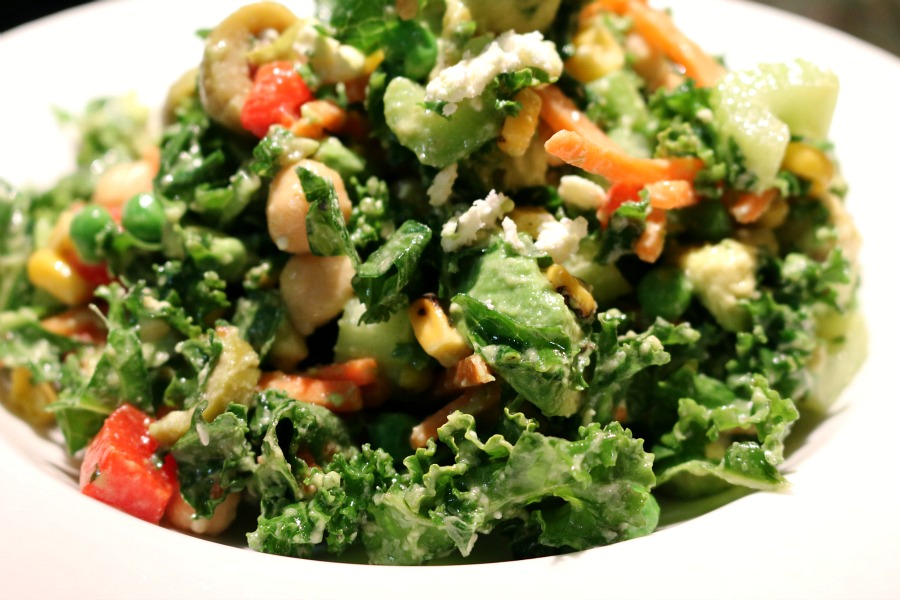 Serves 4
Kale is one of my favorite go to salad greens. This heavy green offers fiber and substance to any salad. Plus it is loaded with protein, and certainly one of the highest plant based sources of protein. I love the stuff! I especially like that it doesn't wilt immediately after adding the salad dressing. It is perfect when you are entertaining, because you can dress the salad and you don't have to worry about the greens getting too soft and mushy. The ingredients work very well together. The lemon goes perfectly with the avocado and also the kale. The avocado melts into the dressing and coats the kale with its juicy goodness. Definitely one of my new favorites. Stay healthy and eat your greens. As always I love hearing from you, it make my day. Please post a comment below connect with me on Facebook or Pinterest. Bon Appétit, Cecelia
Ingredients
1 (6 ounce) bag of organic chopped kale
1 roasted red pepper, chopped
¼ cup garbanzo beans, rinsed and towel dried
½ cup julienned carrots
¼ cup chopped celery
¼ cup sliced cucumber
6 green olives, sliced
¼ cup sweet peas (frozen and thawed)
¼ cup Feta cheese crumbles
¼ cup roasted corn (frozen and thawed)
Lemon Herb Vinaigrette
¼ cup olive oil
¼ cup fresh squeezed lemon juice
1 teaspoon Dijon mustard
1 teaspoon Italian Seasoning
¼ teaspoon garlic powder
1 teaspoon sea salt
Fresh ground pepper to taste
Instructions
Dressing: In small mixing bowl add all ingredients and mix well until all ingredients are well blended.
Salad assembly: layer kale, garbanzo beans, roasted red peppers, carrots, cucumber, celery, corn, green olives, peas and Feta cheese. Drizzle salad with lemon herb vinaigrette, toss well and serve immediately!
Notes
TIP: For a diary free option, simple skip the Feta cheese. Enjoy!
Cecelia's Good Stuff https://ceceliasgoodstuff.com/