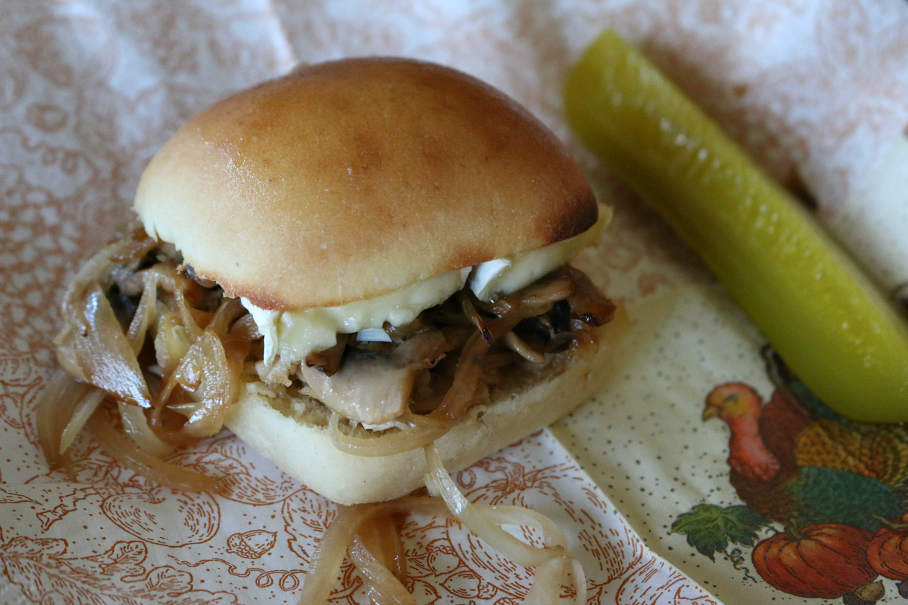 Turkey Sandwich with Mushrooms, Onions and Melted Brie Cheese
2018-11-27 09:17:23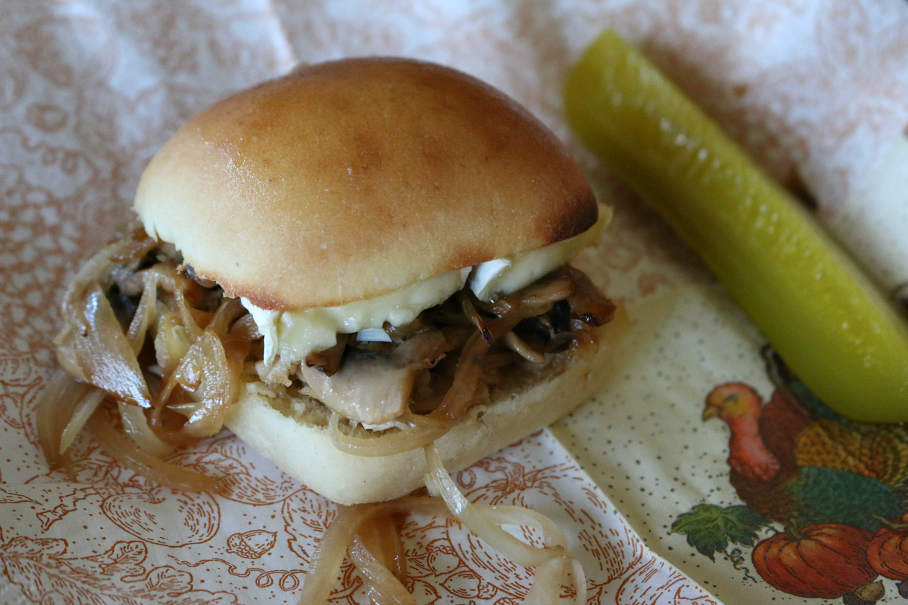 Serves 4
Whether you use leftover roast turkey or chicken - these bad boys (best ever turkey sandwiches) are amazing. I sauteed some sweet white onion and button mushrooms in butter and added some creamy brie cheese to a toasted buttered bun to make the best ever Turkey Sandwich! You are going to LOVE this tasty treat!
Ingredients
2- 3 cups chopped roasted turkey or chicken
1 sweet onion sliced
2 cups sliced button mushrooms
2 tablespoons butter
Salt and pepper to taste
A pinch or two of granulated garlic
4 sandwich rolls, sliced
1-2 tablespoons melted butter
8 sliced of brie cheese (enough to cover one side of the buns)
Sliced dill pickles
Instructions
Saute butter, sliced onions and mushrooms over medium heat until caramelized (about 10 minutes)
Meanwhile chop turkey or chicken into bite size pieces
Then add turkey to same pan and heat for about 3 minutes or until the turkey is heated through
Preheat broiler at 500 degree F.
Melt about 1-2 tablespoons of butter in microwave for about 15 seconds.
Slice buns and brush with melted butter
Toast buns under broiler for about 1-2 minutes or until lightly golden brown
Add turkey, onions, mushrooms on one side of bun.
Add brie sliced cheese to other side
Place back into broiler for about 2 minutes or until brie is melted
Plate sandwiches with dill pickle and enjoy!
Notes
This is a fantastic recipe - you can substitute chicken or even sliced roast beef. These are oh so DELISH! My son says the best sandwich I ever made - I like using Sister Schubert Rolls.
Cecelia's Good Stuff https://ceceliasgoodstuff.com/