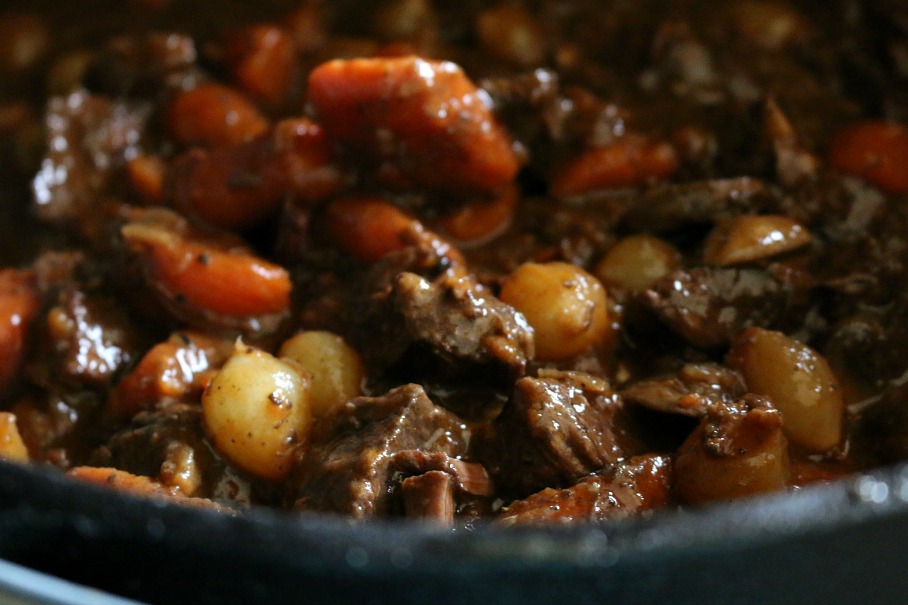 The Ultimate Beef Stew - Cast Iron Recipe
2017-01-21 07:25:41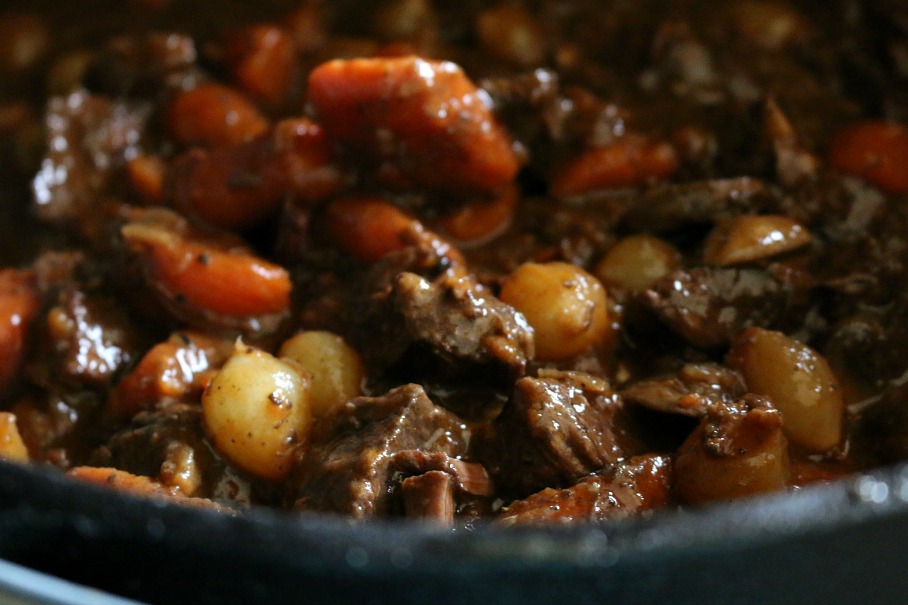 Serves 8
What is it that makes a hearty bowl of stew the ultimate comfort food? Maybe the fact that it has lean chunks of beef and large chunky vegetables in a thick and rich sauce. Or the fact that when it is snowy and cold the body just craves something warm and delicious. Or maybe it is a combination of everything listed above. Regardless here at Casa Linda we love a great hearty beef stew. Over the years, I have tried perfecting my stew recipes and I think this is one of the better stews I have made. The kids would have liked it without the pearl onions, but they gave the stew a wonderful rich flavor. And nearly an entire bottle of wine may have helped too, that and the fact, that it cooked for several hours. I hope you enjoy it as much as my family did here at Casa Linda. Serve this beef stew with a crusty loaf of bread and a nice side salad and you are good to go. Bon Appétit, Cecelia This recipe has been revised: thank you for your feedback. I apologize for the mistake on the liquid and cooking time. I have adjusted both. Seriously - I am very sorry for any frustration I caused. I am really only human and do make mistakes. Thanks again - I value your feedback.
Ingredients
2 tablespoons olive oil
2 tablespoon butter
4 cups cubed beef stew meat (about 2 pounds)
1 teaspoon sea salt
1 teaspoon black pepper
2 cups sliced mushrooms
2 garlic cloves, minced
3 cups chopped carrots
2 cups pearl onion (frozen)
1 teaspoon dried parsley
1 teaspoon dried thyme
1 teaspoon rubbed sage
2 bay leaves
2 tablespoons Worcestershire sauce
2 tablespoons tomato paste
2 cups beef broth
2 cups dark dry red wine (pinot noir or merlot)
Instructions
In large cast iron pot sauté oil and butter with half the cubed beef, season with salt and pepper.
(For the best results, brown beef in two batches.)
This will allow some caramelization to happen making the stew tasty and delicious.
After beef is browned, add mushrooms and cook for about 5 minutes until the mushrooms are slightly browned.
Add garlic, carrots, pearl onions, and herbs.
Mix until well blended.
Then add Worcestershire, tomato paste, beef broth, and red wine.
Cook over medium heat for about twenty minutes or until the stew begins to boil.
Preheat oven to 275 degrees F.
Then cover cast iron pot and transfer to oven. Cook for 1.5 - 2 hours.
Taste and adjust seasoning as needed.
Garnish with fresh parsley and serve with crusty banquette and a side salad.
Notes
Note: Beef broth has a lot of sodium. That is why I only seasoned the stew with one teaspoon of salt. Please taste and adjust accordingly after the stew has fully cooked.
Special Note
This recipe has been adjusted from its original post - I have added more liquid and adjusted the time and temperature of cooking. Thanks for your feedback. (I actually added almost the entire bottle of wine - I saved a very large glass for me.)
Cecelia's Good Stuff https://ceceliasgoodstuff.com/