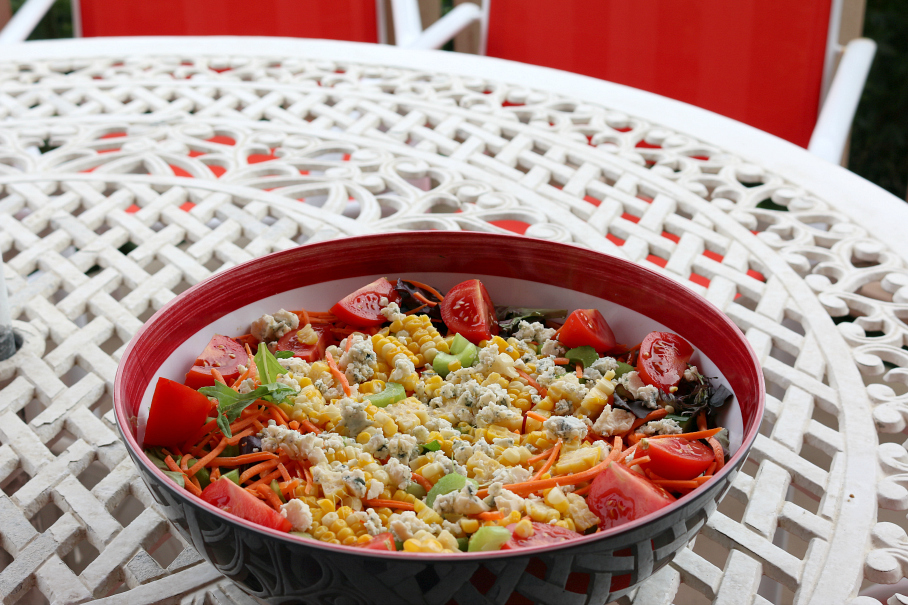 Corn Salad
2018-05-31 13:26:36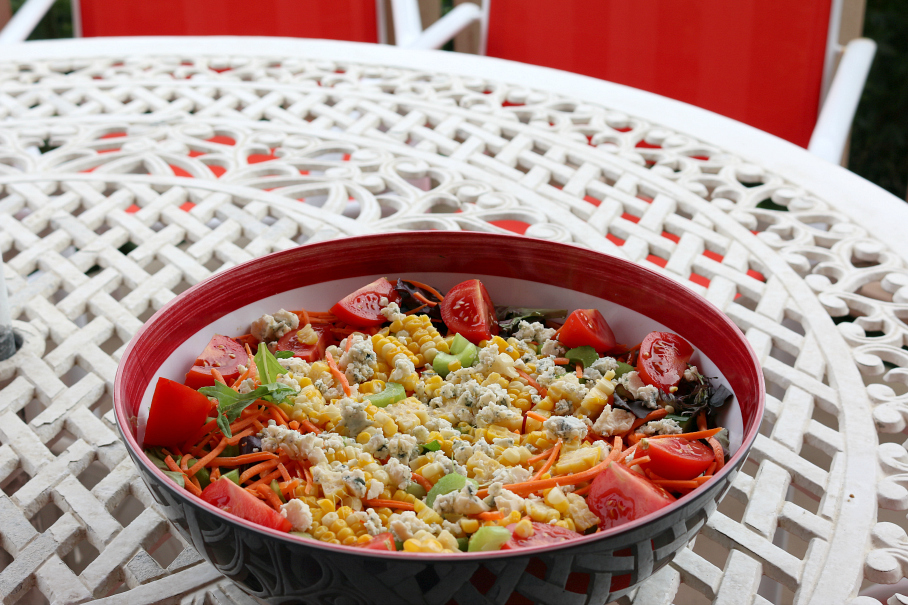 Serves 4
Sweet Corn Salad - layers of delicious goodness. This salad is the perfect meal served with a lean protein like grilled chicken. Layers of tasty fresh mixed greens, Campari tomatoes, celery, carrots, sweet corn and blue cheese crumbles. I paired this healthy salad with a simple and easy red chile vinaigrette. The combination was fabulous. Also, see my tip for cooking the perfect sweet corn. Thanks for stopping in and stay tuned for more great summer recipes. Bon Appetit, Cecelia
Ingredients
6 ounces Organic baby greens
3 Campari tomatoes, sliced
2 stalks celery, sliced
1 cup julienned carrots
2 cups sweet corn, cooked
1/4 blue cheese crumbles
Red Chile Vinaigrette
½ cup apple cider vinegar
½ cup olive oil
½ teaspoon garlic powder
½ teaspoon cumin
1 teaspoon red chili powder
1 teaspoon stone ground Dijon mustard
1 teaspoon salt
1 teaspoon parsley
2 tablespoons fresh squeezed lime juice
Sweet Corn Salad
In a large salad bowl layer mixed greens, tomatoes, celery, carrots, corn, and blue cheese crumbles.
Drizzle with red chile vinaigrette and serve.
Red Chile Vinaigrette
In food processor add all dressing ingredients.
Pulse until all ingredients are incorporated.
Refrigerate until you are ready to use.
Store any unused dressing for up to 3 day in refrigerator.
Notes
Tip - to cook the corn bring a pot to a full rolling boil. Add fresh peeled sweet corn. Allow to come back to a complete boil - cook corn 2-3 minutes. Do not overcook the corn. Allow to cool and cut with sharp knife directly off the cobb.
Cecelia's Good Stuff https://ceceliasgoodstuff.com/