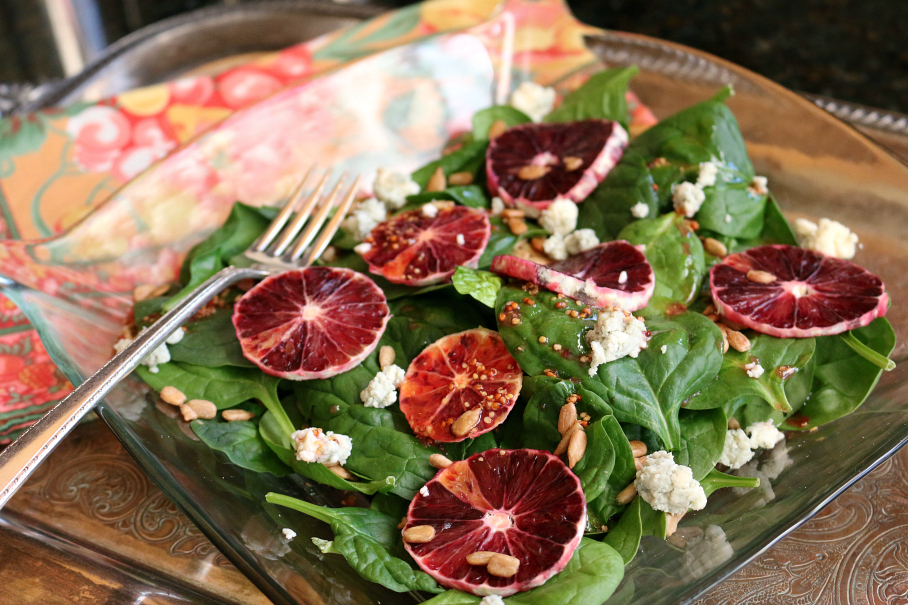 Spinach Salad with Blood Orange Vinaigrette
2017-03-11 07:08:39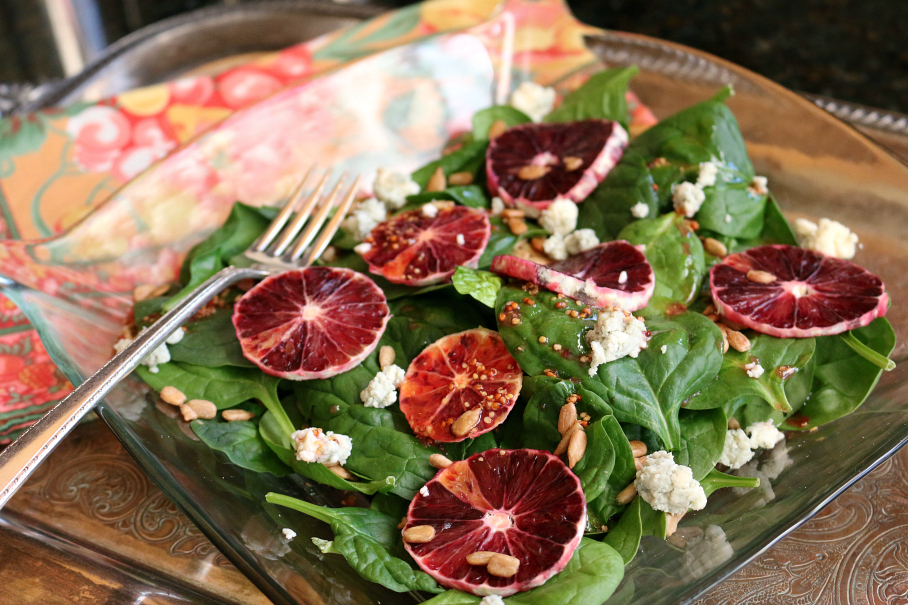 Serves 4
I love this time of year. My flowers are starting to bloom and the weather is warming up. It makes me so happy. The weather really is unseasonable warm like in the 80's. I am not sure I remember it being this warm this early. It is a little scary . . . since we haven't had much rain to speak of yet. My friends just sent me a note about the fire in Boulder, Colorado. I certainly hope and pray that this isn't the beginning of a hot and dry spring and summer. I will keep my fingers crossed. My family is just back from week of spring break vacation. It is a family tradition we have had for over twenty years. We enjoy going to a ranch in the Tuscon area, where we go play cowboys and cowgirls in Arizona. What great fun! I am totally relaxed today. Not feeling any stress. What a nice break. It was HOT in Tuscon and I do mean HOT - they were in the mid 90's by the end of the week. Try riding a horse with boots, jeans, a long sleeve shirts and a hat in that kind of weather. I cannot handle it . . . I can ride all morning, but I cannot handle that heat. The temperatures were so warm . . . they broke a 100+ year old record. I loved my vacation but honestly I am so glad to be home where we are only in the 80's.
Ingredients
1 (6 ounce) bag of organic baby spinach
1/4 cup crumbled Blue cheese
1/4 cup sunflower seeds (roasted and salted)
1 blood orange, peeled and sliced
Blood Orange Vinaigrette
1/4 cup extra virgin olive oil
1 tablespoon red wine vinegar
1 blood orange, juiced – seed removed
1 teaspoon whole grain mustard
1/4 teaspoon sea salt
Fresh ground pepper to taste
Directions for Dressing
In small mixing bowl add olive oil, vinegar, blood orange juice, mustard, salt and pepper.
Mix until all ingredients are blended.
Salad assembly
Layer spinach, sunflower seeds, blood oranges and crumbled blue cheese.
Drizzle with blood orange vinaigrette and serve immediately!
Enjoy!
Cecelia's Good Stuff https://ceceliasgoodstuff.com/