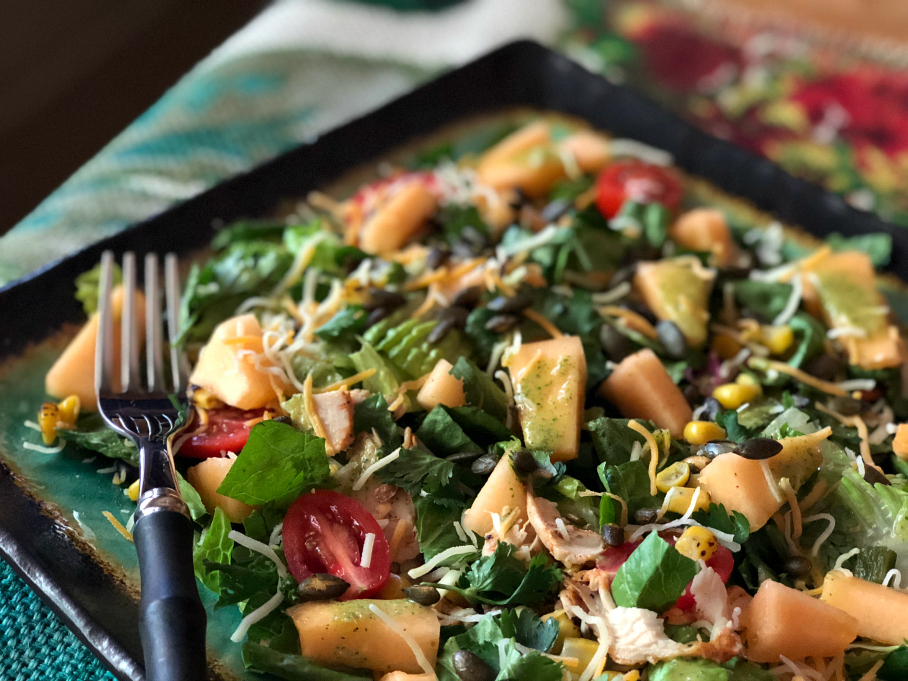 Southwestern Salad with Cantaloupe
2019-08-22 10:37:12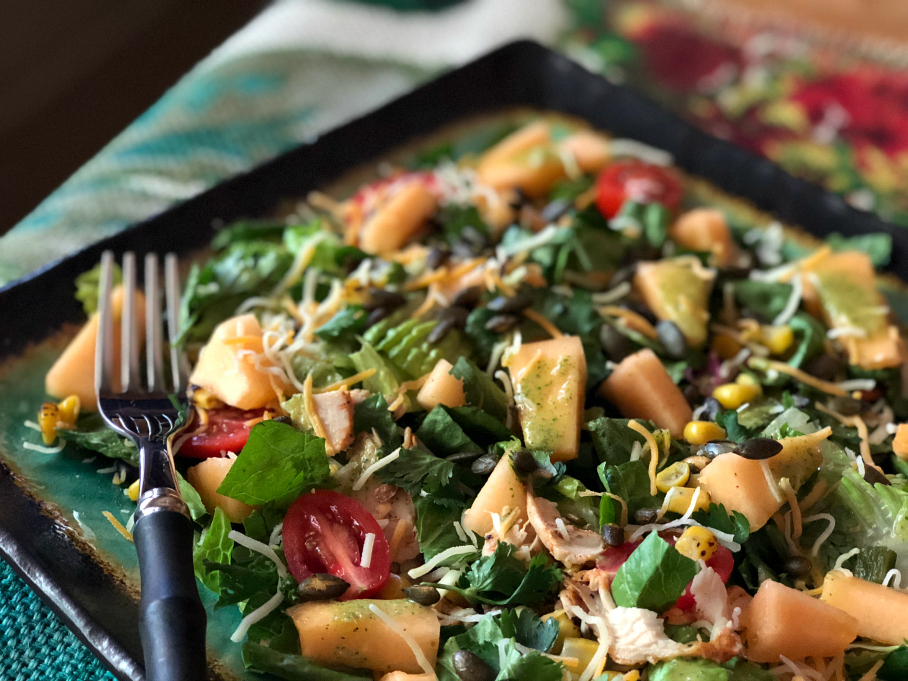 A new twist for these hot days of summer - Southwestern Salad with Cantaloupe topped with a delicious and tangy Cilantro Lime Dressing. This is a unique combination of flavors that will surely surprise your taste buds. Bon Appetit, Cecelia
Ingredients
Salad
6 ounces Organic Mixed Greens
2 cups roast chicken, sliced extra thin
2 cups sliced cantaloupe (slice into small bite size pieces)
1/2 cup roasted sweet corn
1 cup sliced petite heirloom tomatoes
1/2 cup Mexican cheese blend, shredded
1/2 cup roasted pumpkin seeds
1/4 cup cilantro leaves
Cilantro Lime Dressing
1/4 cup fresh lime juice (or your favorite vinegar)
1/4 extra virgin olive oil
1 teaspoon Dijon mustard
1 tablespoon mayonnaise
1 teaspoon sea salt
1/2 teaspoon fresh ground pepper
Salad
Layer mixed greens, chicken, cantaloupe, roasted corn, petite heirloom tomatoes, shredded cheese, pumpkin seeds, and cilantro leaves.
Drizzle with dressing and serve immediately.
Enjoy!
Cilantro Lime Dressing
In blender add fresh squeezed lime juice, olive oil, Dijon mustard, mayonnaise, cilantro, salt, and pepper.
Mix about one minute on high speed or until well blended.
Store in glass jar in refrigerator until ready to use.
Notes
For those of you that are not fond of cilantro - you can substitute parsley or fresh basil.
Cecelia's Good Stuff https://ceceliasgoodstuff.com/