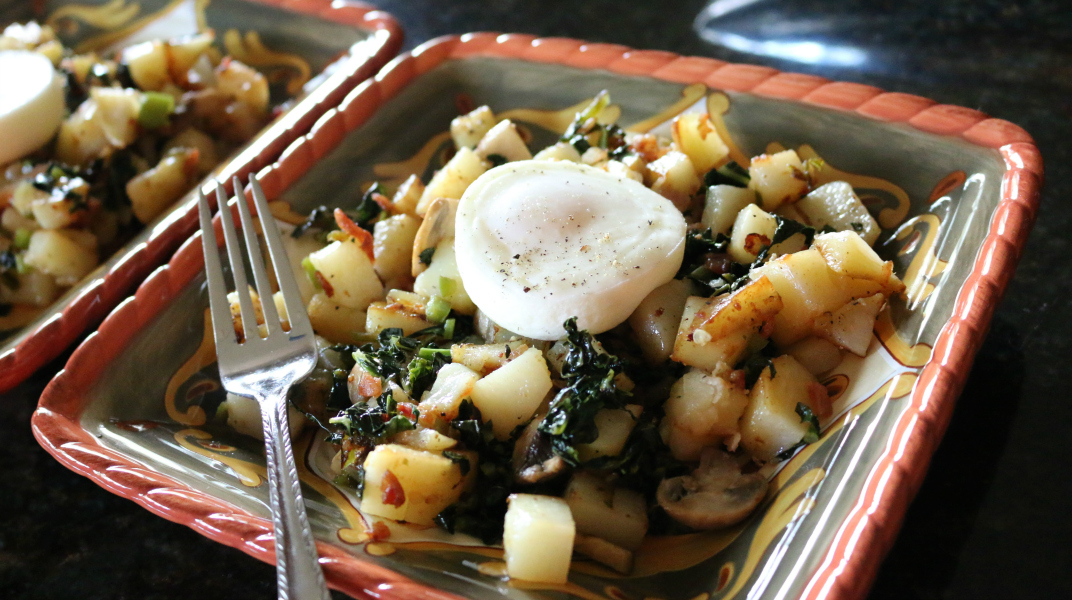 Kale & Mushroom Breakfast Hash
2018-02-26 14:40:18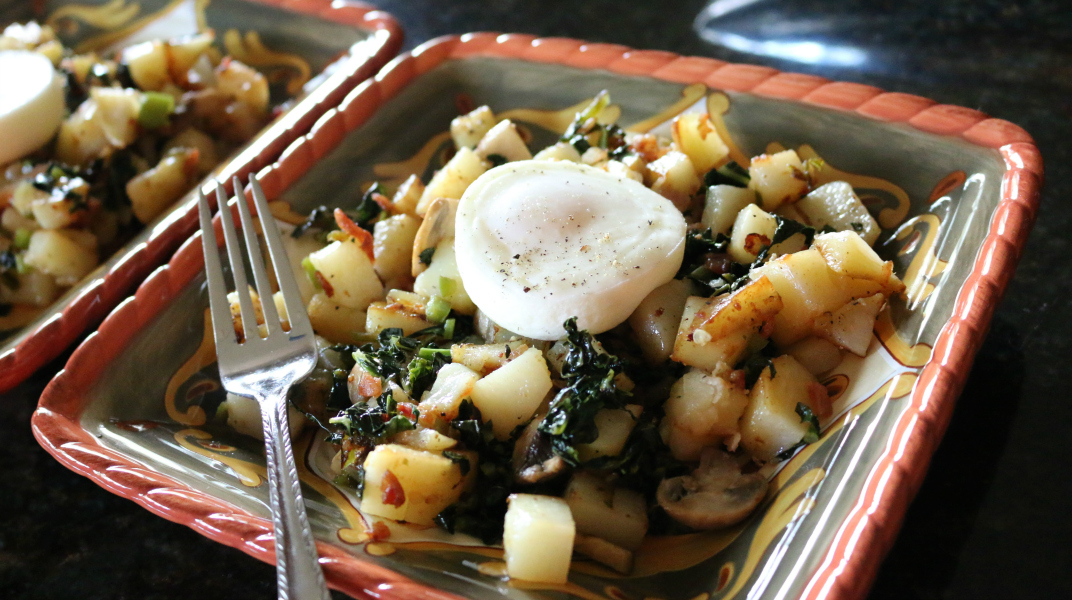 Serves 4
I love making breakfast for dinner. I find comfort in it, and I am sure I am not alone on this one. This recipe is perfect for doing just that making breakfast for dinner. Or it makes a great weekend breakfast. This hash is hearty and loaded with tons of tasty fresh veggies like kale, mushrooms, onions, peppers, and potatoes. I added some crispy apple wood smoked bacon to the dish and it was totally awesome! Bacon somehow always makes any skillet breakfast taste amazing. I topped it with a poached egg or you can even serve it with a fried egg. My kids adored this hash and so did I! This recipe for "Kale & Mushroom Breakfast Hash" easily feeds a family of four. I love hearing from you - you amaze me with your comments. likes and shares. Thank you for your love. Until next time - Bon Appetit, Cecelia
Ingredients
10 slices extra thick cooked bacon, chopped
2 cups chopped kale (stems removed)
2 cups mushrooms, sliced
1 cup, onion, chopped
1 Anahiem chile pepper, chopped
4 tablespoons olive oil
3 medium Russet potatoes, peeled and chopped
Salt and Pepper to taste
4 extra large eggs, poached
Instructions
Cook bacon according to package directions.
Chop and set bacon aside.
In a large non-stick skillet add 2 tablespoons olive oil.
Add chopped potatoes and cook over a medium high heat.
Season potatoes with salt and pepper.
Cook for about 15-20 minutes or until they are fully cooked.
(Cover with lid and set aside)
In a large non-stick skillet add olive oil, kale, mushroom, onion and chile pepper.
Cook over medium heat until veggies are tender about 5 - 7 minutes.
Add chopped bacon to skillet.
Add potatoes to skillet and mix.
Reduce heat to low and cover with lid.
Poach eggs.
Serve hash into individual plates and top with a poached egg.
Season with salt and pepper as needed.
Enjoy!
Notes
For poaching tips see link below.
Cecelia's Good Stuff https://ceceliasgoodstuff.com/