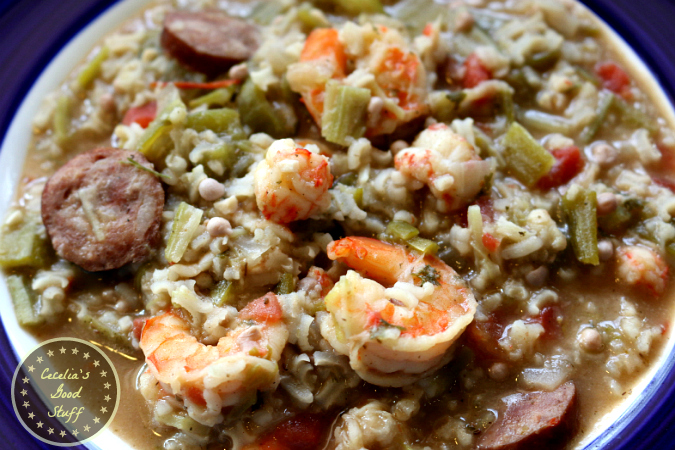 Shrimp, Lobster & Andouille Sausage Gumbo
2015-01-26 10:42:15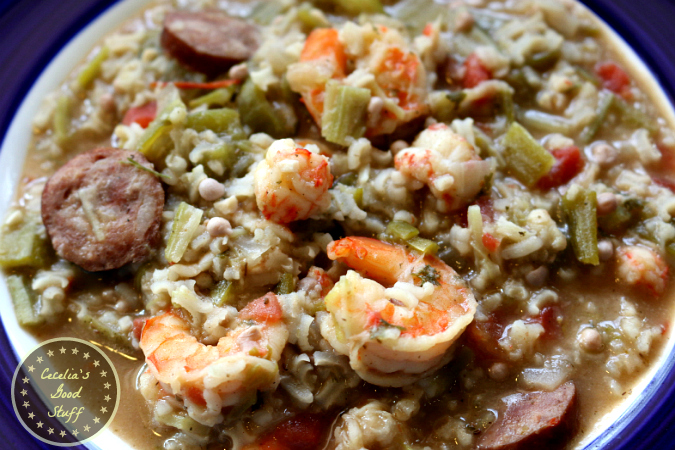 I love gumbo. I mostly love it loaded with seafood. In New Mexico it is hard to come by fresh seafood so this is my take on Gumbo with Shrimp and Andouille Sausage. I have been to New Orleans a number of times and have purchased several of their local cookbooks. I have altered the recipes to create a true winner "Shrimp and Andouille Sausage Gumbo"! This is loaded with shrimp, andouille sausage and okra. The trick to making gumbo is the roux. Take your time in making it because it will make the difference between good or great gumbo. This is a great New Years Eve recipe or for New Years day while watching all the football games. I have simplified this recipe to make it easy to make even using frozen shrimp – since that is most easily found in the desert! The roux is the only thing that takes some effort, so enjoy a nice glass a wine or a cold beer while making it . . . Happy New Year. I hope your New Year is filled with love, laughter and great food with those you love! Bon Appétit, Cecelia
Ingredients
1 medium yellow onion chopped
1 large bell pepper chopped
4 garlic cloves minced
4 stalks celery chopped
2 tablespoons butter
2 tablespoons olive oil
½ cup flour
Salt and Pepper to taste
1 tablespoon Old Bay Seasoning
2 tablespoons Worcestershire
2 cups frozen okra
12 cups shrimp stock (substitute: chicken stock)
1 (12 ounce can) chopped tomatoes with juice
4 bay leaves
1 tablespoon File powder
1 tablespoon dried parsley flakes
Salt and Pepper to taste
1 1/2 cups cooked smoked (andouille sausage) sliced diagonally
2 pounds shrimp, cleaned and deveined (substitute: frozen cooked shrimp)
1 pound langostino lobster (frozen found at Costco)
1 cup rice
Instructions
Roux – In a large heavy saucepan, over low heat, melt butter and oil.
Add the flour, and cook on low heat until the roux is dark brown; about 30 to 45 minutes, stirring constantly.
Be careful and make sure not to burn the roux; if you burn the roux you have to throw it out and start over again.
Once roux is brown add the file gumbo, the old bay seasoning and the onions, celery, peppers and garlic and sauté until translucent about 5- 7 minutes.
Then add the okra, tomatoes, stock, and seasonings and simmer over medium-low heat until thick, about 1 hour.
Then add the rice and cook for about 15 minutes until rice is almost cooked then add the sausage, langostino lobster and shrimp.
Allow to cook about 2 – 3 minutes or until the shrimp a pink.
(If using cooked frozen shrimp put into the pot the last two minutes so it just warms through.)
Use care and do not overcook the shrimp they will become chewy and tough.
Before serving, remove the bay leaves.
Transfer to a serving bowl.
Cecelia's Good Stuff https://ceceliasgoodstuff.com/