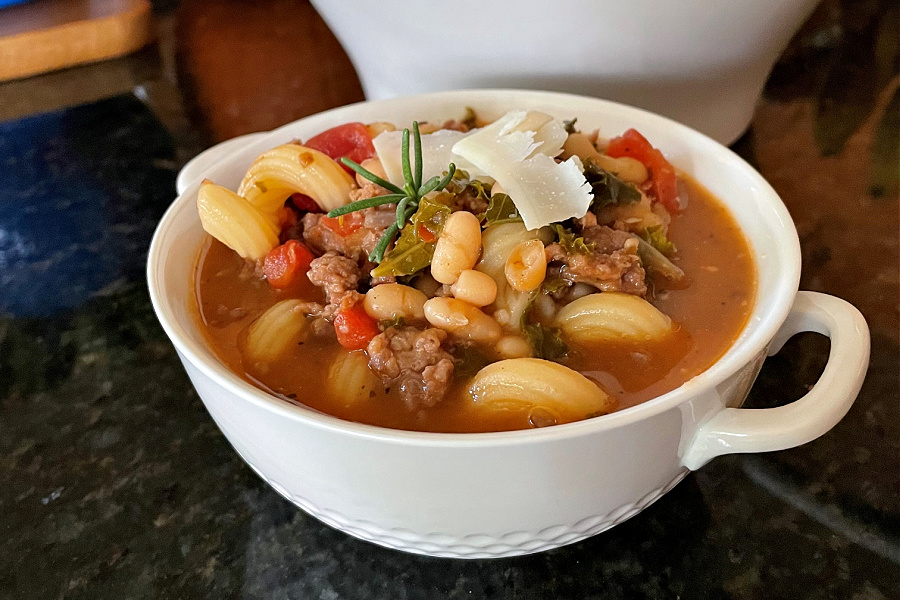 Rustic Italian Sausage and White Bean Soup
2021-10-13 09:24:03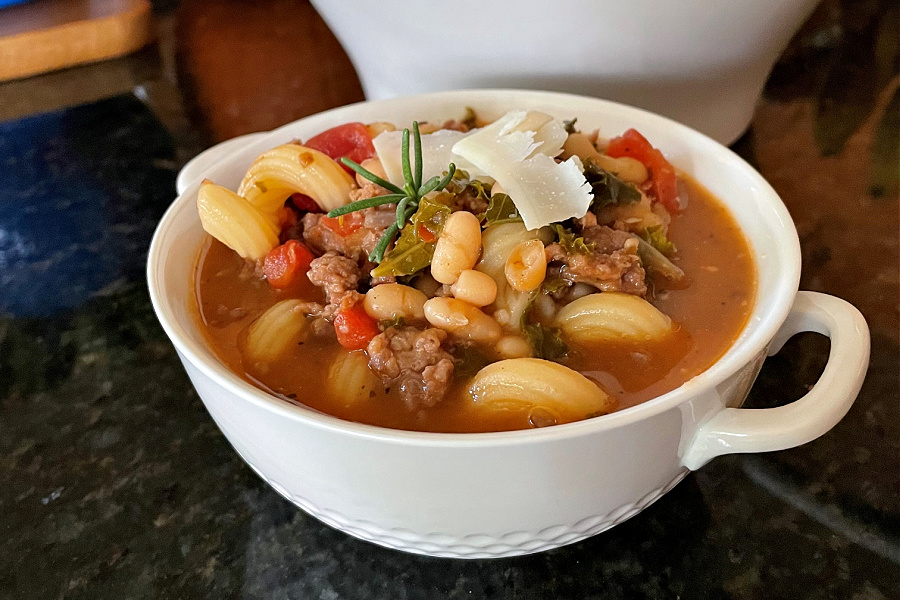 Serves 12
Comfort food at it best. This hearty soup is perfect for a quick and easy dinner. It is made with spicy Italian ground sausage, navy beans, pasta, roasted diced tomatoes, sweet onion, Italian seasonings, garlic and just a hint of rosemary. Serve this with a side salad and crusty bread for the perfect meal.
Ingredients
1 pound spicy Italian sausage
1 small onion diced
2 garlic gloves, minced
1 (15 ounce) can fire roasted tomatoes (petite diced)
3 cups chicken broth
2 (15 ounce) can navy beans with juice
2 cups kale, finely chopped (stems removed)
1 tablespoon Italian seasoning
1 teaspoon sea salt
1-2 pinches of red pepper flakes
1/2 teaspoon fresh rosemary finely chopped
1 heaping tablespoon of tomato paste
2-3 cups cooked pasta of your choice (I used 3 cups cooked Cellentani Pasta)
Instructions
In a large stock pot add sausage, onion, garlic, Italian seasoning, red pepper flakes, and sea salt.
Cook over medium high heat until sausage is thoroughly cooked about 10 minutes.
Add fire roasted tomatoes, chicken broth, beans, chopped kale, and tomato paste. Mix until tomato paste has fully dissolved.
Add rosemary and taste. Add more salt if needed.
Cook for about 15 minutes over medium high heat.
Add cooked pasta of your choice.
Garnish with parmesan cheese and serve.
Enjoy!
Notes
Depending on the size and type of the pasta you add it may need more chicken broth. Simply add more broth if needed. Pasta can be a bit tricky as it may absorb the juice from the soup. Precooking the pasta can help with this issue.
Cecelia's Good Stuff https://ceceliasgoodstuff.com/