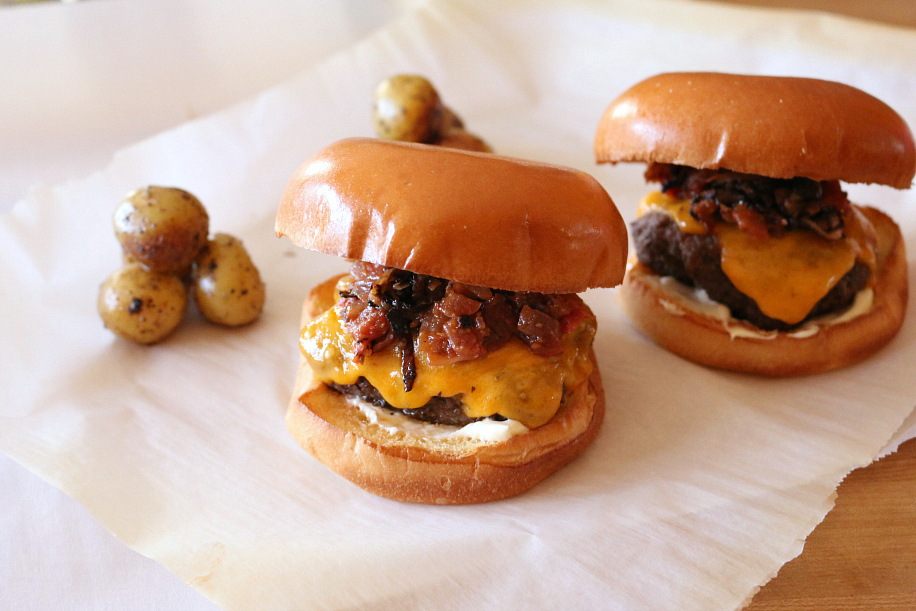 Romantic Burger Dinner for Two
2020-01-10 07:21:55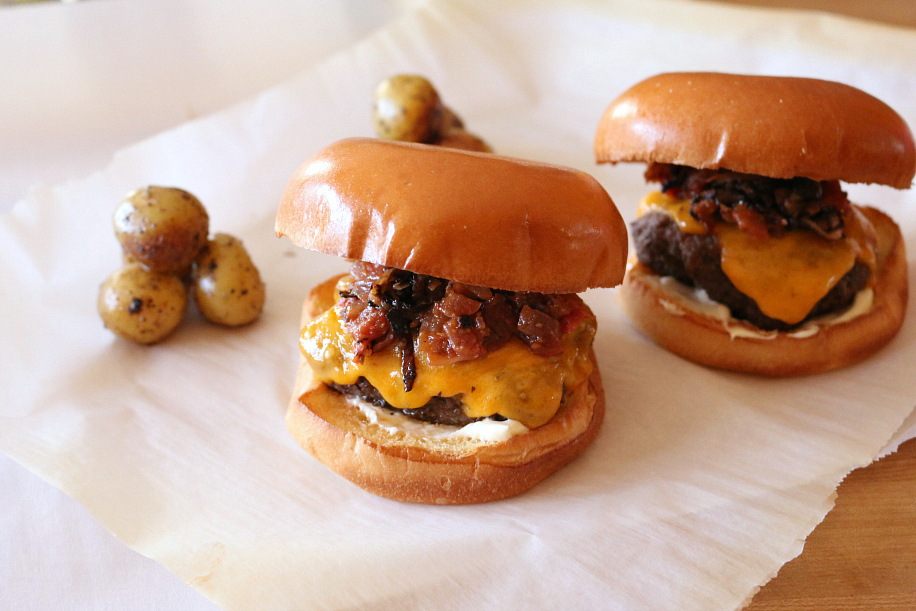 Serves 2
Ingredients
2/3 pound ground hamburger, organic grass fed
2 tablespoon extra virgin olive oil
1 cup sweet onion, sliced
1 cup petite plum tomatoes
1 tablespoon high quality balsamic vinegar
1 tablespoon brown sugar
2 pinches red pepper flakes
Salt & Pepper to taste
2 slices, sharp cheddar cheese
2 Brioche Buns, toasted
To make the Tomato Onion Jam
Add olive oil to small cast iron pan.
Warm over medium high heat.
Add sliced onion and plum tomatoes.
Season with salt and red pepper flakes.
Saute for about 3 - 5 minutes.
Lightly mash tomatoes with masher and remove from heat.
Preheat oven to broil.
Transfer pan to broiler.
Roast for about 2 - 3 minutes or until tomatoes begin to blacken.
Mash again until blended.
Add balsamic vinegar and set aside.
Make two hamburger patties, 1/3 pound each.
Season with salt and pepper.
Cook over medium high heat in cast iron skillet.
Cook about 5 minutes each side, for medium well (lightly pink center).
Flip and cook second side.
Remove from heat and add cheese.
Allow to rest for five minutes.
Mean while, toast Brioche buns in oven under broiler for about 2 minutes or until lightly toasted.
Garnish with mayonnaise.
Add burger and top with Tomato Onion Jam.
Serve with fingerling potatoes, chips of french fries.
Notes
I recommend making a double batch of the Tomato Onion Jam. You can refrigerate in air tight container for up to 5 days.
Cecelia's Good Stuff https://ceceliasgoodstuff.com/