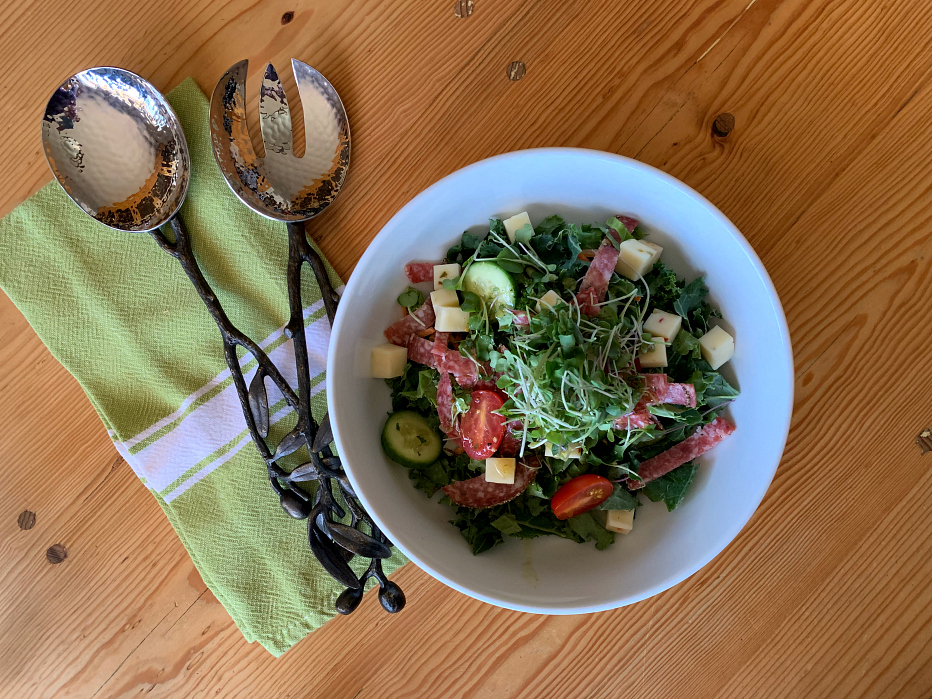 Chopped Italian Kale Salad with Garlic Lemon Dressing
2020-01-08 06:28:27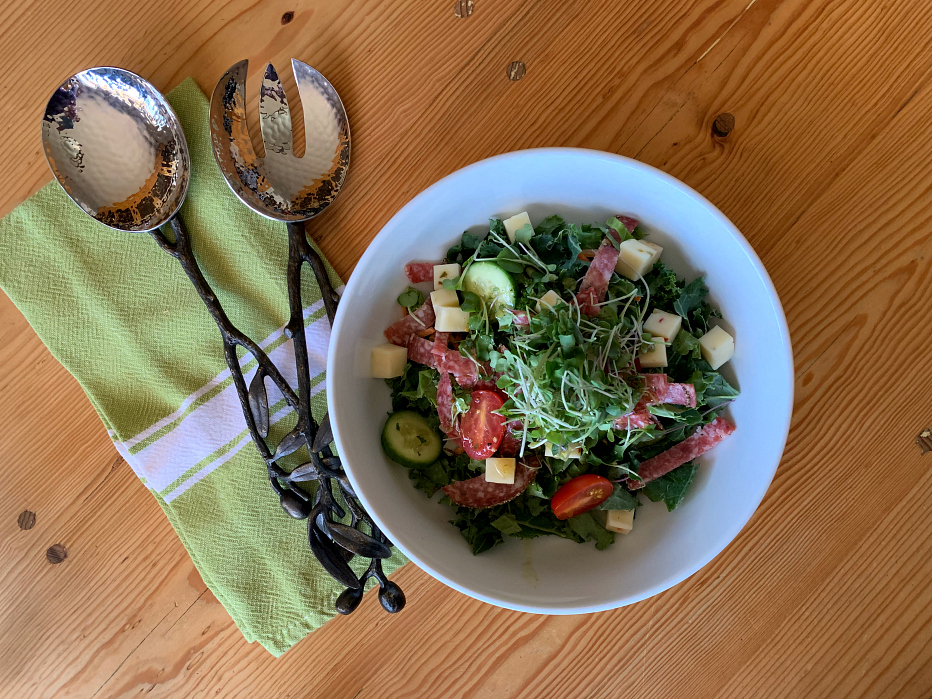 Serves 4
Chopped Italian Kale Salad with Garlic Lemon Dressing
Kale Salad
1 (6 ounce) bag of organic kale, stems removed and chopped
1 cup julienned carrots
2 tablespoons chopped red onion
2 tablespoons red bell peppers, diced
1 cup Persian cucumbers, sliced
1 cup petite plum tomatoes, sliced in half
2 ounces Salami, chopped
2 ounces Pepper Jack Cheese, diced into cubes
2 cups micro-greens, divide 1/4 cup garnish for each salad
Garlic Lemon Dressing
1/2 cup olive oil
1/4 cup fresh squeezed lemon juice
1/4 cup red wine vinegar
1 teaspoon dried Italian seasoning
1 teaspoon whole grain Dijon mustard
½ teaspoon sea salt
1 teaspoon garlic clove, minced finely
Fresh ground pepper to taste
Garlic Lemon Dressing
In small mixing bowl add all ingredients and mix well until all ingredients are fully blended.
Season with salt and fresh cracked pepper.
Taste and adjust as needed.
Kale Salad
Layer chopped kale, carrots, red onion, red bell peppers, cucumbers, plum tomatoes, salami, Pepper Jack cheese.
Drizzle salad with dressing, toss and divide into four serving bowls or plates.
Garnish with micro-greens. 1/4 cup per salad.
Makes four salads.
Serve immediately.
Enjoy!
Notes
I like my dressing on the tangy side. If you do not, add 1/4 cup more olive oil. Wink, Wink!
Cecelia's Good Stuff https://ceceliasgoodstuff.com/