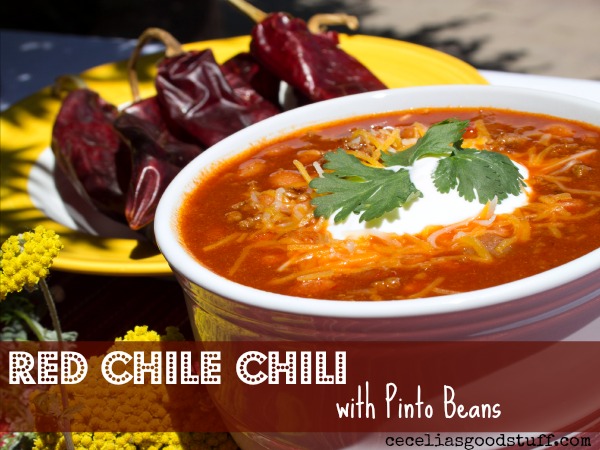 New Mexican Red Chile Chili
2015-03-27 07:35:17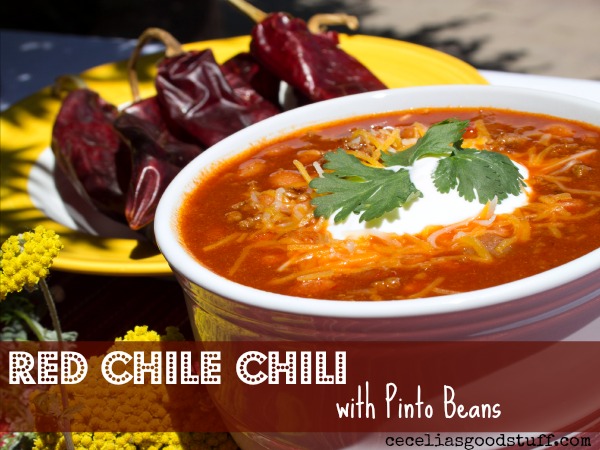 Serves 8
Red Chile is such a comfort food. People that visit or that have lived in our state crave our food when they leave. It seems that I get more requests for chile recipes than any other type of recipe. I have 101 ways of making New Mexican dishes – that is have the fun – changing it up and making it better. I love red chile beans and I especially love red chile beans with a piping hot flour tortilla. This recipe is a keeper. Let me know what you think and post your comments below. Bon Appetit, Cecelia
Ingredients
2 pounds ground beef 93% lean
1 medium yellow onion chopped finely
3 garlic cloves minced
2 tablespoons taco seasoning (No need to add salt this is plenty)
1 teaspoon cumin
1 1/2 cups mild red chile powder (or 16 ounce frozen red chile)
4 cups water
3 cans (16 ounces) pinto beans
Cilantro for garnish
Instructions
Directions: In a large soup pot sauté ground beef with onion.
Cook until meat is cooked medium – slightly pink and the onions are translucent.
Then add taco seasoning, cumin, chili powder and garlic.
Mix until all spices are incorporated throughout.
Add water and beans let simmer about 45 minutes on medium-low heat with no cover.
It is dry here in New Mexico so the water evaporates quickly – I like the chili thick and not too runny.
Cecelia's Good Stuff https://ceceliasgoodstuff.com/