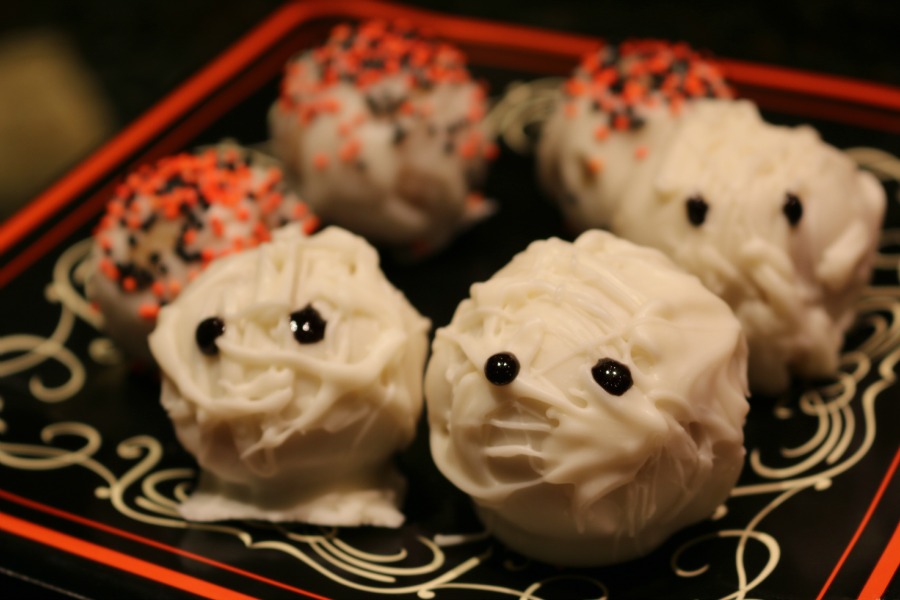 Mummy Cake Balls
2015-10-21 20:40:25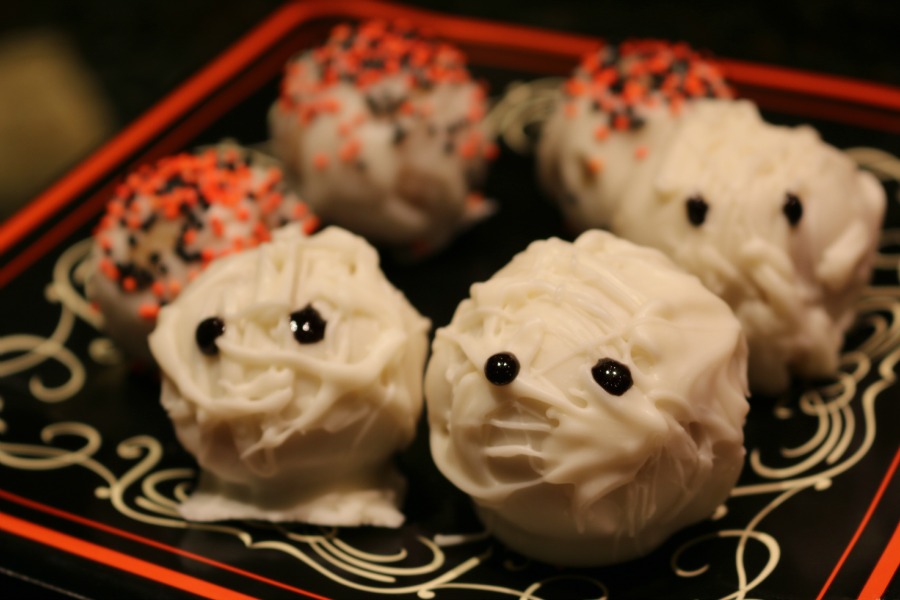 Serves 36
I love Halloween I spend weeks decorating my house in preparation for the big Pumpkin Carving Party. I have fun every year trying new recipes and making new desserts. I was inspired to create something new and I saw these cute mummy cake pops on Pinterest. And if you remember from last year, I complained because the cake pops are easy to make but they are a bit time consuming. I had some fun making these Mummy Halloween cake pops with my children so all the effort was well worth it. Any time I can get them involved in the kitchen and getting them to spend some one on one time with me - is good! Keep in mind if you do make these cake pops you have the option to add the sprinkles. If you choose to make an assortment add the sprinkles immediately, otherwise the cake pops cool down rapidly and the sprinkles do not stick once the chocolate has cooled. Have fun with it and try something new. Please share your thoughts and creations with me in the comment section below or on Facebook at Cecelias Good Stuff. Bon Appetit, Cecelia
Ingredients
Ingredients for Halloween Cake Pops
Betty Crocker White Cake Mix
1 teaspoon vanilla bean paste (or vanilla extract)
1 teaspoon baking powder (high altitude only)
3 eggs
1/3 cup vegetable oil
1 cup water
Directions: Mix and bake cake according to package directions. Allow cake to cool.
Betty Crocker Whipped Butter Cream Frosting
Black Gel icing for decorating
Sprinkles for decorating
Instructions
Preheat oven to 350°F. Spray one 13 x 9 x 2 in. sheet pan with vegetable pan spray.
step 2
Prepare your favorite white cake mix according to package instructions. In large bowl, combine cake mix, eggs, water and oil; beat at medium speed with electric mixer 2 minutes. Pour into prepared cake pan.
step 3
Bake according to package directions or until a toothpick inserted in center comes out clean. Cool in pan 10 minutes; remove from pan to cooling grid and cool completely. Divide cake in half; freeze one half for future use.
step 4
In large bowl, use hands to crumble cake until no large chunks remain. Add icing add about 4 tablespoon of frosting. Check to make sure it is sticking together, if you need more frosting add another tablespoon of frosting until mixture is sticking together. Test it by trying to form a small 1.5 inch ball. Add more frosting if needed. Continue to mix with fingers until well combined. Form mixture into cake balls. Chill in freezer for 15 – 20 minutes while you prepare you melting chocolate mixture. Melt white chocolate candy melts according to package directions. Remove cake balls from freezer and dip balls into melted candy mixture and place onto parchment paper. Wait until candy is completely firm before drizzling with more white chocolate. Decorate the eye and mouths with the black gel as desired.
Cecelia's Good Stuff https://ceceliasgoodstuff.com/