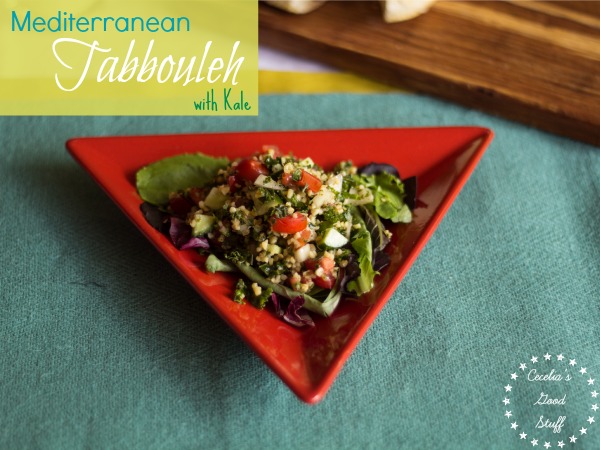 Mediterranean Tabbouleh with Kale
2015-01-28 12:27:37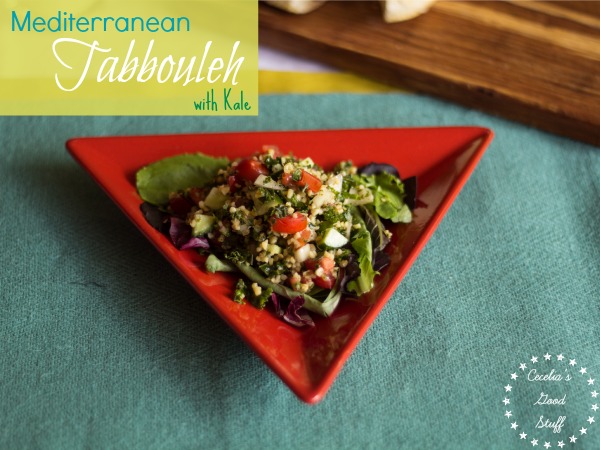 Tabbouleh is a traditional Lebanese vegetarian dish considered to be a salad or a side dish. Bulgar is a wheat based grain that is used as the base for Tabbouleh. The dish is flavored with tomatoes, cucumbers, parley and fresh lemon juice. This is my unique creation on a healthier version of tabbouleh made with kale. I hope you love it! Bon Appétit, Cecelia
Ingredients
3 cup warm water
1 cup medium cracked wheat
1 cup fresh curly parsley, minced
1 cup finely chopped kale
1/4 cup fresh mint leafs, minced
1/2 cup yellow onion, finely chopped
3 firm tomatoes, diced
2 cucumbers, seeded and diced
3 tablespoons extra virgin olive oil
3 tablespoons lemon juice, or to taste
1 teaspoons sea salt
¼ teaspoon cinnamon
¼ fresh cracked black pepper
Instructions
In a large mixing bowl, pour the hot water over the cracked wheat and cover.
Let stand about one hour or until wheat is tender and water is mostly absorbed.
Drain off any excess water and towel dry, with paper towels or cotton flour sack towel.
In a large bowl add the tabbouleh, chopped herbs and vegetables, mix well.
For Dressing
In a small bowl combine the oil, lemon juice, salt, and cinnamon mix until fully blended.
Then add to wheat mixture.
Mix all ingredients until fully coated with dressing.
Chill in refrigerator for about 2 hours and serve.
Enjoy!
Cecelia's Good Stuff https://ceceliasgoodstuff.com/