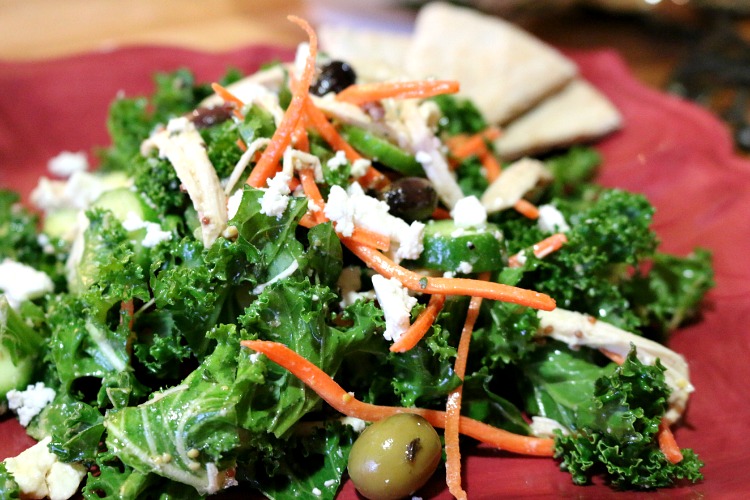 Mediterranean Kale Salad and Lemon Herb Vinaigrette
2015-03-24 14:07:13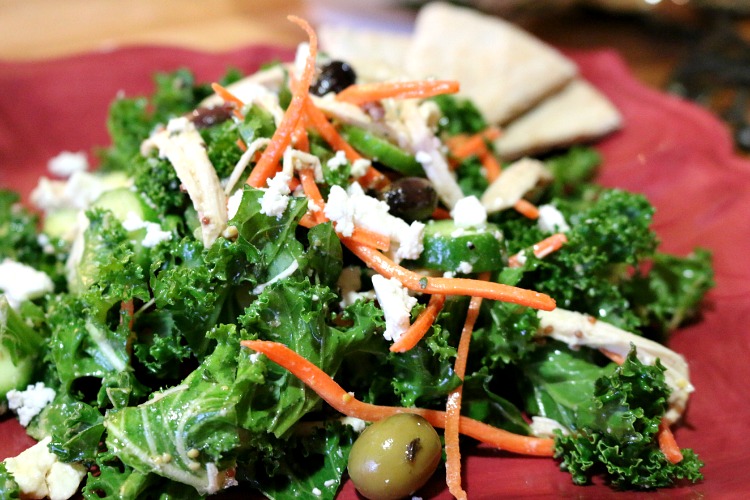 Serves 3
Kale is one of the best greens on the planet. It has considerable more protein than most other greens. If you are a vegetarian you should make kale a part of your regular diet. I like that it is hearty and stand up the salad dressing without getting wilty. It pairs so well with lemon that it has really become my go to green for most of my salads. I put a different twist on this one, I made it more of a Mediterranean Salad with some shredded baked chicken, feta cheese, Greek olives, and cucumber. I opted to serve a grilled pita on the side. It was simple to make and everyone including the kids loved it. I hope you enjoy it as well. Bon Appetit, Cecelia
Ingredients
1 (6 ounce) bag of organic chopped kale
1 cup julienned carrots
¼ cup red onion, sliced
1 cucumber sliced
1 cup mixed Greek Olives
4 ounces feta cheese; broken into small chunks
Lemon Herb Vinaigrette
¼ cup olive oil
¼ cup fresh squeezed lemon juice
2 tablespoons apple cider vinegar
1 teaspoon whole grain Dijon mustard
1 teaspoon herbs de province
¼ teaspoon garlic powder
1 teaspoon sea salt
Fresh ground pepper to taste
Instructions
Dressing: In small mixing bowl add all ingredients and mix well until all ingredients are well blended.
Salad assembly: layer kale, red onion, carrots, cucumber, olives and feta cheese. Drizzle with dressing, toss well and serve immediately!
Notes
TIP: Salad can be made up to one day ahead of time. Reserve the dressing in an air tight container and cover salad with plastic wrap. Make sure it is air tight! Air is what causes salads and vegetables to wilt.
Cecelia's Good Stuff https://ceceliasgoodstuff.com/