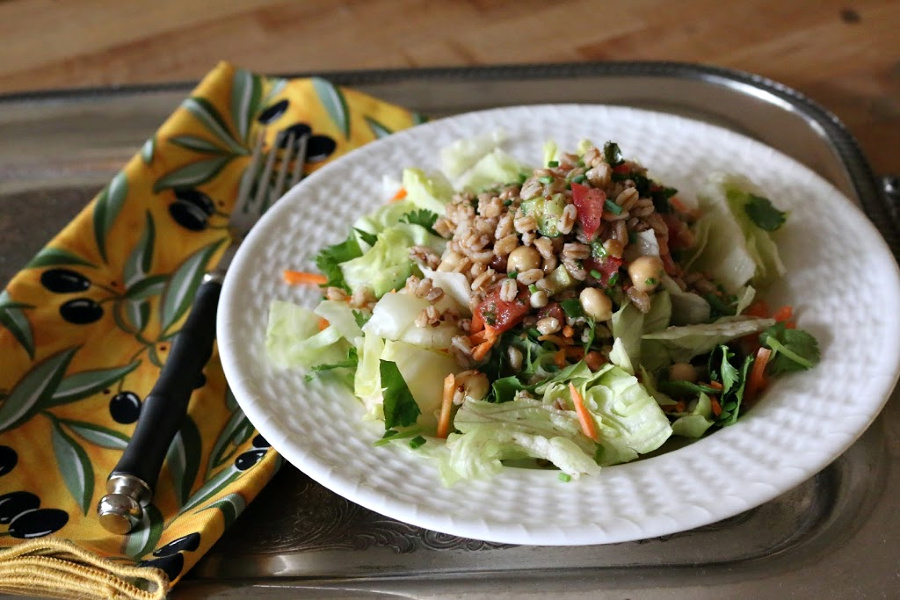 Mediterranean Farro Salad
2021-01-06 18:32:15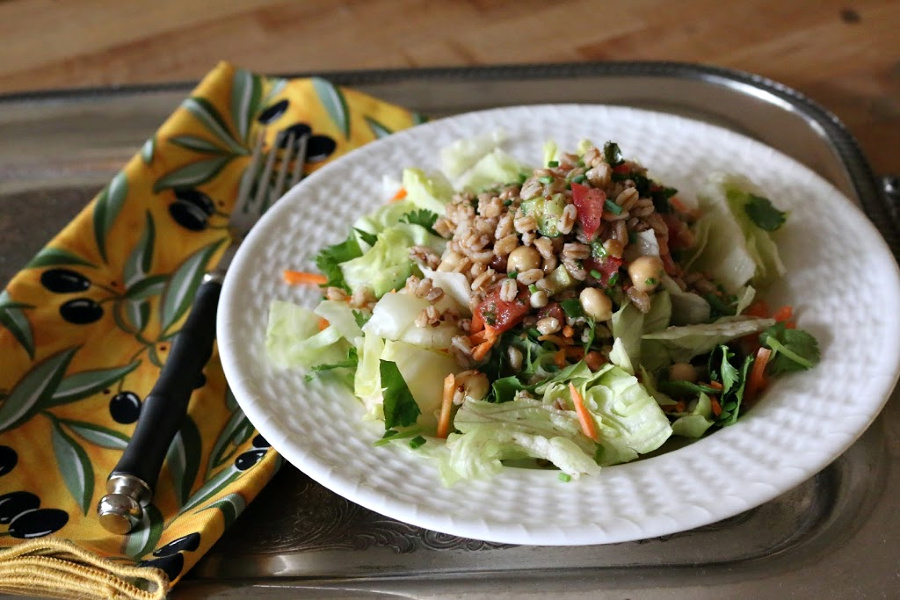 Serves 8
A delicious farro salad loaded with lots of fresh veggies and fresh herbs. The key to this salad is the tasty Greek dressing made with fresh lemon juice and extra virgin olive oil, and a few special herbs. This salad is a show stopper! It makes a great lunch or light dinner option. It also refrigerates nicely for a few days. Bon Appetit, Cecelia
Ingredients
4 cups cooked Farro (see below)
Green Salad
8 ounces Iceberg lettuce, chopped
1 cup Julienned carrots
Farro Salad
1 cup Garbanzo beans, drained and dried
2 Roma tomatoes, diced
2 Persian cucumber, chopped
1 cup onion, finely chopped
1 cup Kalamata olives, drained and quartered
2 tablespoons finely chopped fresh Tarragon
2 tablespoons finely chopped fresh Basil
2 tablespoons finely chopped fresh Parsley
1 tablespoon finely chopped fresh mint leaves
1 tablespoons finely chopped fresh Chives
Parsley
Dressing
1/2 cup olive oil
1/2 fresh squeezed lemon juice
1 teaspoon whole grain Dijon mustard
1 teaspoon salt
1/2 teaspoon pepper
1/2 teaspoon dried oregano
1/2 teaspoon dried parsley
Instructions
Cook 2 cups Farro according to package directions.
Drain and set aside.
In a large salad bowl add Garbanzo beans, tomatoes, cucumbers, onion, olives, and fresh herbs.
In a small bowl add the ingredients for the dressing.
Mix well.
Add dressing to vegetables.
Toss lightly until thoroughly covered.
Then add Farro and mix again.
Serve Farro salad over the lettuce and carrot salad.
Enjoy!
Notes
Farro is a small nutty grain and loaded with protien and fiber. It cooks like rice but has a chewy texture similar to bulgur. Normally 4 cups of water to 1.5 cups of Farro. It cooks likes rice. Add 1/2 teaspoon sea salt and 1 tablespoon olive oil or butter. Bring to boil and then reduce to simmer and cook for about 35 minutes. Allow it to rest for at least thirty minutes or until it cools to add the salad dressing.
**The Farro base can be stored for up to two days in fridge!
Cecelia's Good Stuff https://ceceliasgoodstuff.com/