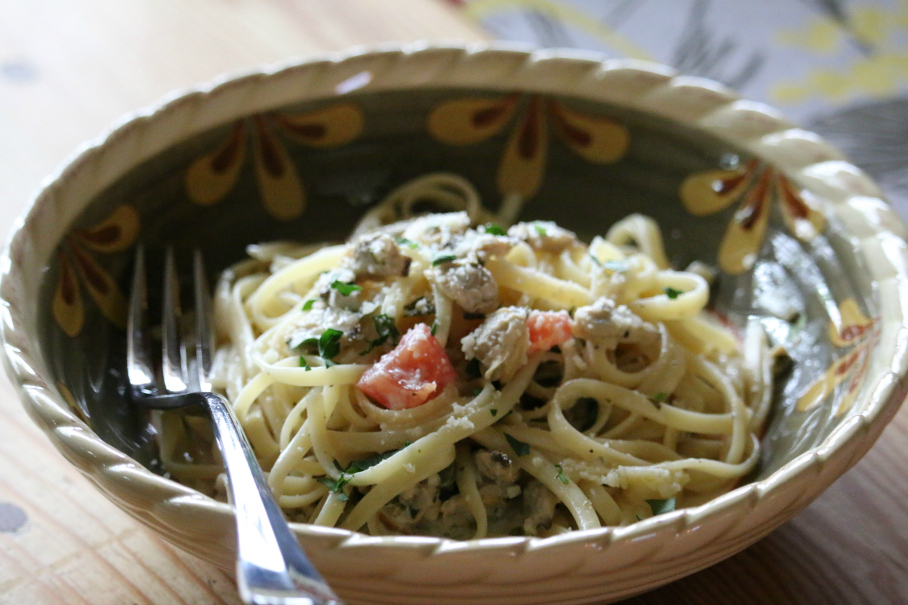 Linguine with a White Wine Clam Sauce
2017-08-17 17:20:18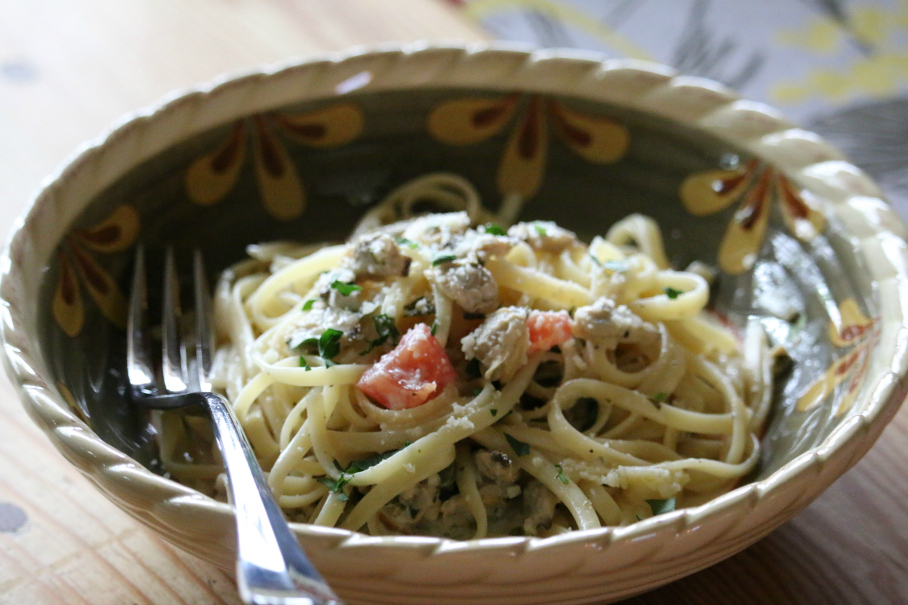 Serves 8
This is a dish I have been making since I was in college. I dated an Italian guy back in those and this is a dish we would make together. I haven't made it in years. I was inspired to make it for an auction I donated to my daughter's school. It was very tasty, so I made it for my family. It was so delicious, I have upgrade the recipe a bit since I was in college. While I was making the sauce I was having flashbacks of great times I experienced cooking for my friends 30+ years ago. One of my college girl friends recently sent me a note on Facebook, telling me that she still makes it from time to time. It was so good to hear that, it warmed my heart. Here's hoping that you enjoy this amazing Italian dish - Linguine with a White Wine Clam Sauce. Cheers to my friends young and old - Cecelia
Ingredients
1 package Italian imported Linguine
2 tablespoons butter
2 tablespoons extra virgin olive oil
1 small onion, chopped
3 garlic cloves, minced
1/2 cup dry white wine
2 Roma tomatoes, chopped
2 tablespoons fresh parsley, minced (chop extra for garnish)
1 teaspoon Italian seasoning
1 lemon, juiced (and zest, grated extra fine)
1 can petite clams, drained reserving juice
1/4 cup heavy cream
1/2 cup fresh grated parmesan cheese
Sea salt to taste
Fresh ground pepper to taste
Instructions
In a large sauce pan over medium heat add the butter and olive oil.
Add the onion and cook until translucent.
Then add the minced garlic, cook for about 2 minutes.
Add white wine.
Allow wine to cook off about 5 minutes.
Add tomatoes, parsley, Italian seasoning, lemon juice, lemon zest and clam juice.
Bring to a low boil then reduce heat to a low simmer.
Add heavy cream.
Season with salt and pepper.
Add clams and cook two minutes.
Cover sauce and set aside.
Cook linguine pasta according to package directions.
Serve linguine in individual plates and top with sauce.
Garnish with pamesan cheese and fresh parsley.
Serve and Enjoy!
Notes
P.S. I had to say hello to my friends that ate this with me many, many times back in my college days. Lynn, Patti, Tara, Kim, Kathy, Heidi, Laurie, Katy, Leigh, and Darcy who is no longer with us in this physical world but I know your spirit is always near. Sending each of you loving thoughts.
Cecelia's Good Stuff https://ceceliasgoodstuff.com/