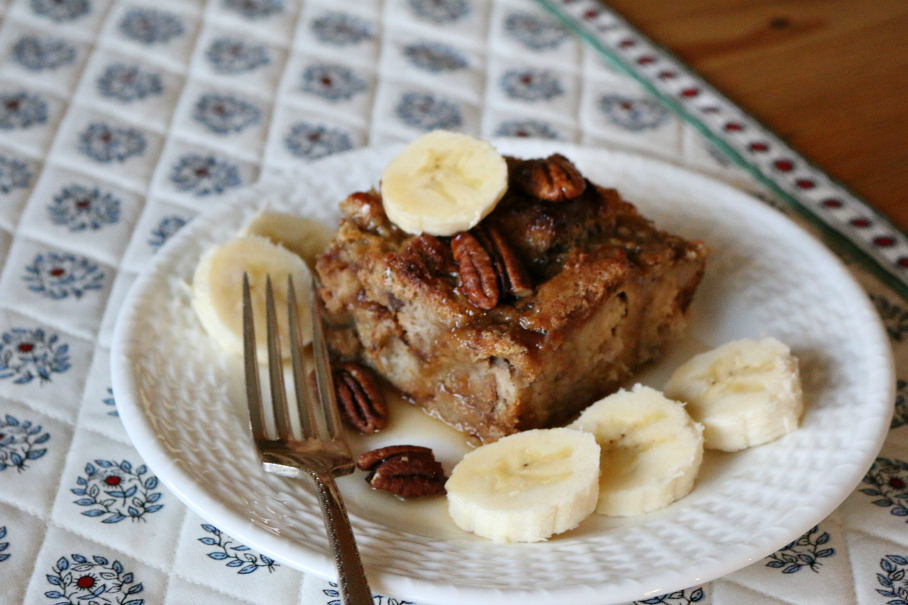 Irish Soda Bread Breakfast Casserole
2017-09-06 15:42:49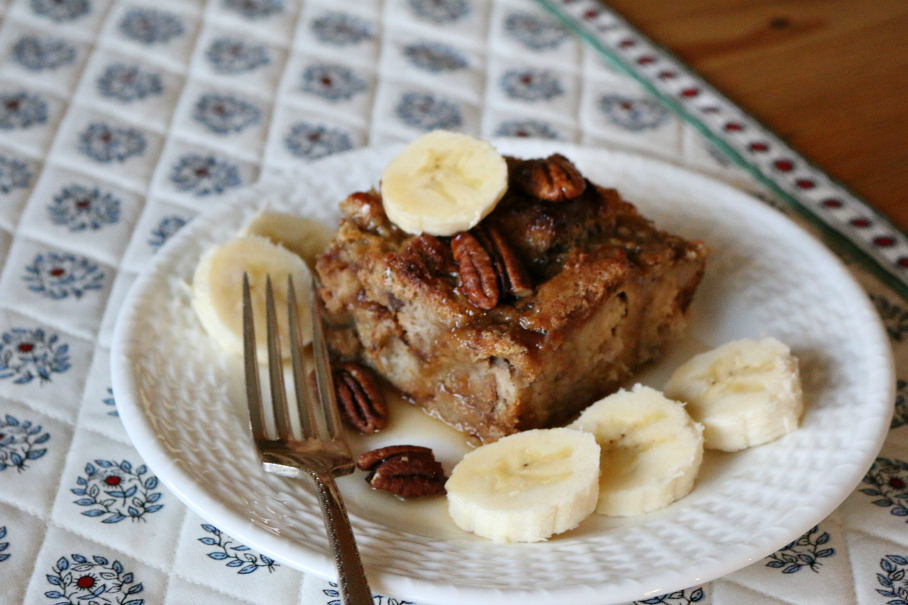 Serves 12
Breakfast casseroles are always a big hit at Casa Linda. This one especially went over well with everyone including the husband. He had purchased a small loaf of Irish soda bread. I asked him if he had plan for it and his response was it looked interesting. So as you will . . . I didn't want it to go to waste so I made it into a breakfast casserole. This casserole is like French toast but much better. I added bananas to the egg mixture to give it more of a breakfast flavor, but honestly this is so good it good be served as bread pudding for dessert. I would change out the maple syrup for a bourbon sauce. See below for that recipe link. Overall it was a delicious breakfast. The casserole feed twelve and would be a great brunch recipe. We just had leftovers for days . . . and that was perfect. Please let me know what you think. Don't forget to follow me on Facebook and check out my recipes on Pinterest. Until next time my friends . . . Bon Appetit, Cecelia
Ingredients
1 small loaf Irish soda bread, cut into cubes (enough to fill a 9 x 12 pan)
8 eggs, beaten well
1 teaspoon vanilla bean paste
1 teaspoon cinnamon
1 cup mashed bananas (about 2 ripe bananas)
1 cup whole milk
¼ cup dark brown sugar
For Garnish
Fresh sliced bananas
Candied Pecans
½ cup Maple Syrup
3 tablespoons butter
Instructions
1 small loaf Irish soda bread, cut into cubes (enough to fill a 9 x 12 pan)
8 eggs, beaten well
1 teaspoon vanilla bean paste
1 teaspoon cinnamon
1 cup mashed bananas (about 2 ripe bananas)
1 cup whole milk
¼ cup dark brown sugar
For Garnish
Fresh sliced bananas
Candied Pecans
½ cup Maple Syrup
3 tablespoons butter
Cut Irish soda bread into bite size pieces.
Place into a 9 x 13 casserole pan.
In a blender add eggs, milk, vanilla and cinnamon, and bananas.
Mix on high for about 30 seconds or until all ingredients are well blended.
Pour mixture over Irish soda bread.
Using a spatula press down on the bread, making sure it is fully covered in the egg/milk mixture.
This will insure that the bread can absorb the egg/milk mixture.
Sprinkle mixture with brown sugar, and bake in 375 degree oven for approximately 35 minutes, or until center is firm. In a small bowl melt the butter in the microwave for 10 – 15 seconds and add in the maple syrup.
Before serving microwave the syrup and butter mixture, cut casserole into 12 serving pieces, drizzle individual servings with butter maple syrup mixture, top with candied pecans and fresh cut banana slices.
Notes
This recipe would also make a great dessert. Minus the maple syrup and butter topping and try my recipe for Bourbon Sauce. See the recipe link below.
Cecelia's Good Stuff https://ceceliasgoodstuff.com/