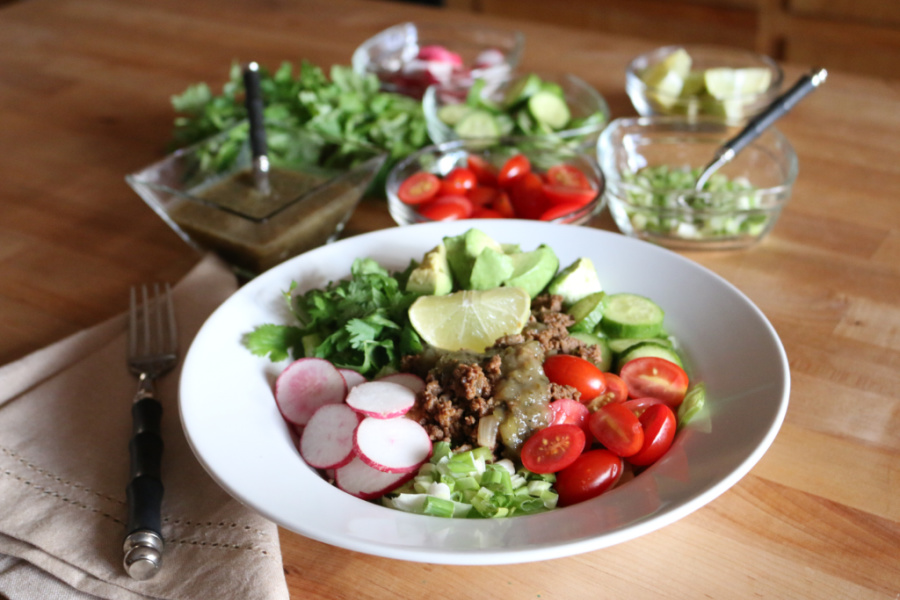 Keto Taco Salad
2020-12-07 09:37:45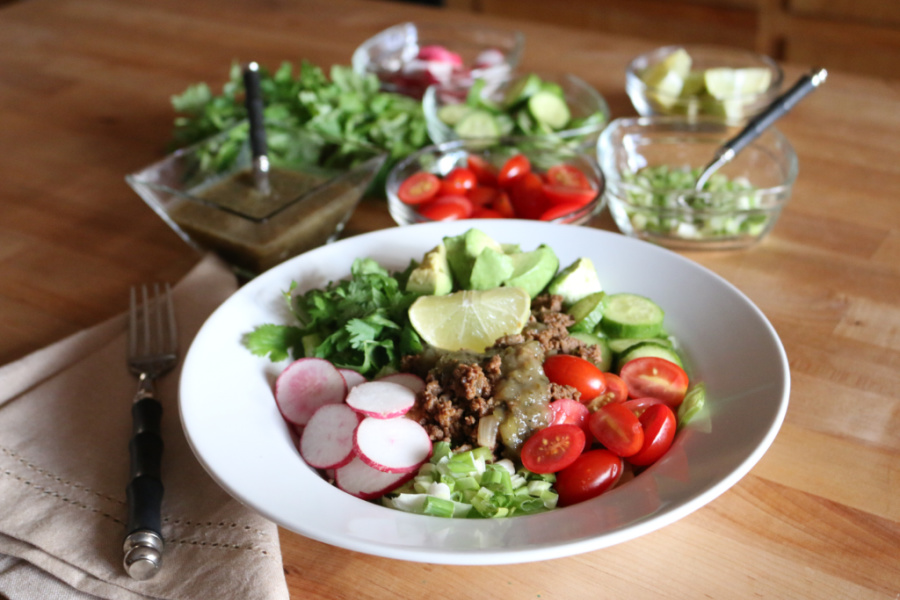 Serves 4
An easy homemade Taco Salad that is keto friendly. It also happens to be gluten free. This low carb salad is loaded with grass feed beef and lots of fresh nutritious vegetables. Perfect for a low carb diet. (Recipe will make 4 large salads) Bon Appetit, Cecelia
Ingredients
1 pound grass fed ground beef (85% lean beef/15% fat)
2 tablespoons organic taco seasoning
1 small onion, diced
2 cloves garlic, minced
1 cup Persian cucumber, sliced
1 head iceberg lettuce, chopped
1 cup petite plum tomatoes, sliced
1 avocado, quartered and chopped
1 cup radishes, sliced
2 scallions, sliced
1 cup cilantro leaves
1 lime cut into small wedges
Kevin's Tomatillo Taco Sauce (For dressing)
Instructions
In a large non-stick frying pan add the ground beef, taco seasoning, onions, and garlic.
Cook over medium high heat mixing often.
Continue to cook until meat is fully cooked about ten minutes.
Cover and set aside.
In four individual serving bowls add iceberg lettuce.
Top with 1/4 pound of ground beef mixture.
Garnish with cucumber, tomatoes, radishes, scallions, cilantro leave, avocado, and lime wedge.
For the dressing top with Kevin's Tomatillo Taco Sauce.
Enjoy!
Notes
Other toppings to consider, shredded cheese, sour cream or fresh guacamole.
Cecelia's Good Stuff https://ceceliasgoodstuff.com/