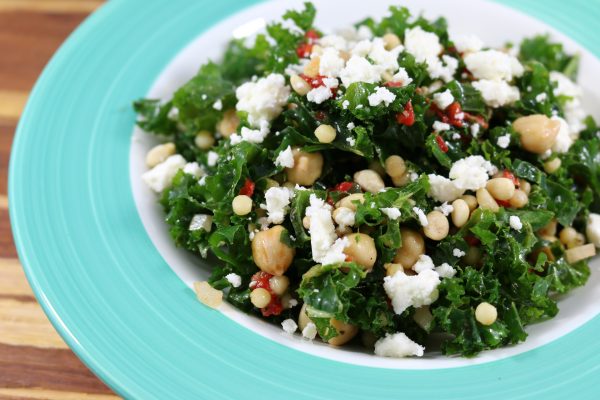 Kale with Israeli Couscous
2015-01-19 18:20:44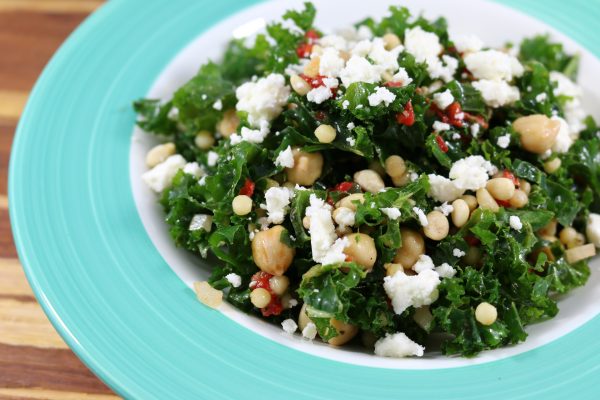 Serves 6
I found some Israeli Couscous and thought I would create something fun and amazing. I bought it for gift basket over the holidays in hopes I would create some new holiday dishes. Oh well, here I am a month later finally getting to it. So the box of Israeli couscous came from Trader Joe's. I followed the directions on the box and toasted the couscous which added a nice depth of flavor to this salad. I added the roasted red pepper for color and the garbanzo beans for fiber and additional protein, the feta cheese was an afterthought, and a good one at that. This is fairly simple – toasting the couscous was a new experience for me. It reminded me of toasting rice for Spanish rice. Also, while I was toasting the couscous I added a little garlic powder at the very end to add some flavor. If you do it just a light sprinkle before you turn the heat off. Otherwise it may burn and you don't want burnt garlic, trust me on this one! Bon Appétit, Cecelia
Ingredients
Kale Salad with Israeli Couscous
1 (6 ounce) bag of organic chopped kale
1 roasted red pepper, chopped
1 tablespoon olive oil
¼ cup toasted pine nuts
1 cup Israeli Couscous, prepared according to package
1 can garbanzo beans, rinsed and towel dried
4 ounces feta cheese; broken into small chunks
Garlic powder to taste
Lemon Herb Vinaigrette
¼ cup olive oil
¼ cup fresh squeezed lemon juice
1 teaspoon Dijon mustard
1 teaspoon Italian Seasoning
¼ teaspoon garlic powder
1 teaspoon sea salt
Pinch of cinnamon
Fresh ground pepper to taste
Instructions
Dressing: In small mixing bowl add all ingredients and mix well until all ingredients are well blended.
Salad assembly: layer kale, garbanzo beans, couscous, roasted red peppers, pine nuts and feta cheese. Drizzle with vinaigrette, toss well and serve immediately!
Notes
If you cannot find Israeli couscous you can substitute regular couscous.
Cecelia's Good Stuff https://ceceliasgoodstuff.com/