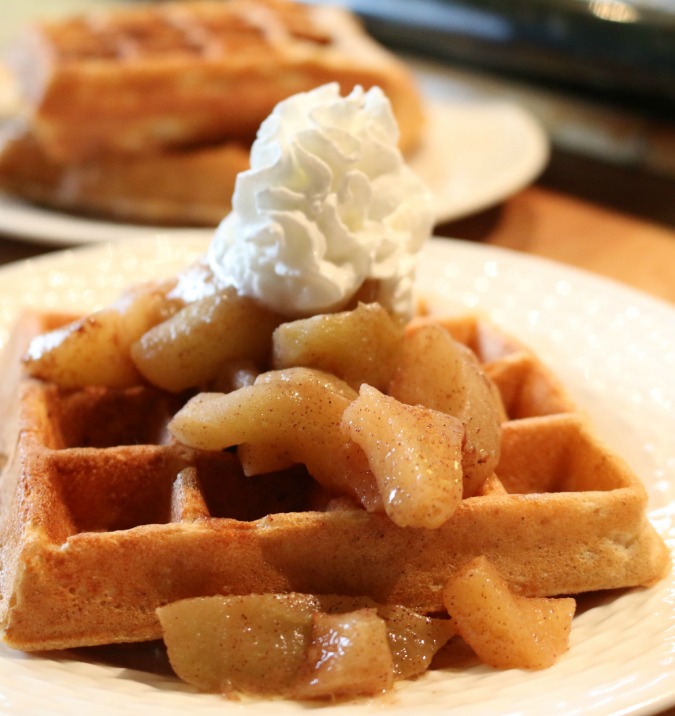 Homemade Healthy Waffles
2015-01-20 11:31:10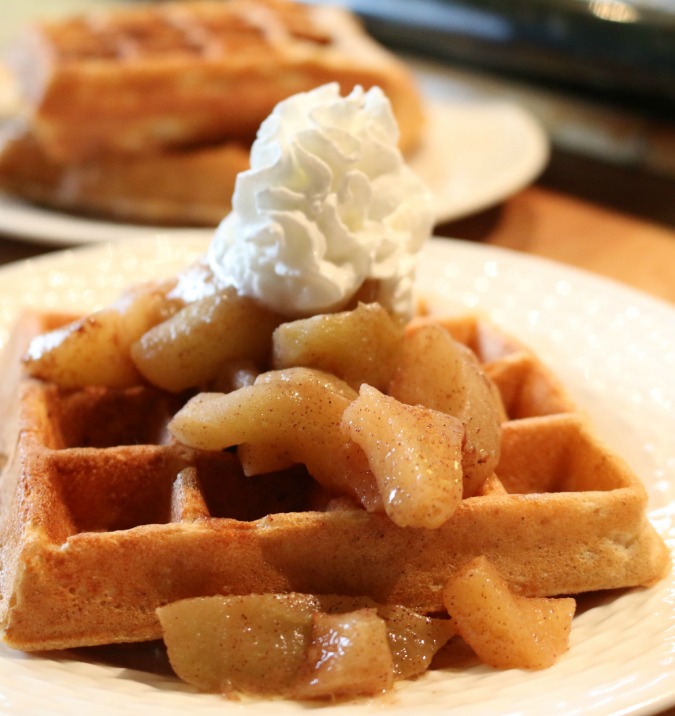 Serves 8
Making more things like healthy homemade waffles is one of my ambitions. I want my children to enjoy comfort foods such as homemade waffles, but I want them to be healthy. For a start I thought I would create my own mix instead of a box variety. In my quest for a recipe base, I found numerous recipes for healthy waffles and yet most of the recipes called for white flour, two sticks of butter and nearly two cups of milk (not exactly what I consider healthy). I want my family to enjoy waffles however; I do want them to be nutritious. This is my attempt at making healthy homemade waffles! I reduced the amount of butter by half, I substituted some of the white flour for ground flaxseed and I added unsweetened applesauce to make it healthier. This is my version of a "Healthy Homemade Waffles". I also made sautéed cinnamon waffles to put on top. I did not add sugar to the apples, because I find once you add maple syrup or powdered sugar it was too sweet. And since I am trying to reduce my family's sugar intake it was perfect! Let me know what you think by sharing your comments below or sending me a message on Goggle + or Facebook!
Ingredients
2 eggs (beaten)
1 cup milk
1 cup applesauce
1 cup flour
½ cup ground flaxseed
½ stick butter
1 tablespoon sugar
2 teaspoons baking powder
¼ teaspoon salt
1 teaspoon vanilla
½ teaspoon cinnamon
Garnish: Fresh Fruit, Powdered Sugar or Cinnamon and Whipping Cream
Instructions
In a medium mixing bowl, add flour, ground flaxseed, sugar, baking powder, salt and cinnamon and mix until all ingredients are well blended. In a separate mixing bowl add, beaten eggs, applesauce, milk vanilla and mix well. Combine dry ingredients with wet ingredients and mix well. Heat waffle grill and fill until bottom of grill is covered. Prepare waffles according to instructions for your waffle maker. Serve with your favorite fresh, maple syrup, or cooked fruit! Garnish with powdered sugar or cinnamon and whipping cream.
Cecelia's Good Stuff https://ceceliasgoodstuff.com/