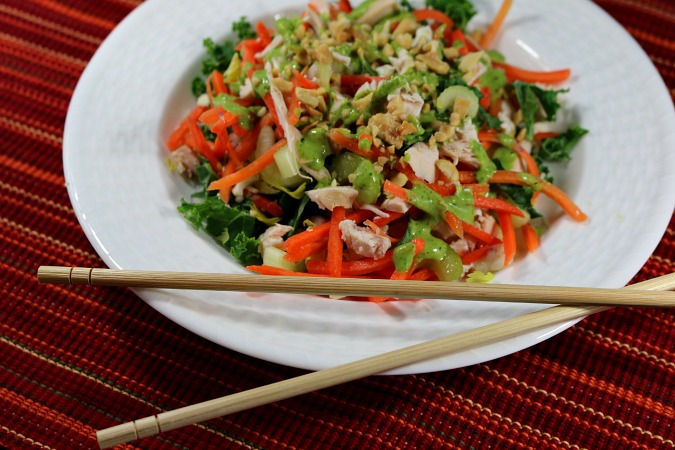 Chopped Asian Salad
2015-01-22 06:00:48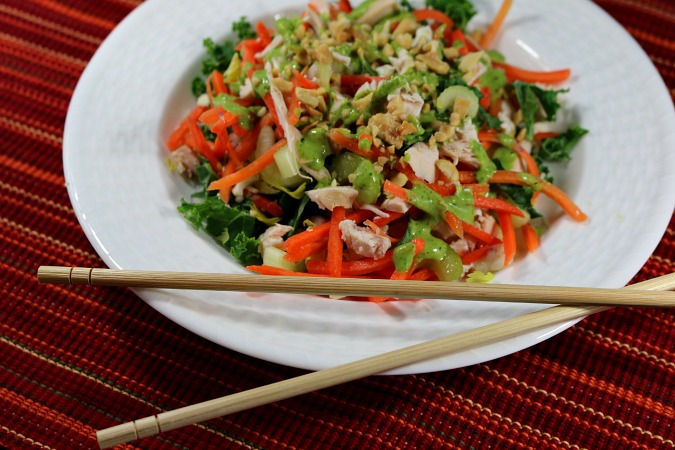 Serves 6
If you are like me you are starting out the New Year trying to get back into a routine which include getting my kids back in school and going back to normal work hours. And at the top of my list getting back to eating healthy foods. Over the holidays we all can tend to indulge in too much sugar and sweets. So in honor of eating healthy I created a new "Chopped Asian Salad with Cilantro Lime Vinaigrette." I am sure you will agree this is one of my best creations yet! I would love to hear from you please leave a comment below or send me a message on Facebook or Google +! Bon Appétit, Cecelia
Ingredients
Chopped Asian Salad
4 cups chopped Kale or Romaine Lettuce
2 cup celery, sliced
2 cups julienned carrots (found in most grocery stores)
2 cups cauliflower, sliced thinly
¼ cup red onion, finely chopped
2 cups roasted chicken, chopped
1 cup chopped roasted peanuts
Cilantro Lime Vinaigrette
1/2 bunch of cilantro, including tender parts of the stems
½ cup red wine vinegar
½ cup olive oil
1/ 4 cup fresh lime juice
½ teaspoon garlic powder
1 tablespoon Dijon mustard
Salt and Pepper to taste
Instructions
Dressing: In food processor add all dressing ingredients. Pulse until all ingredients are well blended.
Salad: In large flat salad bowl add kale, onion, celery, carrots, and roasted chicken. Drizzle with cilantro lime vinaigrette, garnish with chopped roasted peanuts and serve.
Notes
Tip: I served my salad with chop sticks!
Cecelia's Good Stuff https://ceceliasgoodstuff.com/

Chopped Asian Salad