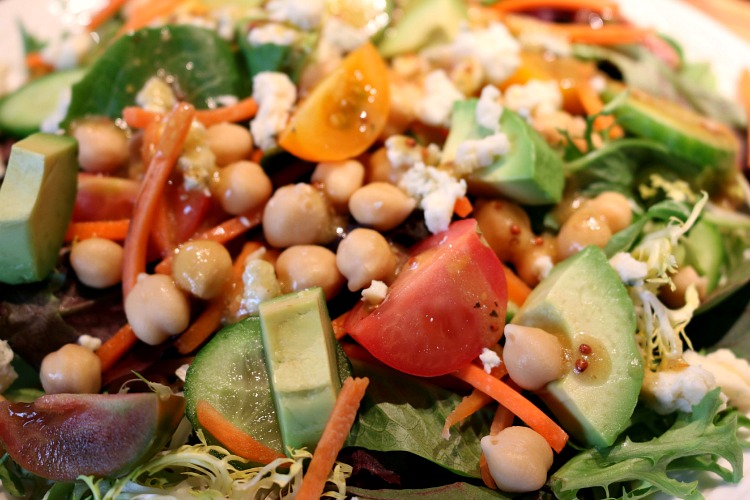 Hearty Salad with Red Wine Vinagrette
2015-02-03 07:21:58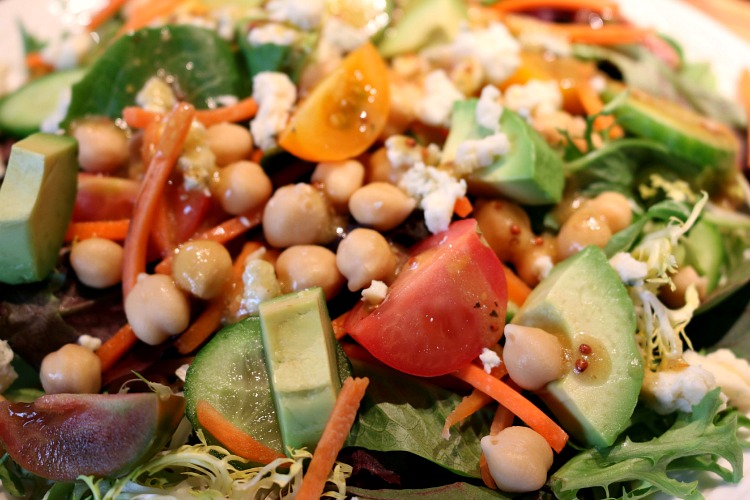 Serves 4
Raw food lovers and plant based diet people - this one is for you! The new year always inspires me to start eating healthy once again after indulging in too much food over the holidays. As we move forward into February of 2015 I still feel inspired to eat healthy and take good care of myself. Turning 50 made me realize how important eating the right kinds of foods, exercising and staying healthy. So to honor my healthy eating routine - here is another salad to add to your meal plan. Hearty mixed green salad topped with homemade red wine vinagrette make a meal in itself. This is loaded with avocado, garbanzo beans, heirloom tomatoes, celery, Persian cucumbers, carrots, blue cheese and topped with an easy to make red wine vinaigrette.
Ingredients
6 ounces mixed greens
1 cup julianned carrots
1 avocado, diced
1 cup heirloom tomatoes, quartered
1 cup garbanzo beans, rinsed and towel dried
1 cup chopped celery
1/4 cup blue cheese crumbles
Red Wine Vinaigrette
¼ cup Extra Virgin Olive Oil
¼ cup red wine vinegar
½ teaspoon dried Italian Seasoning
½ tablespoon whole grain Dijon mustard
½ teaspoon sea salt
fresh ground pepper to taste
Instructions
Salad assembly: layer mixed greens, carrots, celery, heirloom tomatoes, cucumber, garbanzo beans, avocado, and blue cheese. Drizzle with red wine vinaigrette and serve immediately!
Dressing: Add all ingredients into blend and mix until well blended. Transfer to dressing bottle.
Notes
TIP: For those of you NOT eating oils - no problem, simple substitute fresh squeezed lemon juice for the red wine vineger and oil and prepare dressing as above.
Cecelia's Good Stuff https://ceceliasgoodstuff.com/