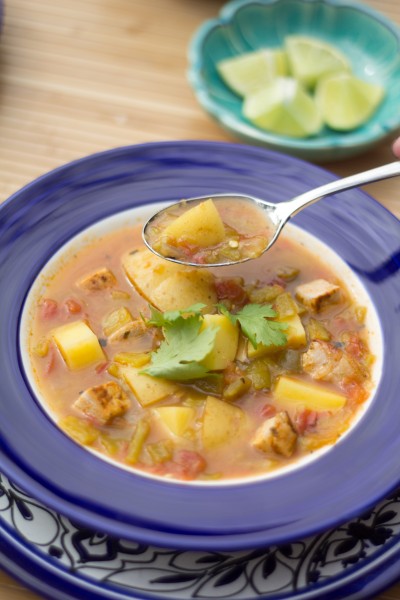 Green Chile Stew
2015-02-24 20:38:39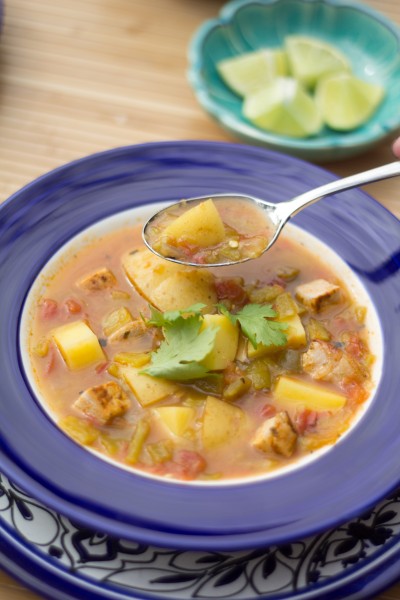 Serves 6
Green chile a big part of New Mexico culture. We have dozens of ways to cook with and enjoy green chile. We add it to soups and stews, put it on our hamburgers and pour it over our eggs. Our New Mexico green chile is grown in Hatch a small town in southern New Mexico. They grow a variety of green chilies there that range in heat from mild to extra hot. Most native New Mexicans love HOT green chile and use it in many types of recipes and I am certainly no exception. Over the years, I have created numerous soup recipes using green chile. Several of my recipes have been published in our local Junior League cookbook, "A Taste of Enchantment". Once again, inspired by some very spicy green chile, I ventured to create a new recipe. A very dear friend of mine noticed I had not posted a more tradition Green Chile Stew made with pork. Inspired by the challenge, I created this recipe. So here it is . . . one more recipe with green chile, a more traditional Green Chile Stew! Bon Appétit, Cecelia
Ingredients
2 pound pork loin, chopped into medium chunks
16 ounces green chile, canned or frozen
6 small/medium yukon potatoes, washed and chopped
12 ounces fire roasted tomatoes
6 cups chicken broth
2 tablespoon olive oil
1 medium onion; chopped finely
2 cloves garlic; finely minced
Salt to taste
½ teaspoon ground cumin
Tips for Garnish
Avocado
Cilantro leaves
Sliced Jalapeno Peppers
Tortilla chips
Lime
*Pictured here with cilantro leaves.
Instructions
In a large soup pot over medium heat add olive oil, pork, onion and garlic.
Allow to cook until onion is translucent and pork is slightly browned about 5 minutes, being careful not to brown the garlic.
Transfer to a slow cooker and set for 4 hours on high heat.
Add chicken broth, green chile, fire roasted tomatoes, and season with cumin and salt.
After two hours add the potatoes and reduce heat to low.
Allow to cook until the potatoes are fork tender about two hours.
Serve and garnish to your liking with cilantro, jalapeno slices, tortilla chips, fresh lime, or sliced avocado.
Enjoy!
Cecelia's Good Stuff https://ceceliasgoodstuff.com/