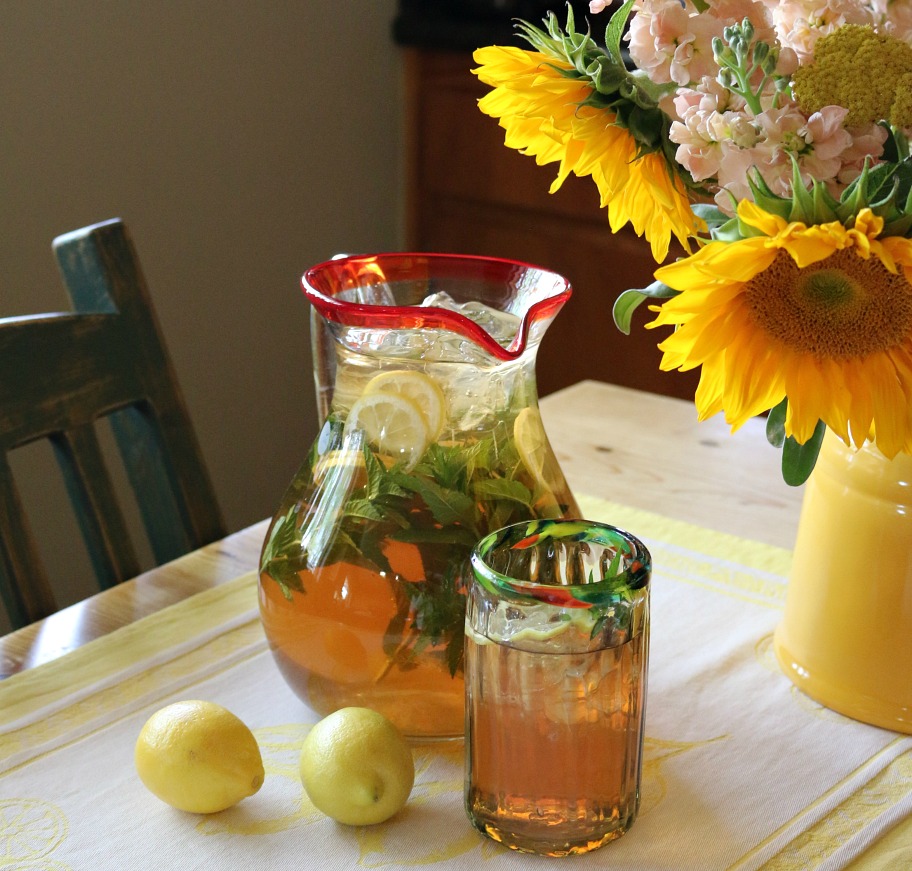 Ginger Lemon Sun Tea
2017-06-06 15:43:18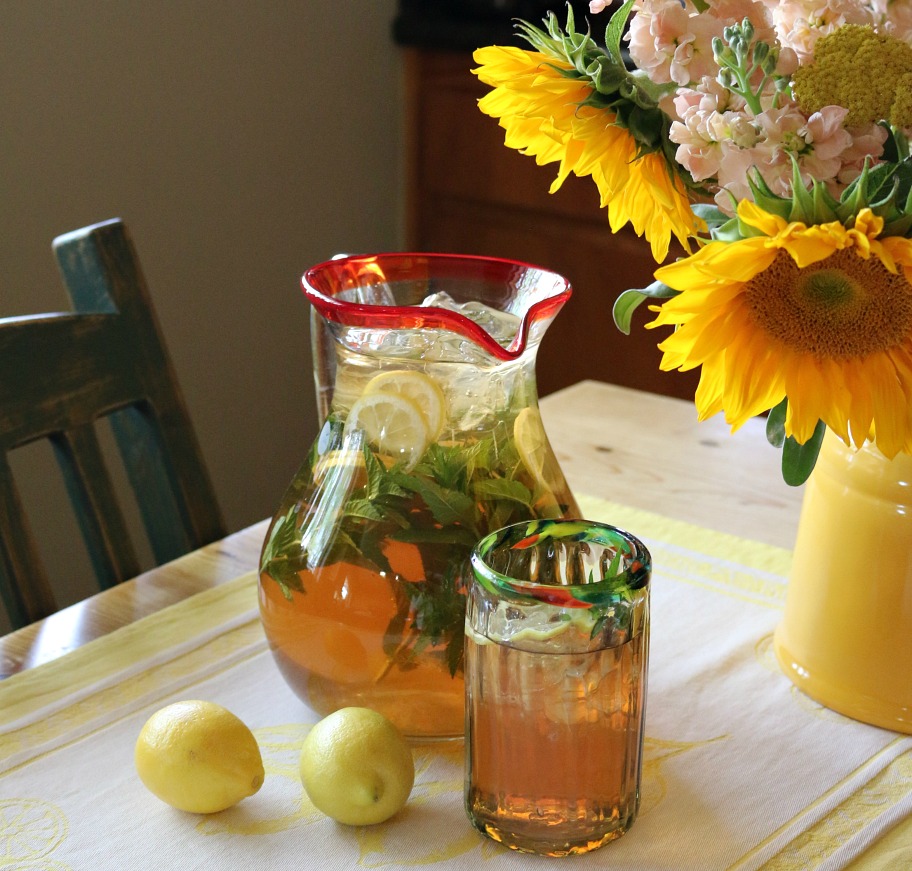 Serves 12
One thing I enjoy about summer is drinking fresh made sun tea. I make a fresh batch about every other day. I mostly make sun tea. Here in New Mexico it brews quickly in the afternoon sun. Normally I make mine in the morning before I leave for work. It give the teas a chance to brew all day. Brewing it all day makes a stronger tea. My family loves sun tea. I change it up using different flavors of tea to keep it interesting. Personally I do not add any sweeteners to my sun tea. My children on the other hand like it slightly sweetened. I usually add about two - four tablespoons of raw honey to their pitcher. It varies on the tea. For a mild tea about two tablespoons of honey is plenty. If the tea is slightly bitter I use about 4 tablespoons of raw honey or raw organic sugar. This Ginger Lemon Sun Tea is very tasty and slightly tart. Most days I add fresh mint to my tea. You can add the mint before you brew it or after. Adding it before gives the tea a strong minty flavor. I normally add mine after to keep the mint on the mild side (but I do make it both ways, depending on my mood that day, LOL.) The fresh lemon made this sun tea a little tart, but I love that. The kids wanted me to add honey to theirs. This makes about two pitchers - one for the adults and one for the kids. It is perfect when you are entertaining or just eating on the patio. I hope you enjoy this recipe . . . please stay tuned for more good stuff. Thank you for your love and support. Bon Appetit, Cecelia
Ingredients
Sun Tea Jar (one gallon jar)
1 gallon water
10 bags of Lemon Ginger Tea
Hand full of fresh mint (about 6-8 sprigs)
1 lemon sliced
4 cups ice - plus more for serving
2 tablespoon raw honey (optional)
Instructions
Fill sun tea jar with water.
Add tea bags.
Place jar in sunny area outside for 2 - 8 hours. (longer for stronger tea)
Pour into serving pitcher.
Garnish with mint, lemon slices and ice.
Serve over ice.
Enjoy.
Notes
Raw honey is optional. I do not normally sweeten my tea, but my children like it slightly sweetened. In a separate pitcher add the remaining tea and add honey. Garnish accordingly. Refrigerate any unused tea. It last in the fridge for about 2 - 3 days.
Cecelia's Good Stuff https://ceceliasgoodstuff.com/