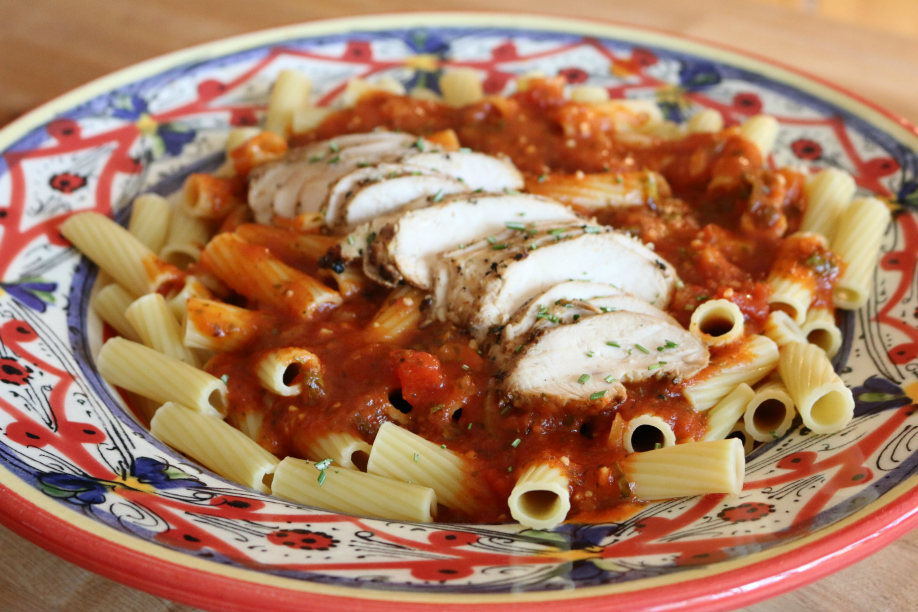 Rigatoni with Italian Herb Grilled Chicken
2017-06-02 10:19:09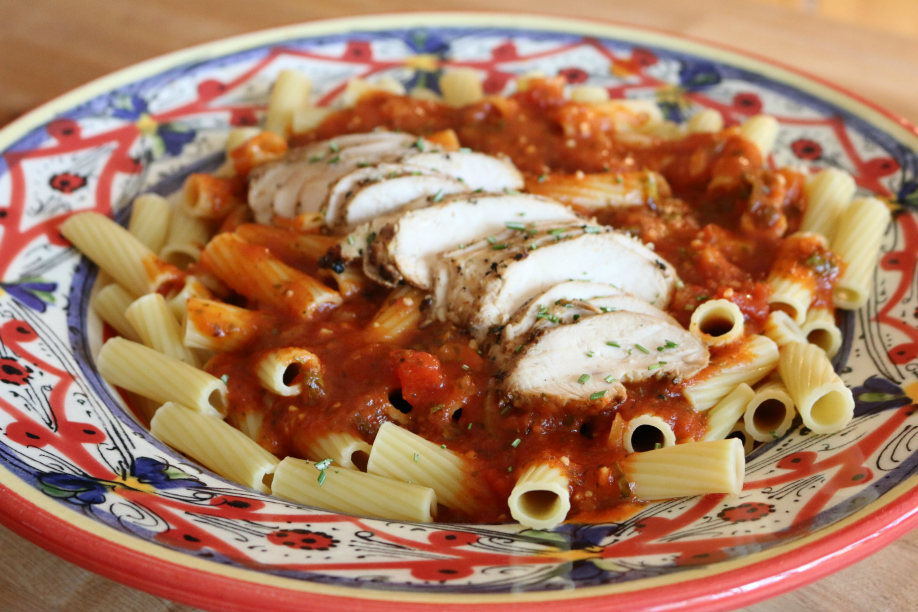 Serves 8
I love great pasta. I especially appreciate imported fine Italian Pasta. Every now and then I find some great pasta at my local Italian deli. When I find it, I buy several different varieties and stock up the pantry. I like having it on hand. It seems that when I am busy or tired from a long day's work, a pasta dinner is quick and easy to prepare. The entire family finds it very satisfying. The key to a great pasta sauce is using fresh herbs. They add depth of flavor to the pasta sauce. I also use red pepper flakes, they give any sauce a little zing! My children love pasta night. This rigatoni was perfection once it was topped with the Italian Herb Grilled Chicken. And for even more flavor I added a little more fresh chopped rosemary. It was delish! I hope you enjoy my newest recipe. I have also shared some of my hollyhock and poppy flowers from my garden . . . along with a few tips on planting these beauties from seed. Until next time . . . Happy gardening and Bon Appetit, Cecelia
Ingredients
2 tablespoon extra-virgin olive oil
1 cup sweet onion, chopped
2 garlic cloves, minced
1 cup red wine
1 (12 ounce) can fire roasted diced tomatoes
1 jar prepared pasta sauce
1 tablespoon fresh basil, chopped
1 tablespoon fresh oregano, chopped
1 teaspoon fresh rosemary, chopped
1/2 teaspoon red pepper flakes
Salt and pepper to taste
Garnish
Grated Parmesan cheese
Fresh rosemary
Instructions
In deep pot sauté olive oil, onion, and garlic over medium heat.
Cook until the onion is translucent 2-3 minutes.
Add wine, tomatoes, and pasta sauce.
Season with basil, oregano, rosemary, red chile flakes, salt, and pepper.
Simmer uncovered for 15 minutes. This allows the wine to cook off.
Meantime cook pasta according to package directions.
Drain cooked pasta, saving 1/4 - 1/2 cup of pasta water to add to serving dish.
Pour pasta into serving dish, add sauce and pasta water.
Gently toss.
Garnish with Italian Herb Grilled Chicken, fresh rosemary, and parmesan cheese.
Cecelia's Good Stuff https://ceceliasgoodstuff.com/