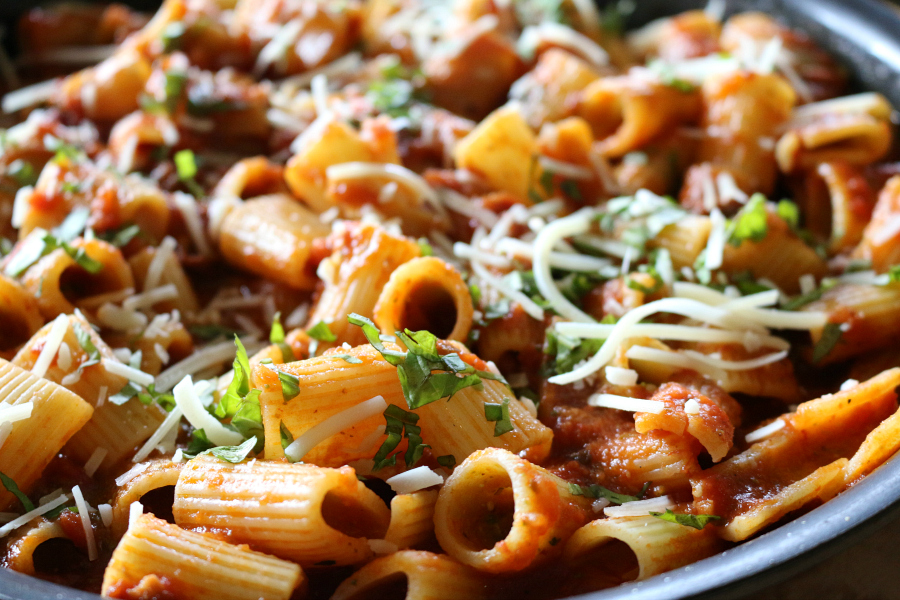 Easy Pancetta Rigatoni
2016-05-18 05:52:25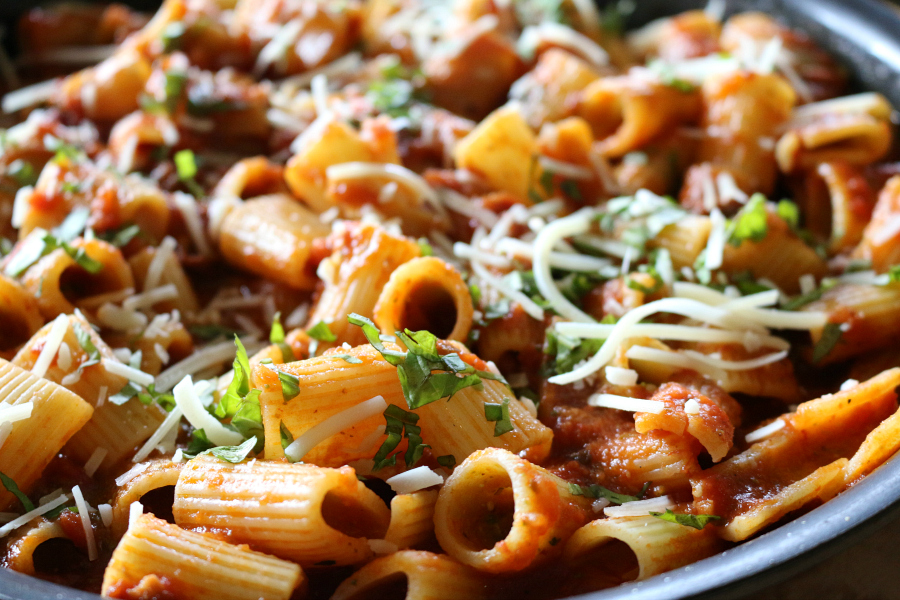 Serves 8
Easy Pancetta Rigatoni with fresh basil and fresh oregano. This is the ultimate Italian food, made with tiny pieces of Italian pancetta, fresh herbs and freshly grated parmesan cheese. This is an easy recipe and so delicious, it is hard to just eat one serving, everyone came back for a second helping. I am always looking for easy meals these days. I am in the middle of finishing my new cookbook "Flavors of the Southwest" and have been putting all my energy into editing, proof reading and retaking so of the pictures. I am a perfectionist, it goes without saying (I am a Virgo) plus the fact that I have been in advertising and printing for nearly thirty years now. I am so excited to be nearly finished. I feel so blessed I have so many wonderful friends and family that are helping me proof read and make the final edits. I have learned so much in the last two years, I am extremely grateful for this experience. I have really grown as a person and have bonded with some wonderful people. I am feeling very blessed and I know my family is ready to start eating regular food once again, I have made most of the recipes in the book at least three or more times. They were happy this week when I made some Italian food instead of spicy southwestern cuisine. Thank you for your support and loyalty. Bon Appetit, Cecelia
Ingredients
¼ cup olive oil
1/2 cup chopped pancetta
1 medium onion, chopped
6 large garlic cloves, minced
1 (28 ounce) can petite tomatoes
1 cup kalamata olives
2 tablespoons fresh chopped basil
2 tablespoons fresh chopped oregano
2 tablespoon tomato paste
2 teaspoons dried Italian seasoning
1 tablespoon parmesan cheese
1/2 teaspoon red pepper flakes
Salt and pepper to taste
1 pound rigatoni pasta
Garnish
1/4 cup fresh Parmesan Cheese
1 tablespoon chopped basil
Instructions
In deep pot sauté two tablespoons olive oil, pancetta, onion and garlic cloves until translucent (about 3 minutes on medium heat).
Add diced tomatoes, tomato paste, salt, pepper and spices.
Simmer about 40 minutes.
Then add olives and cook another 5 minutes. (This prevents a briny sauce.)
Meantime cook rigatoni pasta according to package directions, drain pasta saving 1/4 -1/2 cup pasta water.
Add rigatoni to serving dish, then add sauce and pasta water, gently toss until pasta is covered.
Garnish with parmesan cheese and fresh basil.
Serve immediately.
Notes
Pancetta can be salty, so always taste before adding extra salt.
Cecelia's Good Stuff https://ceceliasgoodstuff.com/