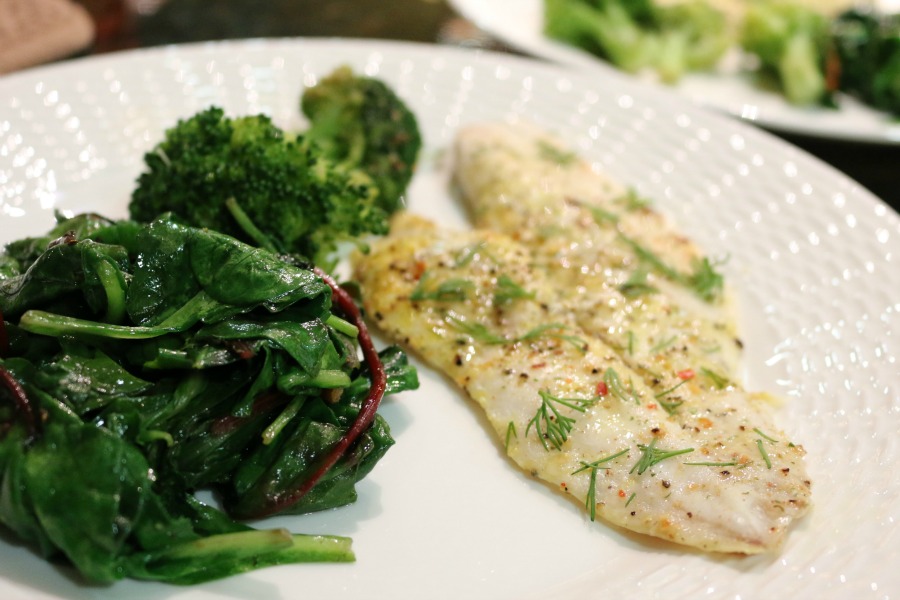 Easy Oven Baked Flounder
2016-01-15 22:05:13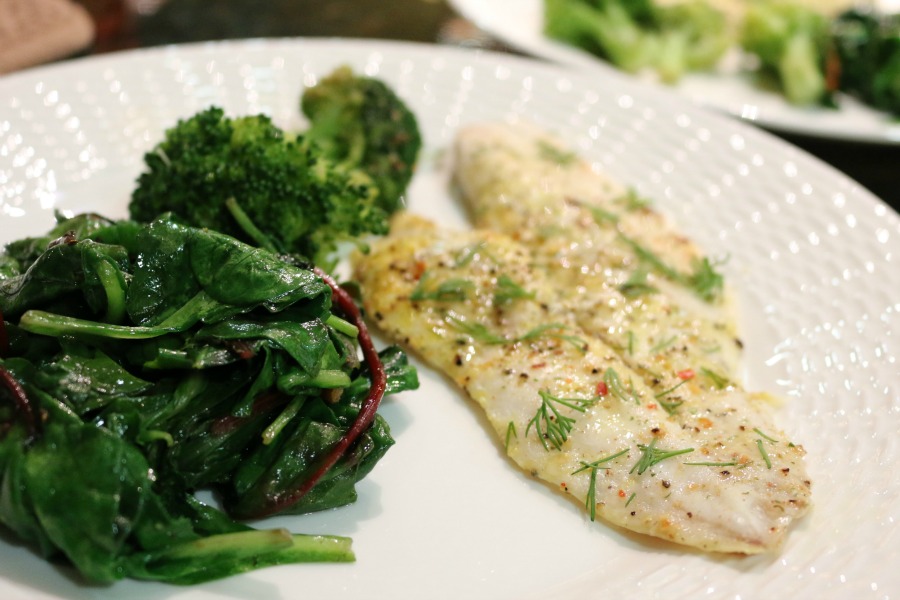 Serves 4
I am happy to say my entire family is loving eating lean and clean. I am having fun cooking new foods and creating new recipes. This recipe for easy oven baked flounder is a new favorite. I am totally pumped, healthy wild caught fish with sauted greens and more green vegetables, like fresh steamed brocolli. Just look at all the vegetables on my plate. I am so excited, I love finding new foods and sharing them with you. Sam's Club is carrying these individually wrapped wild caught Alaskan Flounder Filets in their frozen food section. Fish is one of my favorite foods and living in the high mountain desert of New Mexico, well you get the idea, not much fish to be found here. So when I find something as wonderful as wild caught fish, I am in heaven. This recipe is as good as any five star dinning establishment and oh so easy, yes, the fish cooks in under ten minutes! You gotta love that. Fish is so good for you too, a heart healthy food rich in omega-3 fatty acids, that are a vital part of a healthy balanced diet. Flounder is rich in Lycine which helps boost the immune system. So here's to eating healthy. I love hearing from you. Please remember to follow me on Facebook and comment below. Bon Appetit, Cecelia
Ingredients
4 (4 ounce) Flounder filets
2 tablespoon Olive Oil
1/ 2 teaspoon Fish Seasoning (Citrus Blend)
1 Lemon - Fresh squeezed
1 teaspoon chopped fresh dill
Salt and Pepper to taste
Instructions
Line a cookie sheet with parchment paper, the fish is delicate and the parchment paper prevents it from sticking to the baking sheet and falling apart.
Season frozen fish with fish seasoning, salt and pepper, olive oil and lemon juice.
Bake at 425 degrees for 10 minutes or until you see a white opaque juice coming from the fish. This is a sign that the fish is fully cooked.
Watch carefully not to over cook, the filets are thin and delicate.
Garnish with fresh dill.
Serve immediately.
Notes
I use a Citrus Blend Fish Seasoning, but use your favorite, just watch the salt, if your seasoning has salt, you may not have to add addition salt to season the fish. Flounder is a delicate fish and doesn't need much seasoning.
Cecelia's Good Stuff https://ceceliasgoodstuff.com/